Geppetto and Son in Rockford, Illinois
Rock Valley College's Starlight Theatre Hosts Stephen Schwartz and Tests New Orchestrations

PHOTO: Songwriter Stephen Schwartz (in a maroon t-shirt in the center) and orchestrator Larry Hochman (in turquois - center left) with Starlight Theatre's cast: Jodi Lynn Beach as The Blue Fairy, Alan Stevens as Geppetto, John Parris as Pinocchio, Eric Haas as Stromboli, Kyle Adams as Professor Bounragazzo, Anthony Jones as Junior and 47 other regional and area performers.
Website of the theatre: www.rvcstarlight.com/ See Geppetto and Son this summer. 7/18 to 7/22.
Geppetto and Son is a new stage musical based on Disney's made for television movie Geppetto, Book by David I. Stern, music and lyrics by Stephen Schwartz, additional music from Walt Disney's Pinocchio,
How the Rockford Production Got Started
Back in February of 2007, Mike Webb was pondering his upcoming summer season at Rockford's Starlight Theatre. In his role as Producer & Managing Director, it was his responsibility to find shows and he wanted something new. As a subscriber to The Schwartz Scene newsletter, he had heard of Geppetto and Son. The show was so new that there were no orchestrations and so Starlight Theatre engaged Larry Hochman, a renowned orchestrator of Stephen Schwartz's choosing, to complete the score. Hochman and Schwartz made plans to come to Rockford for some rehearsals.
Photo: Stephen Schwartz and Larry Hochman are given desks in the theatre so they can review the new orchestrations during a run through of Geppetto and Son. Also pictured, Missi Pond (the choreographer), Kathie Webb (the costume designer), and Mike Webb.
Hochman was delighted to be part of this show's development for stage. "The whole idea to do the flip side of the Pinocchio story and have Geppetto the main character is great on several levels," Hochman comments. "You don't want a show that's just for kids because you want to have the whole family go. The parents know the story of Pinocchio already and so you give them a new twist on it… And with fresh eyes that the kids have, it would be just as successful. I don't think they would be at a loss if they had never seen Pinocchio and went to see Geppetto."
Mike Webb and his team had a big juggling act on their hands to prepare Geppetto and Son rehearsals. Starlight's 2007 summer season includes four musicals: Peter Pan, Disney's Geppetto & Son, Jekyll & Hyde and Ragtime, each presented for a week in June and a week in July. So sometimes rehearsals and performances for the other shows wove into the schedule for Geppetto and Son.
The following is a condensed version of Mike Webb's rehearsal Journal during the week of June 9-12, 2007. It will give readers a picture of how busy a summer theatre can be, especially when special guests arrive.
Mike Webb's Rehearsal Journal - Saturday June 9, 2007
6:30 am Larry Hochman will arrive this morning bringing with him the final copies of the orchestrations for Geppetto & Son. All week pieces have been arriving from Chelsea Music. But we await the final numbers. My daughter, Marissa, will be picking him up at the airport and bringing him directly to the college. Then will return to O'Hare and await the arrival of Stephen Schwartz (flying in from Dallas). Jim McDowell (the music director) has arranged for an orchestral read through when Hochman arrives.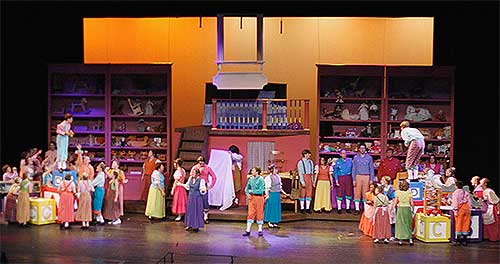 Photo: Geppetto and Son cast in toy shop.
9:15 am. The cast [of Geppetto and Son] is going to get changed. There is definitely an air of excitement but they all admit to being scared not for the dress rehearsal but for the evening's sing through with Stephen and Larry present….
12:05 pm. Met Larry Hochman, he's very nice and very personable. There is a little snag as the accordion player has had a severe case of nerves and does not want to play. "Too much tension with these big guys from New York." He's calling his friend the head of the Accordion Society in Chicago to get a substitute. Marissa is heading back to the airport and Jodi Beach is riding along. (Jodi is playing The Blue Fairy.)
12:30 pm. Another snag, some of the musicians are going to be leaving to play Peter Pan. I had assumed that this had all been worked out. I need to scramble to find substitutes for the afternoon. It will also affect the evening sing through as they will be leaving for the evening rehearsal. With luck and because the show is short, we'll make both things work. A bit of tension in the air. I just wish the accordion player would just play the rehearsal. What is the point of sitting here and listening. Everyone knows it's just sight reading. All the players are sight reading together.
1:00 pm. Got a hold of Mike Alongi (a great accordion player who had said he was too busy to play the show) he has agreed to come in and look at the music and the schedule. Talk about Starlight Magic! All the music is handed out, we're missing two actual players but have substitutes and the accordion player. The rehearsal is about to begin. Larry has a table, a box of pencils and a score…Stephen's plane is due to land at 2:15 pm.
2:20 pm. Marissa called and has made contact with Stephen, she says he's extremely nice and looking forward to the rehearsal. She said that instead of going to the hotel, he wants to come straight to the theatre. He usually doesn't come to hear the read through but she says he's excited.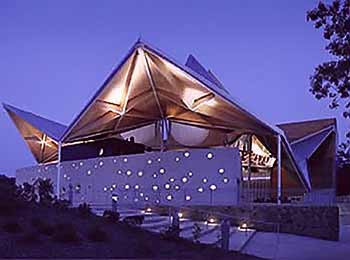 3:45 pm. Marissa text messages me that Stephen says he's very relaxed about the whole thing, he just wants to leave with the finished orchestrations.
4:10 pm. I left the orchestra rehearsal and walked down to Starlight and saw Stephen walking up the west stairs. He stood and watched the Peter Pan performance for a few minutes. I was both honored and nervous that he was interested. I walked up beside him and he shook my hand and said I had a nice place; it reminded him of a theatre in Japan.
Photo: Starlight Theatre
I apologized for snags in the rehearsal and we walked up to the Studio together. He was very gracious. The orchestra had just finished "Bravo Stomboli" and I introduced Stephen and they gave him a healthy applause. I don't think anyone really believed that Stephen Schwartz would really be here until that moment. Marissa took some pictures as Stephen sat down at a small desk and the rehearsal began again. Mike Alongi was in the Studio and he has agreed to play that rehearsal.
4:35 pm. Peter Pan curtain came down and everyone is a buzz with Stephen's arrival. They will have a meal in the tent and Stephen and Larry will join them after the rehearsal.
The cross over cast members (those in both casts) are thrilled.
5:15 pm. Orchestra read through is finished, Mike Alongi can't play the evening sing through but has agreed to play the entire show after that. There are some Wicked groupies waiting outside the Studio. I'm not sure how they found out about Stephen being here but they want a few autographs. I explained that I would ask Stephen and let them know. Stephen and Larry are talking about the score.
5:30 pm. Stephen signed the autographs of not only the groupies but the Peter Pan cast, crew and orchestra. Larry and he sat down to eat Lino's (a local restaurant) lasagna and special salad. Everyone was talking about everything. It was a very fun time for all.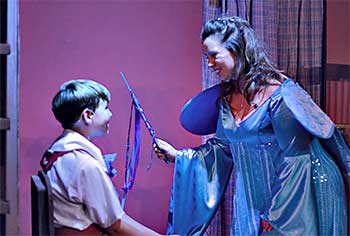 6:15 pm. The cast was assembled as was the orchestra - early. There is definitely excitement in the air. I asked Stephen and Larry if they wanted to say anything. They thanked the cast and orchestra and the rehearsal has begun. Jodi is covering the accordion on the extra keyboard. The cast is excited but nervous. I don't think they believe the whole thing is happening.
Jodi is relaxed and "When You Wish Upon a Star" goes well. "Toys" is next and all the kids are wide eyed and Alan Stevens (Geppetto) is in great voice but I can detect a bit of nervousness. I went over to him and asked if he was alright and he said "it isn't everyday something like this happens." John Parris (Pinocchio) is really excited, he's eleven years old but is handling the excitement very well. Kyle Adams (Professor Buonragazzo) and Eric Haas (Stomboli) are both waiting patiently for their chance to sing for Stephen.
6:59 pm. During a short break from the orchestra rehearsal, people started to ask Stephen for autographs. He has been very gracious and I hope that he is having a good time. The cross over cast members are coming down with me, Alan and the orchestra members have agreed to stay until 5 minutes to curtain (curtain is at 8). I'm nervous about Peter Pan going well. Everyone stopped in to the orchestra rehearsal to watch Stephen and Larry work on their way down to the stage….
11:45 pm. What a day! I don't think I have ever been so tired. It's a combination of the schedule and the stress of trying to make sure the whole thing goes well for everybody. Stephen is very nice. Larry is too.
I wish I had more time to just spend with them but my family will take care of showing them the town. Marissa is very happy and has texted all her friends about the day. Kathie is too.
The most touching moment for me was when Stephen asked what was wrong with our daughter Kaitlin. Kath explained that she has Rhett's Syndrome and a bit about the syndrome and he kneeled down beside her and held her hands and talked to her. What a genuine person. Most people would be afraid, but he was so gentle and nice to her. I now understand how he was able to write Children of Eden, Wicked and Godspell. I think when this is all over, that will be the lasting image I have of him. Talking to Kaitlin.
Sunday June 10, 2007
5:30 am. Up to feed the swans and Koi. Have a Jekyll & Hyde run through at 8 am, a Peter Pan performance at 2pm and a two hour change over from Peter Pan to Geppetto and Son at 4:30 pm. Should be a fun day!
Noon. Jekyll & Hyde went well. Met Stephen and Larry at the Stockholm Inn for breakfast. Kath picked them up and it was just us and Marissa and Kaitlin. We had a nice bit of conversation about Rockford and Chicago. Joe Mantello came up in the conversation [The Rockford native who became Wicked's director]. I left to go and get ready for the rehearsal/performance and Kath will bring them to the theatre.
4:30 pm The rehearsal went well. Change over is beginning and everyone from both casts and even some family members have come to help. The set is not finished being painted but we should have everything. Jodi's costume needs a bit of work, but it's wearable. The wings are drooping and the hem is pinned but we'll be ready.
4:45 pm. Kath has arranged for a small dinner at the Masa Café in the JMK Nippon Restaurant (a local Japanese restaurant). I feel bad about leaving the crew, but this will be my last chance to just sit and talk with Stephen.
6 pm. The dinner was most enjoyable. We ordered a lot of food but they all seemed to enjoy it. Mas (the owner of the restaurant) was very generous and excited that Stephen and Larry were there. We talked about the show, talked about past shows and Starlight alums who now were working in NYC or for Disney. I excused myself to go check on progress. The actor's call is 7 pm and curtain will be at 8 pm.
6:15 pm. The crew is finished now Stage Management takes over and is marking the spikes for the changes. The Orchestra has been moved and miked. It's a small group but Nate (Schoensiegel our sound designer) is miking the individual instruments and we will be working on the balance with Stephen. He's asked to be notified when Nate feels that he has it how he wants it then Stephen will listen and provide feedback. Nate is very excited as well. There is a quiet tension in the air. Everyone knows this will be Stephen's only chance to see this production (he flies back to NY tomorrow morning). Larry is staying one more day. Actors and autograph seekers have been waiting for a chance to get pictures and signatures and Stephen began signing when he got back from the restaurant.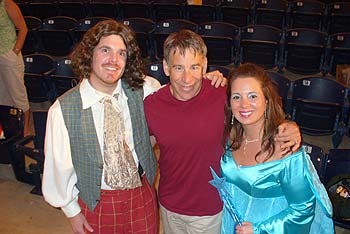 7:15 pm. Actors have been released to go get into their costumes. Stephen and Larry extended them their appreciation for their hard work to get to this rehearsal. We've set up two desks in the house one for Stephen and one for Larry. I am very nervous and am afraid I'm too apologetic. I think I've told them that the set won't be completely finished....
9:24 pm. Act 1 went remarkably well…. More autographs and pictures. A cast member took me aside and told me that "in case they forget to tell me later, they wanted to thank me for a thrill of a lifetime, it is so cool to have Stephen and Larry here at Starlight." I just smiled…. I'm exhausted but almost giddy that the show is going as well as it is.
9:55 pm. Act II went well. Still some performance tweaking. I've asked Stephen and Larry if they want to talk to the cast. Stephen was very gracious and the cast got quite a boost from his comments. He told them that they sound really good. Larry was also very gracious. My notes were a bit scattered but I guess that's understandable. It finally hit me that this all was real.
Geppetto and Son band
While finalizing the Rockford production, Larry Hochman and Stephen Schwartz decided on the nature of the Geppetto and Son band. Hochman explains that the show is now orchestrated for: 1 Mandolin player who also plays guitar in some numbers, 1 violin player, 1 trumpet player who also plays cornet and flugelhorn, accordian player, 1 keyboardist (some synth with plenty of piano), accoustic bass which doubles on a tuba, and a percussion/drummer.
Geppetto DVD
Geppetto - at Amazon.com
DVD Disney TV version/
Buy Geppetto Sheet Music
"Since I Gave My Heart Away" Sheet Music -- A version is available in the Stephen Schwartz Songbook
About Geppetto and Son
Geppetto and Son - "Toys" lyrics
Since I Gave My Heart Away - lyrics