New York City
Check here for Schwartz-related Mini Tour and New York City Guides. You'll also want to visit our Broadway Musicals page.
Schwartz-related Self-Guided Mini Tours
Just a few Suggestions-- Carol de Giere, Webmaster.
Tour I - Enjoy Greenwich Village and Cherry Lane Theatre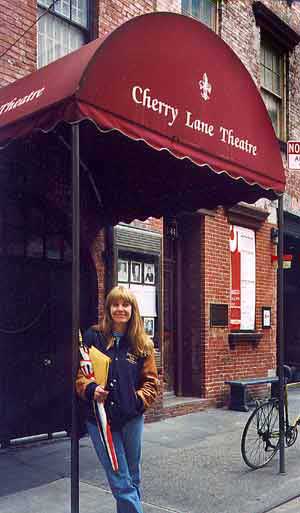 Photo: Original Godspell cast member Gilmer McCormick in front of Cherry Lane Theatre, April 2003. (photo by Carol de Giere)
Take the subway 1 or 9 downtown to Christopher Street in the West Village. Three blocks south you'll find the quiet, tree-lined Commerce Street where red-orange brick buildings create a sheltering, Old World effect. Toward the end you'll see the canopy for historic Cherry Lane Theatre. A glass-covered display lists famous shows that opened there. For 1971 you'll see Godspell listed.
The young thespians who formulated the show, including Stephen Schwartz, felt safe to offer their unusual new musical in this tucked away 99-seat theatre. To their surprise, Godspell was an instant hit and three months later moved Uptown to a larger venue. During rehearsals in April and May of 1971, cast members would come out on that street to practice their lines and songs (there was no rehearsal room inside except for the stage itself).
Performers would sometimes frequent the tavern at the end of the block. The facility is now a restaurant. I interviewed original cast member Gilmer McCormick there.
Greenwich Village is famous for the writers and artists who lived there in earlier decades, as various NY Guides will explain. Dining in the Village is its own adventure. You will find various ethnic restaurants around every corner: French, Italian, Indian, Thai, and more. You hardly need to plan ahead because there's always something. For unique shopping, try walking Bleeker street west from 7th Avenue. Artisan shops and little boutiques are tucked away in that area.
The Cherry Lane Theatre
38 Commerce Street
New York, NY 10014
Cherry Lane Theatre
[new browser window]
Tour II - The Cathedral of St. John the Divine
This cathedral on the Upper West Side is the largest Gothic cathedral in the world. In structure it is similar to Notre Dame in Paris. I met with Stephen Schwartz there when I wanted to interview him about his work on The Hunchback of Notre film, stage musical, and upcoming live action TV movie.
John-Michael Tebalak who conceived and directed Godspell spent several years as dramaturge at the Cathedral in the early 1970s.
Find out hours, events, and tours of this amazing building at http://www.stjohndivine.org/ [new browser window] (opens new browser window)