Pippin Review (follows photo)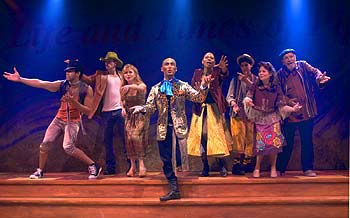 Bay Street Theatre cast sings "Magic to Do"
Pippin at Bay Street Theatre
By Carol de Giere
Pippin blows fresh off the sea into Sag Harbor this summer. Or at least the production at Bay Street Theatre seems fresh, even though the musical hasn't been revised in about five years since a new ending was added as an option for the script. Featuring direction by Tony winner Jack Hofsiss (The Elephant Man) and costumes by Emilio Sosa, there's a sense of new life in a show that opened on Broadway back in 1972 with songs by Stephen Schwartz and book by Roger O. Hirson.
Set in the 8th century, the musical dwells on the life and quests of Prince Pippin, son of Charlemagne, and his quirky family. Bay Street's contribution is an archetypal modern approach playfully mixed with the old. Has there ever before been a Charlemagne who wore a three-piece suit under his cloak? Or a Berthe with a daring Roaring 20's-style red dress under her bathrobe? Other moments were more Halloween-like (Day-Glo paint skeleton pattern for the post-war scene). I won't give details on the chicken feathers for Act II but they added a lot.
Hofsiss' casting contributed to the refreshing quality of the production. With only eight actors to work with, he got creative with their jobs. For example he used the flexible talents of Sebastian La Cause, (The Rocky Horror Picture Show), sometimes as Pippin's half-brother Lewis, as a seductive dancer in the "With You" dance scene, and in various scenes as an ensemble member. And Alice Playten (Gypsy; Oliver; Seussical), after showing up on stage in a wheel chair as Pippin's grandmother Berthe, rolled into other parts as well. Even the young actor playing Theo, Ralph Odell Shapiro, filled in as one of Berthe's wheel chair buddies in a wheel chair dance (slipped in to surprise the audience during Berthe's Act I sing-along).
Not only are the cast members' multiple talents well-utilized, their roles have been polished to perfection as well, with only one or two lagging performances. To say David Larsen's Pippin is authentic doesn't cover it. He not only is Prince Pippin for those hours, he is also, at least for a female reviewer old enough to be his mom, "adorable." Larsen recently starred in Good Vibrations and is a real find for the role. Equally special is the sparkle in the eyes of the Charlemagne, acted by Larry Keith (Cabaret; Titanic; My Fair Lady). One has the feeling he loves his job.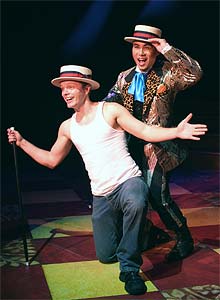 The vocal talent of all cast members is a treat. Who wouldn't want to hear Anastasia Barzee (Urinetown, Miss Saigon, Jekyll & Hyde) sing Catherine's songs? She soars easily in all of them and even convinced me that my least favorite song in the show, "I Guess I'll Miss the Man," is essential to the story. Stephanie Pope Caffey (Chicago, Forum with Nathan Lane, Thoroughly Modern Millie) makes the obnoxious character Fastrada, Pippin's ambitious and seductive stepmother, a little more interesting than usual. She and most of the other actors must have had their subtext clear.They came across somewhat like real people motivated from a deep if not always honorable place, instead of as caricatures.
I'm sure that B.D. Wong, who performs as Leading Player, is a talented actor. He is currently starring in Law and Order: Special Victims Unit and winner of the Tony® Award for best performance by a featured actor in M. Butterfly. My guess is he was a little tired when I saw him, and the creative choices that the director made for the role weren't ones that I thought served as well as they could. However, near as I can tell I was alone in my opinion, as the audience seemed to love him.
I found some of the choreography by Joey McKneeley, whose Broadway credits include The Boy From Oz and Smokey Joe's Café, to be very inventive. Other times I found it lacking in energy and dynamism, perhaps with the limits of rehearsal time or cast talents. Still the whole show had a wonderful cohesiveness, even though the stage energy generated by eight people for a matinee show was nothing to write home about.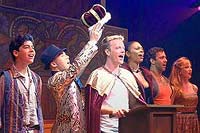 The lighting by Brian Nason, although occasionally too dark for my taste, had some lovely moments, such as when it looked like a Medieval carpet pattern was moving across the floor. And the basic set with sideline tapestry flourishes worked well, credit for this going to Troy Hourie. The music team led by Grammy Award-winning record producer John McDaniel helped show off the tuneful score.
All in all, it's worth driving out to Sag Harbor to see. Especially if you take time to go down the road to Long Beach and take a swim before hand, and then enjoy fresh fish at one of the charming restaurants near the wharf.
PHOTOS: Top: "Magic to Do" | Middle "On the Right Track" | Next group photo "Morning Glow"

Pippin on DVD [new browser window] only $15.99.
Pippin Songs - Downloadable digital sheet music "Magic to Do," "Extraordinary," "Love Song," "No Time At All," "With You," "Morning Glow," "Corner of the Sky." See Corner of the Sky page for complete list including choral music.