Pippin Revival in Los Angeles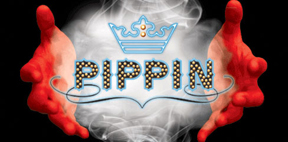 January 15 to March 15, 2009
A wildly theatrical musical performed in
spoken english and american sign language.
About Pippin in Los Angeles
DESCRIPTION: A groundbreaking re-invention of a timeless pop musical Tony Award®-winning Pippin is the lively coming of age story of king charlemagne's oldest son. Featuring music from the award-winning composer of Wicked and Godspell, this dazzlingly colorful tale first captivated audiences on broadway and continues to appeal to the young-at-heart everywhere. Director Jeff calhoun and deaf West theatre follow their hits, Sleeping Beauty Wakes and Big River by transforming this beloved classic into a wildly original musical event featuring deaf, hard-of-hearing and hearing actors as voice and american sign Language are interwoven with music, dance and joyous storytelling.
Reviews
Sharon Perlmutter's Talkinbroadway.com review of the Deaf West/Mark Taper Forum Pippin includes her praise and reservations:
....When Deaf West's Pippin succeeds, it does so brilliantly. While Big River had different pairs of related characters interpreting for each other (mother/daughter; sisters; partners-in-crime), Pippin takes a different tack—the only time a main character is voiced by another performer who is on stage with him, that character is Pippin himself.....
www.talkinbroadway.com/regional/la/la287.html
The Los Angeles Times reviewer Charles McNulty says:
....A joint venture between Center Theatre Group and Deaf West Theatre, this "Pippin," directed and choreographed by Jeff Calhoun, hopes to follow the fortunes of "Big River," the lauded Deaf West offering that proved a musical can sing and sign with equal aplomb. The production, however, gets off to a bit of a shaky start. The ensemble, boasting a skimpily clad chorus, hits one overly emphatic note after another. But once the company eventually calms down, the staging becomes quite seductive with its unostentatious inventiveness and capacity for witty surprise....
latimesblogs.latimes.com/culturemonster/2009/01/review-pippin-a.html
The Orange County Register reviewers of Pippin Revival:
...You've got to give Deaf West Theatre kudos for tackling "Pippin," one of the musical-theater icons of the time. Its co-production with Center Theatre Group, which opened Sunday at the Mark Taper Forum, probably won't equal its inspired interpretation of "Big River" in popularity or critical acclaim. But this "Pippin" has its own charms....
www.ocregister.com/articles/pippin-calhoun-big-2293004-broadway-moment
New York Times - Isherwood on Pippin
Isherwood's comments were especially interesting with regard to the influence of the production. He said, "Anecdotal evidence suggests there are great swaths of the American population between the ages of 40 and 55 for whom Mr. Schwartz's tuneful score is a Proustian trigger for all sorts of warm memories. NYTimes review Pippin Revival
For a non-review article about the show see:
LA Times: A singin', signin' 'Pippin'
New Book on Schwartz musicals covers the Pippin Story

Defying Gravity: The Creative Career of Stephen Schwartz, from Godspell to Wicked by Carol de Giere is more than a Stephen Schwartz biography. It includes the first and only book source with Pippin's history from Stephen Schwartz's point of view.
Defying Gravity also includes more than 200 photographs and illustrations, including photos from the original college version of Pippin.
Read more or buy Defying Gravity
Pippin Revival Articles
Pippin Finds a New Voice
By Suzy Evans
Stephen Schwartz has been waiting a long time for a revival of Pippin like the one at the Mark Taper Forum in Los Angeles. "Over the last several years, I've periodically been approached about a revival of Pippin and for one reason another the circumstances didn't really make sense," Schwartz explained in a January interview. There had to be enough of a reason. "And then when Jeff Calhoun called me about doing it with Deaf West, immediately that seemed the ideal way to do it."
Deaf West is a Los Angeles-based company that casts deaf and hearing actors in their productions. Working with Center Theatre Group, they had already staged Big River with great success, and it was time for something new.
For Deaf West productions, hearing actors are required to learn their lines in American Sign Language (ASL) while the deaf actors must learn how to keep in time with the music while being voiced by hearing actors.
Schwartz thinks Pippin is a natural choice for this kind of presentation because elements of Pippin's original production can be used to accentuate Deaf West's interpretation. "The original production for Pippin and most of the revivals that I've seen involve the use of hands in various ways, gesturing etc.," he said. "Obviously when you're dealing with speaking with your hands and with signing then that adds a whole other element to it."
Pippin is a story about discovering who you are, and Schwartz, who started writing the show for an extracurricular group in college, called the show "semi-autobiographical." However, Pippin's journey of self-discovery takes on a new meaning as these two distinct cultures merge. Schwartz wanted to play with the idea of having people who speak with their hands find their "voice." He comments, "There are ways in which certain concepts of the production and specific moments specifically speak to that issue."
END
Stephen Schwartz wrote a new song, "Back Home Again, for this production of Pippin at the Mark Taper Forum in Los Angeles co-produced by Center Theatre Group and Deaf West Theatre. It fits in early in Act I, replacing some previously written material.

Pippin on DVD [new browser window]
See a recorded version of Pippin. The DVD features Ben Vereen as Leading Player, William Katt as Pippin, and Chita Rivera as Fastrada. Includes short clip of Bob Fosse interview.
Note that the production here does not provide the same feel as the original Broadway production, but it does show much of Fosse's choreography.
More about Pippin
BACK TO THE MAIN PIPPIN PAGE

Pippin Songs - Downloadable digital sheet music "Magic to Do," "Extraordinary," "Love Song," "No Time At All," "With You," "Morning Glow," "Corner of the Sky." See Corner of the Sky page for complete list including choral music.