Wicked's original Glinda Kristin Chenoweth sings "This moment" on John Bucchino's CD Grateful. This CD is an artistic treat.
Grateful is a collection of sensitively written compositions in the "adult contemporary" genre with performances by Judy Collins, Michael Feinstein, Art Garfunkel, Patti Lupone, Liza Minnelli, and others. Songs that touch the heart and mind. John Bucchino Mp3s for downloading - Grateful and other songs
Wicked the Musical Was First Conceived in Hawaii - December 16, 1996
From Shawn McCarthy's interview in 2001 with Stephen Schwartz.
Stephen Schwartz: I got a call from my friend John Bucchino who was in Hawaii playing a concert for Holly Near. He called me and said, "I'm here in Hawaii and other than the concerts I don't have a whole lot to do. I have a room with an extra bed in it and I have a car, and the food is free. If you will cash in your Frequent Flyer miles - (and I was in L.A. at the time) - and come over for a weekend and keep me company, the rest of it is a free vacation in Hawaii" And of course I said, "I am so there."
At one point on the trip Holly, John and a friend of Holly's and I went snorkeling. We're on the boat coming back and Holly says "I reading this really interesting book called Wicked by Gregory Magurie and it's about the Wicked Witch of the West." It was one of those moments when as soon as I heard the idea I thought "Oh, this is for me, I love this idea!" And as soon as I got back to the mainland I called my lawyer and I said, "Ok, somebody has the rights to this book. Find out who's got the rights. Meanwhile I'm going to go get the book and read it because I think I want to do this." And that's how it got started.
John Bucchino: songwriter
Notes from webmaster, Carol de Giere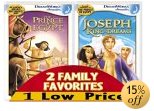 John is one of Stephen Schwartz's songwriter friends. His album and songbook called Grateful (link above) are not to be missed. His songs for the animated video movie Joseph King of Dreams are some of the most uplifting songs I've heard. Joseph is included on a DVD with the evocative and memorable animated feature The Prince of Egypt for which Stephen Schwartz wrote music and lyrics, including his Academy Award winning song "When You Believe." Prince of Egypt/Joseph - King of Dreams DVD at Amazon.com for only $22.94
John Bucchino was the inspiration behind Stephen's Reluctant Pilgrim album and shares songwriting credits on his Uncharted Territory personal songs CD. John told me his version of the story: "Stephen and I were, when we met, at totally different ends of the songwriting spectrum. He had only written songs for shows with preset parameters. I had only written songs from my own experience that came out organically. I asked Stephen, 'You mean you have never written a song because you felt like it?'"
John and Stephen became good friends and John kept bugging him about this type of songwriting. As they shared experiences as friends John would say, "I would think this would be great material to write about," and would encourage him to write the song.
John says the influence was reciprocal: "Through Stephen's influence I started writing for theatre. He suggested there was a natural theatricality about my material."
GRATEFUL Sheet music Grateful - The Songs of John Bucchino (P/V/G Composer Collection)
Youtube - John plays piano while Lucas Steele sings Grateful