Norbert Leo Butz
Wicked's First Prince Fiyero
Two-time Tony winner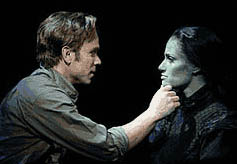 Norbert Leo Butz and Idina Menzel singing "As Long As You're Mine" in Wicked - photo by Joan Marcus
Norbert Leo Butz will return to Broadway November, 2007 in Is He Dead?, billed as a new comedy by Mark Twain, adapted by David Ives.

Hear him on the Wicked cast album singing "Dancing Through Life" and "As Long As You're Mine"
Like his love interest in Wicked, Idina Menzel, Butz starred in Rent on Broadway. The Tony-nominated actor wowed critics and audiences for his performance in Jason Robert Brown's The Last Five Years and is featured on the cast recording.

Hear him on the Big Fish album. Butz starred in the Broadway production as Edward Bloom, the great storyteller.
Big Fish (Original Broadway Cast Recording)

Hear him on the cast album for his award-winning role in Dirty Rotten Scoundrels: Dirty Rotten Scoundrels (2005 Original Broadway Cast)
Enjoy his acclaimed performance in The Last 5 Years (2002 Off-Broadway Cast) (Amazon.com)
Butz performs on the cast album for Thou Shalt Not: Original Broadway Cast... [new browser window]
Watch him dance:

The DVD version of this landmark PBS documentary about Broadway includes, among others, bonus features: "Wicked: The Road to Broadway" (16 minutes) and rehearsal of "For Good." These were not part of the PBS broadcast. Enjoy interview clips with Norbert and watch him dance while rehearsing "Which Way's the Party," a number used in San Francisco but cut before Broadway.
Broadway - The American Musical - DVD $44.99 Amazon.com
Also includes several minutes with stars Kristin Chenoweth and Idina Menzel in rehearsal, on stage, and backstage.
Wicked Original Broadway Cast Album Track List courtesy of Decca Broadway:
Hear Norbert Leo Butz performing as Fiyero
1. NO ONE MOURNS THE WICKED - Glinda and Citizens of Oz
2. DEAR OLD SHIZ - Glinda and Students
3. THE WIZARD AND I - Morrible, Elphaba
4. WHAT IS THIS FEELING? - Glinda, Elphaba and Students
5. SOMETHING BAD - Dr. Dillamond and Elphaba
6. DANCING THROUGH LIFE - Fiyero, Glinda, Boq, Nessarose, Elphaba and Students
7. POPULAR - Glinda
8. I'M NOT THAT GIRL - Elphaba
9. ONE SHORT DAY - Glinda, Elphaba and Denizens of the Emerald City
10. A SENTIMENTAL MAN - The Wizard
11. DEFYING GRAVITY - Elphaba, Glinda, Guards and Citizens of Oz
12. THANK GOODNESS - Glinda, Morrible and Citizens of Oz
13. WONDERFUL - The Wizard, Elphaba
14. I'M NOT THAT GIRL (reprise) - Glinda
15. AS LONG AS YOU'RE MINE - Elphaba and Fiyero
16. NO GOOD DEED - Elphaba
17. MARCH OF THE WITCH HUNTERS - Boq and Citizens of Oz
18. FOR GOOD - Glinda and Elphaba
19. FINALE - All
Read more about Wicked's Score and Cast Album

To find out about Wicked, get ticket information, etc. follow links on MusicalSchwartz.com's Wicked home page