Debbie Gravitte
Tony award winner Debbie Gravitte

Debbie Gravitte's latest album includes "Defying Gravity" from Wicked. More info or buy it: Debbie Gravitte - Defying Gravity
Debbie is a singer Stephen Schwartz chose to be part of his Stephen Schwartz and Friends concerts. Schwartz has accompanied her at the piano during these concerts as she sang "Defying Gravity," so she knows how the composer likes it sung.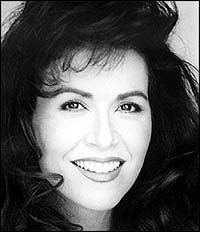 Debbie Gravitte has recorded - The Alan Menken Album - (Varese Sarabande, 1994) which includes songs with lyrics by Stephen Schwartz: "God Help the Outcast" interwoven with "Someday" from The Hunchback of Notre Dame.
Find out more or purchase the Alan Menken Album [new browser window]
Spot-On Entertainment is booking Defying Gravity concerts with Stephen Schwartz music, typically performed by Debbie Gravitte, Liz Callaway and Scott Coulter. www.spot-onentertainment.com
About Debbie Gravitte
Debbie Gravitte has been called, "One of the best voices on Broadway" by the Associated Press. She made her Broadway debut in the original cast of They're Playing Our Song and appeared in Blues In The Night, Ain't Broadway Grand, Zorba (with Anthony Quinn) and Les Miserables. More recently Debbie was seen as Paula McFadden in the Los Angeles premiere of The Goodbye Girl.
Of her first starring role in the musical Perfectly Frank, for which she received a Drama Desk nomination, Frank Rich of the New York Times wrote, "You had better believe she's on Broadway to stay."
In 1989, Debbie won a Drama Desk nomination and the Tony Award for her critically-acclaimed performance in Jerome Robbins' Broadway. Debbie has headlined at New York's Rainbow and Stars, London's Pizza on the Park and in Atlantic City opened for George Burns, Harry Anderson and Jay Leno. She has appeared with numerous symphony orchestras including the St. Louis Symphony, the Israeli Philharmonic and the Munich Philharmonic in a televised tribute to Hal Prince.
On television, Debbie co-starred in CBS's Trial and Error and NBC's The Pursuit of Happiness and starred in several PBS specials including, In Concert With The Boston Pops, Live From The Kennedy Center, and George Gershwin's 100th Birthday at Carnegie Hall. Debbie was seen in the Encores Series productions of Tenderloin, and The Boys From Syracuse, at City Center and recently starred in a new production of Cole Porter's Red, Hot and Blue at the Goodspeed Opera House. She sang with Bette Middler in her recent film, Isn't She Great. Debbie can be heard on several recordings including her CD, The MGM Album, the follow-up to her acclaimed debut solo CD, The Alan Menken Album.
The Alan Menken Album features a remarkable combination song -- "God Help the Outcasts" blended with "Someday" (both with lyrics by Stephen Schwartz from The Hunchback of Notre Dame).
When the album came out, Ken Mandelbaum of TheaterWeek Magazine said: "Gravitte can swing, slink, emote, belt and torch and there's not a dull track here. It's unlikely that there will be a better solo album form a theatre singer this year!" Irv Lichtman of Billboard called the CD "Wonderful!" and Steven Ramm of DISCoveries Magazine found it "Perfect...her voice is both powerful and smooth at the same time!".
Debbie's website is DebbieGravitte.com
Other comments on Debbie:
"We're talking mega-talent here!" Rex Reed
"A magnetic stage presence" Variety
"A dynamic Broadway belter" New York Daily News