Eden Espinosa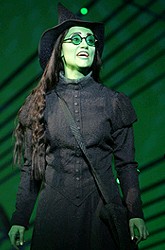 Fan rave from Kev of Philadelphia: "Eden's Elphaba was intelligent and vulnerable, but capable of a bolder, edgier front when the role called for such transitions. Of course Eden's vocals were definite highlights; raw, rich, and limitless."
Hear Eden Espinosa
Eden Espinosa and David Burnham sing "As Long As You're Mine" - track 3 on
David Burnham at Amazon.com
Debut recording from one of the brightest stars of Broadway's The Light in the Piazza. Something for everyone with intimate and passionate renderings of standards and classics, featuring a duet with Eden Espinoza from Wicked and more!
Note: David Burnham if Fiyero on Broadway (as of January 8, 2008). David Burnham
---

Hear her in Brooklyn the Musical Brooklyn The Musical (2004 Original Broadway Cast)
Click through until you find the audio clips from the song.
---

The Maury Yeston Songbook
Track 10 - Eden Espinosa - Click through until you find the audio clip.
This album also includes top Broadway voices singing popular Maury Yeston songs.
---

Hair (2004 Concert Cast)
Eden sings on this album although her credit is not listed at Amazon.com. No audio clips are included.
---
Eden Espinosa - BIO
Eden Espinosa began singing at the age of three, performing at five and recording at ten. She made her Broadway debut covering the roles of Elphaba and Nessarose in Wicked. She played the role of Brooklyn in the musical of the same name and she recently made her solo concert debut at New York's Town Hall.
Espinosa was nominated for a 2005 Drama League Award for Distinguished Performance for playing the title role in Brooklyn.
An article that appeared August 5, 2005 in the Oakland Tribune began:
EDEN ESPINOSA is used to enchantment. She began her career in Disneyland and is now spending a lot of time in Oz. The Southern California native is young at 27 but has blossomed into a Broadway star. Not bad for someone who played Pocahontas and the Little Mermaid in Disneyland shows and then a hip, sassy fairy godmother in the Disney's California Adventure revue called "Steps in Time."
Clips
Watch video clips on Broadway.com of Eden Espinosa answering questions like: "Eden, do you have any audition advice? What was your Wicked audition like? What did you sing? What did you wear? Congrats on becoming the green girl, she's my inspiration!".....
Broadway.com's Ask A Star - Eden Espinosa
Note to those arriving by search engine: Espinosa is often accidently typed as Eden Espinoza.
Stephen Schwartz and Eden Espinosa at Chatterbox: Stephen Schwartz was the featured guest for a talk show called Seth's Broadway Chatterbox at Don't Tell Mama on Feb 26th, 2004. At the end of the talk, Eden Espinosa sang "Defying Gravity" while Schwartz accompanied her at the piano. DVDs of Chatterbox programs are available, with profits going to Broadway Cares/Equity Fights Aids. For mail order visit www.sethsbroadwaychatterbox.com/dvds.htm - The Schwartz talk with Eden Espinosa singing DVD is the last listing on the page.
Return to the main Wicked page