Joel Grey, "Sentimental Man," and "Wonderful" - lyrics, etc.
(See lyrics below)
About Joel Grey

Joel Grey played the Wizard of Oz in Wicked's original Broadway cast.
Hear him on Wicked's Original Cast Album. Grey is wonderful singing "Wonderful" - and dancing with Elphaba

Watch Joel Grey on DVD or Video
Broadway's Lost Treasures DVD [new browser window] includes Joel Grey and many other stars singing their hits.
New: The Muppet Show - Season One (Special Edition)
Joel Grey is one of many special guests on this show. The listing for his episode reads:
Joel Grey
Song: "Comedy Tonight"
At the Dance
Song: "Cabaret"? - Joel
Joel & Kermit
Song: "A Calafica" (sp?)
Fozzie's topical jokes
Song: "Stormy Weather" - Wayne & Wanda
Song: "Razzle Dazzle" - Joel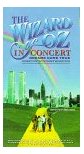 The Wizard of Oz in Concert (St. Louis...) - video Amazon.com [new browser window] This remarkably cast production includes Joel Grey as Wizard, Debra Winger as the Wicked Witch, Natalie Cole as Glinda, Nathan Lane as the Cowardly Lion.....
A reviewer says, "A frail-looking Joel Grey makes an excellent ghost of Christmas past" in this A Christmas Carol - DVD at Amazon.com [new browser window] in which Patrick stewart plays Scrooge
Grey appeared as Amos Babcock Bellamy in The Fantasticks - DVD at Amazon.com [new browser window]
He is famous for his role as Master of Ceremonies in Cabaret - DVD at Amazon.com [new browser window]
There's more but that's a start....
To find out about Wicked, get ticket information, etc. follow links on MusicalSchwartz.com's Wicked home page
Bio and Photo
Joel Grey received a Tony Award as the Emcee in the original production of Cabaret and an Academy Award for his work in the film. Stage: Amos Hart in the hit revival of Chicago (Drama Desk and Outer Critics Circle Awards); Give Me Your Answer, Do! (Roundabout, Drama Desk nom.); Harry, Noon and Night (American Place); George M! (Tony nom.); Goodtime Charley (Tony nom.); Marco Polo Sings a Solo, The Normal Heart (NYSF); Platonov (Williamstown); The Grand Tour (Tony nom.); Silverlake (NYCO); Cabaret (20th anniversary); When We Dead Awaken (ART); Herringbone (Hartford Stage); A Fool and Her Fortune (NYS&F).
Film: Man on a Swing, Buffalo Bill and the Indians, The Seven Percent Solution, Remo Williams: The Adventure Begins, Kafka, The Player, The Music of Chance, The Fantasticks, Dancer in the Dark.
Television: "Oz," "Law & Order," "Buffy the Vampire Slayer," "Brooklyn Bridge" (Emmy nom.).
"Sentimental Man" and "Wonderful"
"Sentimental Man" - Music and lyrics by Stephen Schwartz (Copyrighted)
WIZARD
I am a sentimental man
Who always longed to be a father
That's why I do the best I can
To treat each citizen of Oz as a son -
Or daughter
So Elphaba, I'd like to raise you high
'Cuz I think everyone deserves
The chance to fly
And helping you with your ascent al-
Lows me to feel so parental
For I am a sentimental man
"Wonderful" - Music and lyrics by Stephen Schwartz (Copyrighted)
WIZARD
I never asked for this
Or planned it in advance
I was merely blown here
By the winds of chance
I never saw myself
As a Solomon or Socrates
I knew who I was:
One of your dime a dozen
Mediocrities
Then suddenly I'm here
Respected - worshipped, even
Just because the folks in Oz
Needed someone to believe in
Does it surprise you
I got hooked, and all too soon?
What can I say?
I got carried away
And not just by balloon:
Wonderful
They called me "Wonderful"
So I said "Wonderful" - if you insist
I will be Wonderful--"
And they said "Wonderful"
Believe me, it's hard to resist
'Cause it feels wonderful
They think I'm wonderful
Hey, look who's wonderful -
This corn-fed hick
Who said: "It might be keen
To build a town of green
And a wonderful road of yellow brick!"
(spoken) See - I never had a family of my own. So, I
guess I just - wanted to give the citizens of Oz everything.
ELPHABA(spoken) So you lied to them.
WIZARD
(spoken) Elphaba, where I'm from, we believe all sorts of
things that aren't true. We call it - "history."
(sung) A man's called a traitor - or liberator
A rich man's a thief - or philanthropist
Is one a crusader - or ruthless invader?
It's all in which label
Is able to persist
There are precious few at ease
With moral ambiguities
So we act as though they don't exist
They call me "Wonderful"
So I am wonderful
In fact - it's so much who I am
It's part of my name
And with my help, you can be the same
At long, long last receive your due
Long overdue
Elphaba - The most celebrated
Are the rehabilitated
There'll be such a - whoop-de-doo
A celebration throughout Oz
That's all to do - with you
Wonderful
They'll call you wonderful:
ELPHABA
It does sound wonderful:
WIZARD
Trust me - it's fun
BOTH
When you are wonderful
It would be wonderful?
Wonderful, wonderful
WIZARD
One! Two! And:
(they dance)
_______
See details about the sheet music: Wicked Sheet music for all Wicked songs
Back to Wicked lyrics index
Back to Wicked home page - Index to 50 Wicked-related pages