Megan Hilty - Glinda for the Los Angeles production of the musical Wicked
(Starting February 10, 2007 at the Pantages Theatre)

Megan captivated audiences as Glinda in the Broadway musical Wicked, from May 2005- May 2006. She appeared in the new musical Vanities at Theatreworks in Palo Alto, California, and now rejoins Wicked in the Wicked tour from September - December, 2006. Kate Reinders is the new Glinda on Broadway.
For her Broadway debut in Wicked, Hilty seemed to live Glindaness through and through. She was very well loved by audiences.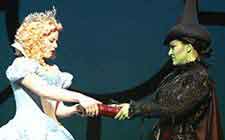 As cleverly as she portrayed the socialite Glinda in Act I of Wicked, she was also able to shift gears in Act II and convey to the audience the deeper emotions that the character develops. That's Megan Hilty in the photo -- Glinda offers Elphaba the Grimmerie. Read about the souvenir book Wicked the Grimmerie.
For more about Wicked see our Wicked index
MEGAN HILTY bio: Megan Hilty is a recent graduate of the Carnegie Mellon School of Drama and a proud member of Actors Equity. Credits include Café Puttanesca (City Theatre), Suds (OCT) and The Wild Party (CMU). Megan is a recipient of the National Society of Arts and Letters Award for Excellence in Musical Theater and she is grateful to have the continued support of the NSAL Pittsburgh chapter.
Now on sale: 100% cotton baseball caps

Wicked shirts

Wicked Shop - see all the options

to purchase Wicked T-shirts, magnets, caps, posters, & key chains

Wicked posters, magnets, key chains