Julia Murney and Wicked
Julia Murney

Check here for Julia Murney bio, albums, photos, interview links
Julia Murney starred as Elphaba in Wicked on Broadway from January to October 2006. She played Elphaba for six months on the Wicked national tour. Julia Murney's first album is now available (see below).
"She is a Broadway-class performer," says Theatre writer Mark Shenton. "Murney has the most distinctive and dramatic Broadway voice since Betty Buckley's....she brings the richest emotional colours yet to her intense, soaring ballads like 'Defying Gravity', that turn it into the stuff of grand opera. It's one of the greatest performances on the Broadway stage."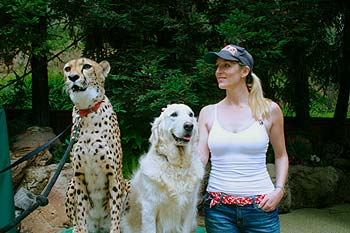 What's Wicked star Julia Murney doing with that cheetah? Well, it was a hot day in San Diego where she was playing Elphaba for the Wicked Tour. Cast members spent a leisure day at the world-famous San Diego Zoo. (Or perhaps Karroo the cheetah is a talking Animal in Oz and Elphaba is trying to keep it save from those who would silence it.)
This Julia Murney photo [left] is by San Diego Zoo communication's manager Georgeanne Irvine.
Murney made her Broadway debut in Lennon. As a star of Andrew Lippa's The Wild Party, she can be heard on the original cast album. Her other New York theatrical credits include A Class Act, Time and Again, Crimes of the Heart, First Lady Suite and Arrangements.
Julia Murney Recordings

I'm Not Waiting
- Julia Murney has released a solo album - Summer 2006. She sings "I'm not that girl" from Wicked and other songs. Enjoy her refined and powerful vocal prowess.
THE WILD PARTY: Murney starred in The Wild Party, a show created by Stephen Schwartz's good friend Andrew Lippa.

Hair (2004 Concert Cast)
Julia belts "Where Do I Go?" on the September 20, 2004 Actors Fund concert performance along with Adam Pascal, Kathy Brier, Gavin Creel, Darius deHaas, Harvey Fierstein, Hunter Foster, Ann Harada, Jennifer Hudson, Norm Lewis, Billy Porter, RuPaul, Jai Rodriguez, Lillias White. Musical Director and Conductor Seth Rudetsky hints at "special guest star" and bonus track.
The Confidence Man
featuring Julia Murney, Norbert Leo Butz, Andrea Marcovicci, and others.
A Class Act: A Class Act - A Musical About Musicals (2001 Original Broadway Cast)
Broadway Musicals of 1953
There's No Business Like Show Business!
This is a composite album with all kinds of fun features, like:
Track 13. A Class Act: Better - Lonny Price/Julia Murney/Nancy Kathryn Anderson/Carolee Carmello/Jonathan Freeman/Ray Wills...
Track 6. A Funny Thing Happened On The Way To The Forum: Comedy Tonight - Jason Alexander/Scott Wise/Joey McKneely/Michael Kubala/Company etc.
Julia Murney interviews about her role as Elphaba
Feb 9 2007 interview with Julia Murney with Playbill: She talks about the tour and what it's like to be Elphaba on Broadway. She also responds to a question about Wicked's popularity: "...The world is drunk on the Wicked wine. I think it's a number of elements ? it's the familiarity of the characters, but [the creators] just caught lightning in a bottle. I think they knew they had something good, but I don't think anyone ever expected it to be the juggernaut that it's become."
n her Playbill.com interview from March 17, 2006, Julia talks about the green sisterhood - how she got advice from the others who have played Elphaba. She explores what it's like to be in the role and sing her favorite songs and the challenging ones.
Review by Scott Cain of Julia's debut on the Wicked Tour and for Wicked Tour in general: Wicked and Julia Murney - See fourth paragraph about Julia. Includes photo of Julia Murney as Elphaba.
Julia Murney interview Murney interview at BroadwayWorld.com March 2006. Included in this interview is her advice for aspiring performers. "...one of the biggest things, especially if you are going to college is to find some other gifts. Take history classes, a psychology course and do other things because it will make you a better actor. It's very nice if you can name all of Rogers and Hammerstein's musicals in order, but it won't get you too far as opposed to being an interesting individual on stage. I know so many people in this business who at one time were doing other jobs. You need skills that you can bring with you and into New York and be able to live and not like a pauper. To be able to be a well rounded person, go and experience other things in life. Theater can be an important thing is life, but it is not everything. There is a whole other world out there. It's ok to dream of being on stage, but there are so many other aspects of this business to explore. Your path is your path."
For advice for singers see our sister site www.musicalsingers.com