Idina Menzel, Elphaba, and the Artistic Life
An Interview Excerpt

Elphaba and Glinda - Idina Menzel
and Kristin Chenoweth in Wicked
Photo by Joan Marcus.
Idina Menzel Interview about playing Elphaba in Wicked
[Copyright by Carol de Giere; posted on MusicalSchwartz.com with Idina's permission]
The following is an excerpt from a phone interview July, 2005, by Carol de Giere, biographer for Stephen Schwartz, Wicked's songwriter.
(Follow this link for Elphaba info - if you don't know about Wicked)
Carol de Giere: [To introduce the first question, Ms. de Giere described Stephen Schwartz's personal interest in the character of Elphaba. He identified with Elphaba when reading the novel, and thought of himself as a kind of Elphaba.] Did you see him as an Elphaba at all?
Idina Menzel: No, I see him as this legendary guy and I'm just trying to do a good job and not get fired. [She laughs]. I don't see him like that.
But I can appreciate that everybody obviously goes through that in their life in some way or another and when they feel completely alienated and like an outcast, whether it's for a short time or for their whole lives. And yeah, of course, when you're an artist usually you have to take risks and usually you have to put yourself on the line and go against the grain in order to be great and unique. And then you sort of stand up for what you believe and are able to resist the negativity and things people will say to you. So that's one aspect of Elphaba.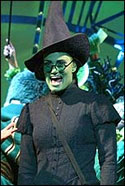 The part for me that always hits home with that character is, and I think this is with most women, is that we have this strength inside of us and yet we are taught to always sort of keep it down. If we're too big or too angry or too bold or too beautiful or too talented, it can scare people. It might scare other women, it might scare men, whatever it is. I sort of found in my life that I've taken a step back and made myself smaller in order to try to fit in. And that hasn't worked. And we have to learn to kind of embrace what makes us unique, and embrace our strength and then if people don't like it, ___ it.
So that's my thing that I'm working on in my life, and the part of Elphaba that always stuck with me. She has such a power that she didn't understand how to corral yet or anything. But something was happening and she wanted to do really great things. And the more she tried to hold it back, the more it would come out in the wrong way. And then people would make fun of her and alienate her.
I found that, as a child especially, if you have a talent like a voice early on, for me - teachers would start to pay attention to me and I didn't want to stick out too much because sticking out too much when you're a kid, everyone will be mean to you. So you learn to hide your talents. Then when you get older you've got to let it shine. Let it rip or otherwise you're going to sink, you know.
Carol de Giere: [I asked her about the benefits of Wicked on younger audiences]
Idina Menzel: it's really changing these kids. They've come back stage, and I've had them in my dressing room, and it's really making them understand that they have to be who they are in this world. And not to sacrifice what makes them unique. And it's making them tolerant and it speaks about racism. I just really am proud of that and I hate that certain critics make light of Wicked. Because it can speak to kids, that doesn't mean it doesn't have depth.
That's been the most rewarding thing for me, is the kids every night after the show, and the pictures, I have drawings upon drawings of Elphaba in crayola, and the letters and stuff.
Carol de Giere: Do you have a standard thing you say when a young person says, 'I want to be the next Idina Menzel.'
Idina Menzel: I always tell them to find their own individuality. They don't have to be like other people. The most successful people are so original.
FOR MORE ABOUT IDINA AND HER EXPERIENCES AS ELPHABA see DEFYING GRAVITY:
Defying Gravity book includes the full development story of Wicked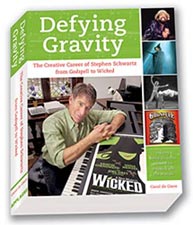 Idina Menzel (Elphaba), Kristin Chenoweth (Glinda), Norbert Leo Butz (Fiyero) and others originated roles in the Stephen Schwartz/Winnie Holzman musical Wicked.
Follow the story of Wicked through multiple drafts and readings in the book Defying Gravity. Find out how the writing team changed their musical based on the influences from the first cast. Defying Gravity: The Creative Career of Stephen Schwartz, from Godspell to Wicked.
With 150 pages on the making of Wicked, more than forty photos and illustrations in the Wicked section alone, the Stephen Schwartz biography Defying Gravity provides the best entry into the creative world of a major Broadway show.
In the book, Idina is quoted about her audition, her challenges for finding the role, and how she coped with the script changes in San Francisco.
Idina Menzel comment on Stephen Schwartz:
While she was working in Wicked she said, "I hope he knows how incredible it is for us [the cast]. People are unbelievably moved every night by his music. And it's an incredible honor that I get to interpret Stephen Schwartz's music every night."