Ben Vereen - A Leading Player in Stephen Schwartz Musicals
New from Ben Vereen
Steppin' Out Live - a new album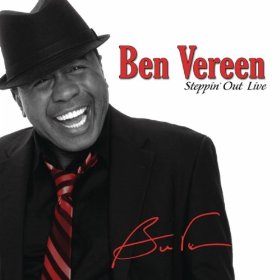 BUY or hear clips: Steppin' Out Live -- mp3 or CD at Amazon.com
Fans of Stephen Schwartz musicals will appreciate this special new album by Broadway legend Ben Vereen as he offers his rendition of two of Schwartz's most popular songs: "Corner of the Sky," (Pippin) and "Defying Gravity" (Wicked). The accompaniment style is that of a jazz group/cabaret band.
Also featured on the album are popular pieces like "I Got A Lot Of Livin' To Do," and "Bewitched, Bothered & Bewildered." Unwind with Ben Vereen.
Vereen - Leading Player in Pippin; the Wizard of Oz in Wicked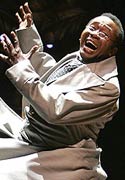 Ben Vereen slipped into Stephen Schwartz's life during an audition for Pippin in 1971 or 72. Schwartz explains: "[Bob Fosse] had seen Ben Vereen in JESUS CHRIST, SUPERSTAR and asked Ben to audition for the show. We were so impressed with Ben's audition that we combined several small roles into the role of the Leading Player, and the style of the show began to emerge."
Vereen was already a "triple threat" performer: An excellent dancer, singer, and actor, who cast spells on audiences for many years during the run of Pippin on Broadway. He won a Tony Award for his role as the Leading Player in Pippin.
When it was time to cast a new star in the role of Wicked's Wizard of Oz on Broadway in 2005, Schwartz and colleagues chose Vereen. For a Los Angeles production, the invited John Rubinstein, who starred as the title character "Pippin" in the Broadway production, to the play the role. Schwartz comments, "Both John Rubinstein and Ben Vereen, original stars of Pippin, have performed the Wizard. It's interesting that these two extraordinary performers, who provided such a contrast to one another in Pippin, should wind up playing the same role in Wicked thirty-plus years later."
Watch Ben Vereen

Pippin on DVD [new browser window] only $15.99. Watch Ben Vereen's amazing performance as Leading Player in this taped production of Pippin. He performs "Magic to Do," "Glory," "On the Right Track," and other numbers.
Fosse video and DVD includes very little of Pippin but presents Bob Fosse's choreography and includes some interesting interviews. DVD: Fosse [new browser window]
BEN VEREEN BIOGRAPHY
A and E BIOGRAPHY channel created a biography of Ben Vereen on video: 60 minutes. With his stand-out turns in Hair, Jesus Christ Superstar and Pippin, Ben Vereen helped break the color barrier on Broadway. He took movie and TV roles, but in 1992 he was struck by a utilities vehicle while he was walking near his home. Yet he was able to rise again in various roles, including Fosse and Wicked. BIOGRAPHY tells Vereen's story. Extensive clips of his performances showcase his talent and star quality. Biography:Ben Vereen - The Hard Way [VHS]
New: The Muppet Show - Season One (Special Edition)
Ben Vereen is one of many special guests who appear.
Ben Vereen
Song: "Boogie Woogie Music"
Fozzie & the magic cabinet
Song: Ben: "Mr. Cellophane"
At the Dance
Ben & Kermit
Vet's Hospital
Wayne & Wanda
Song: Ben: "Imagination".
Hear Ben Vereen in Pippin (1972 Original Broadway Cast)
Hear Ben Vereen in Jesus Christ Superstar
Read all about Pippin | Read about Ben Vereen All His Jazz: The Life and Death of Bob Fosse. [new browser window]
Read all about Wicked
Bio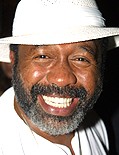 BROADWAY CREDITS: Wicked, Fosse, I'm Not Rappaport, Hair, Jesus Christ Superstar, Pippin, Grind, Jelly's Last Jam and A Christmas Carol.
Born: October 10, 1946
Ben Vereen is one of those special actor-singer-dancer performers who can dazzle audiences with a display of multiple talents. Fosse and other choreographers took advantage of Vereen's elasticity and gave him dance moves that showed off his skills (as in Pippin). Fosse knew Vereen from his dance work on the Sweet Charity film and was influencial in structuring his role in Pippin.
A graduate of NYC's High School of Performing Arts, Vereen played Claude in Hair in the Broadway production, before joining the national touring company. He first won real notice on Broadway in 1971, playing Judas Iscariot in the Broadway musical Jesus Christ Superstar, for which he earned his first Tony nomination. He earned the Tony as Best Actor in a Musical for his galvanizing turn as The Leading Player in Pippin, although he did not have the title role.
Vereen returned to Broadway in the short lived Grind in 1986. A year after suffering a near-fatal accident, Vereen made his triumphant return to Broadway in 1993 as 'The Chimney Man' in the musical Jelly's Last Jam. He also appeared on Broadway in Fosse.
The recent revival of I'm Not Rappaport marked Vereen's non-musical Broadway debut. Vereen was nominated for Emmy Awards for his performances in "Roots," "Intruders" and 1976's "The Bell Telephone Jubilee." He also received Golden Globe nominations for his work in "Funny Lady" and "Ellis Island."
He co-starred in ALL THAT JAZZ (1979), Fosse's semiautobiographical film, in which Vereen could have been playing himself.
For more info see: http://www.benvereen.com/ - Official website
STEPHEN SCHWARTZ
You're on MusicalSchwartz.com. Read more about Broadway and Film songwriter whose scores have been so familiar to Mr. Vereen: Stephen Schwartz