Schwartz on Songwriting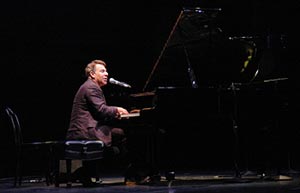 Composer-lyricist Stephen Schwartz started writing songs at age seven and went on to become one of the most successful Broadway and film songwriters in American history, with three of his musicals playing on Broadway for over 1900 performances (Pippin, The Magic Show, and Wicked), not to mention his three Academy Awards for song lyrics or lyrics/music.
He is often asked for advice about songwriting. He sometimes gives masterclass and workshops. Stay subscribed to The Schwartz Scene newsletter with Schwartz news for details.
The career biography Defying Gravity: The Creative Career of Stephen Schwartz, from Godspell to Wicked includes many several dozen "Creativity Notes" that will be hlepful for aspiring songwriters and those interested in the process.
Mr. Schwartz has also authorized MusicalWriters.com to post some of his tips about songwriting. Topics include how to start a musical, about adaptations, structure, writer's block, the "I Want" song, lyric writing suggestions, and career suggestions. See MusicalWriters.com Stephen Schwartz on Songwriting
Several other songwriting comments are posted below.
Songwriting with Collaborators
Interviewers: Andrea Kurtz and Carol de Giere. Copyright by interviewers. Exclusive to MusicalSchwartz.com From an interview 7/12/2000 with Stephen Schwartz.
Andrea Kurtz: When you worked with some legend like Bernstein or Fosse, how do you enjoy the collaborative process? Or do you prefer to write alone?
Stephen Schwartz: I like collaborating a lot. I've gotten better about collaborating over the years. I hate to be sort of ambivalent but it's the truth--there are always two sides to everything; good things and bad things. My most recently collaboration as a writer has been with Alan Menken on the two Disney films, Pocahontas and The Hunchback of Notre Dame. I like Alan very much and we get along very well together. We had a great time writing together! When I'm writing by myself sometimes I miss having Alan to bounce things off but I like doing both music and lyrics. The good thing is having one's own complete vision.
AK: Which comes first, music or lyrics?
SS: When I'm writing with someone else, particularly if I'm doing just lyrics, I've come to the point of always doing music first. Sometimes, like when I work with Alan I give him a title and three or four lines or something. Every now and then he would jump from that. A lot of times I would come in with a title. But then he would do the music, usually with me there. Then I would go and do the lyric to that. Writing by myself sometimes it's the other way around. Sometimes I do the lyric first or a lot of the lyric first but I always have a sort of rhythm and feel in my head and I'll work out the tune later. Now I just have to organize what I'm saying but I kind of know what the tune is going to be.
The important thing is: the lyrics sit on the music. I think the music ultimately delivers the emotion....The lyric has to sit on the music in such a way that it kind of rises and falls and flows with it so that if the music is going up into an emotional point, the content of the lyric and the words of the lyric are making that same emotional journey so that its one contour.
Carol de Giere: I've read that other collaborators have to talk through the whole song to make sure they were working on the same song.
SS: That's never really been a problem. I'll tell you the lesson I learned and I learned it working on the Mass. That was the first time I really collaborated (after college). I learned some really good lessons there because I made some mistakes. The one, and this is what I mean about the contouring of music and lyrics, I wrote a lyric for a song for Mass called The Word of the Lord. I had kind of a rhythm in my head and I wrote this lyric and gave it to Lenny and he set it to a sort of Brazilian kind of tune that had a completely different rhythm than I had imagined. Of course the tune is gorgeous, but what I did not do was go back and rewrite the lyric. As a result, the song felt over rhymed. It wasn't his fault, it was my fault. I just didn't have enough experience to know "OK, now that the music exists, go back and see how the lyric actually sits on this music. Where is it working? Where is it not? And change it. I just didn't know to do that. But now I would. With experiences like that I learned how to do this better.
On Writing At the Piano
CD: One thing Sondheim said is that he tries to write off the piano. Do you ever do that?
SS: Not really.
CD: Do you know why he is saying that?
SS: I do. There are two sort of schools of thought. When I was working with Leonard Bernstein, he didn't write at the piano at all. I suspect he wrote at the piano when he was younger.
CD: With his complicated music!
SS: Yeah. Though he was a really good keyboard player.
CD: But it's because of the familiarity he could do that.
SS: UmHum. I understand the logic of writing away from the piano but for me it's the emotion that comes out.... A lot of times I don't know what something is going to be musically. I just sort of will sit there and think about what's the story I'm telling and who's the character and what is he or she feeling and kind of noodle around. Then I'll hear things and select them. It's almost like there is this automatic, unconscious process going and then part of me is just trying to stay alert and conscious and say, "Oh that seems like that would be good." As opposed to sitting at a drafting table with music paper and kind of writing from there. But it's just a different school of thought and a different way of working.
On Writing Personal Songs
CD: (After discovering the real story behind one of the lines from a Reluctant Pilgrim song) Do you play with those lyrics all you want?
SS: You mean the facts? Yeah. Some songs are more accurate than others. But a lot of times, for a song like that, something will be a jumping off point and then you need to make it more dramatic or more vivid. Sometimes I use sort of luke warm feelings I might have about someone or something and then I just make it really strong. I ask myself what if I really felt very intensely about this?
----
For more on songwriting in general see stephenschwartz.com home page for a list of links. Also the site link below leads to relevant sites:
http://www.lyricist.com/