The Barn Players of Kansas City
The Baker's Wife
Photos and quick plot sketch: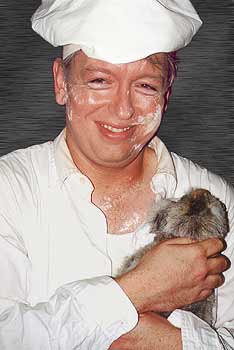 Aimable, his kitten Pom Pom, and young wife Genevieve arrive in a rural village in Provence France where Aimable will be the town baker. (Given the challenges of using live animals on stage, The Barn Players opted for a stuffed animal to play the part of Pom Pom).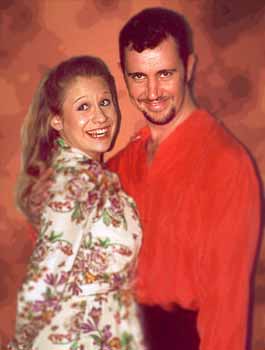 Genevieve is not enthralled with her life (as expressed in "Gifts of Love") and gradually falls for the dashing Dominique. While singing "Meadowlark" (a song made famous by Broadway singers like Betty Buckely and Sara Brightman) Genevieve debates about her situation and decides to run off with Dominique.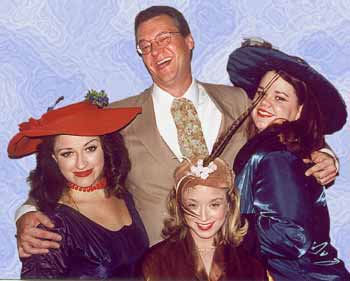 The baker is too distraught and disbelieving to bake. Townsfolk attempt to cheer Aimable. At one point the Marquis and others entertain with a song about feminine companionship.
The townsfolk, distraught over the prospect of not having fresh baked bread everyday, argue and bicker. The villagers must overcome their differences and work together in order to find Genevieve and bring her back.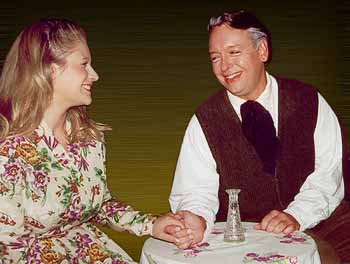 Genevieve eventually returns on her own. The baker and his wife reconcile.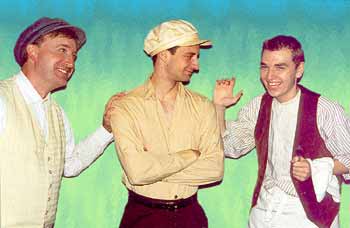 The townsfolk, their supply of daily fresh bread restored, return to a normal and harmonious existence.
Director's Notes by Gary Wesche, July 2000
Sit back, relax - no wait -

Sit back - yes Relax - no not really.

As you watch this cast you will see each actor depict a vice of the human character. When connected with the other characters, we create a divisive, gossipy, unforgiving community. Each character is so entrenched in an isolated issue, he loses his ability to see the beauty around himself.
How often do we stand behind the singularity of one issue? Be it political, abortion, homosexuality, or something else?
We posture. We extol. We judge.
We will see little stories from our own lives on stage today. Intricate combinations of our own personalities strutting across the boards. When faced with the vulnerability of humanity, will we choose to exhort dogma and policy or will be work to mend the broken spirit?

Sit back - yes
Relax - yes
Depart....changed.