Kristin Chenoweth - Wicked and More
The original Glinda of the Broadway musical Wicked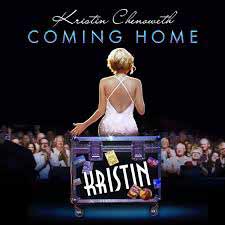 Kristin Chenowth has included "Popular" and "For Good" from Wicked on her live concert album! Kristin Chenoweth - Coming Home (link opens to Amazon.com)
Kristin Chenoweth's Influence on Wicked
Before Kristin Chenoweth was cast as Glinda (Galinda/Glinda), "the part was a much more peripheral figure," says Wicked bookwriter Winnie Holzman. "Based on wanting Kristin to do the show, and how much we felt she brought to it, we started to reshape the whole plot. It became the story of a friendship. That happened because of Kristin; Idina [Menzel] had not been cast at that point."
She also influenced Wicked composer-lyricist Stephen Schwartz. The Stephen Schwartz biography Defying Gravity: The Creative Career of Stephen Schwartz, from Godspell to Wicked
includes a long account of how Wicked came to life. In the book, Schwartz explains his interest in casting Kristin Chenoweth as Glinda. Defying Gravity includes comments about how her personality and performances influenced the development of the Glinda role. You will also read about Chenoweth's challenges during the San Francisco out-of-town tryout for Wicked the musical.
Wicked Video Clips
Watch Kristin Chenoweth and Idina Menzel rehearse and perform "For Good" from Wicked. This 3 Disk DVD about Broadway includes a 16-minute bonus feature "Wicked: The Road to Broadway" with footage from the colorful production and Kristin Chenoweth in rehearsal, on stage, and backstage. Watch Kristin sparkle. Broadway: The American Musical - DVD and Blu-ray (Amazon.com)
Hear Kristin on the Wicked's Cast Album
Kristin Chenoweth in books
A Little Bit Wicked - Kristin Chenoweth Memoir

A Little Bit Wicked: Life, Love, and Faith in Stages
hardcover, paperback, and ebook. When asked why she decided to write the book, Chenoweth says in press notes, "So many amazing things are happening in my life right now; I felt the need to stand still for a moment and take stock of it all. So many blessings, so much love, all the music, laughter, and challenges. I can see God's hand on me every step of the way, which reminds me to do my best because He's watching me as I go forward. I celebrated a landmark birthday while I was working on the book, and it felt great to be able to say 'so far, so good!'"
Wicked Grimmerie and Souvenir Books; Gifts
For spectacular photos of the cast, sets, and costumes for the new musical, I recommend the Wicked souvenir book. GO TO: Wicked Shop - see all the options -See Kristin sparkle and Idina exude her power in the giant photos on the 13 inch x 9 inch full color pages. You'll also find puzzles and various gift and souvinir ideas.
More Chenoweth Albums and Related Book
Kristin Chenoweth effortlessly transitions between stage, television and film with the captivating grace that only she can project.

Enjoy her album on CD: Some Lessons Learned
/ MP3: Some Lessons Learned
It includes "Fathers and Daughters" song which she performed on Jay Leno and others. From a review: "Lessons Learned" is anchored in great songs that explore the different aspects of love, God, morality and family relationships.
Kristin is featured on a revival album for You're A Good Man Charlie Brown, in which she performed on Broadway. This version of the show includes some new music by Stephen Schwartz's friend Andrew Lippa. Her performance of Sally helped inspire Stephen Schwartz to want her cast in Wicked. Buy - You're A Good Man, Charlie Brown [new browser window]
Another Stephen Schwartz Song
Kristin Chenoweth sings a ballad, "Rewriting History," on One Heart Sings, music by Stephen Schwartz, lyrics by Steven Lutvak.
Spiritual Life and Acting
Actress Kristin Chenoweth is quoted in the book: Working on the Inside: The Spiritual Life Through the Eyes of Actors
. Chenoweth is quoted in the following chapters: Faith, In the Moment, Listening, Prayer, Hospitality, and Transformation.
Chenoweth Interview/Article
Here is an excerpt from an article/interview "'Wicked' star follows Hollywood's path" originally published in the Sioux City Journal, Iowa. By Bruce R. Miller. Used with Permission. April 28, 2006.
....Blessed with incredible range, she's a regular on the concert circuit, singing Broadway standards, contemporary Christian songs and selections from her own albums. Those gigs fill what few spaces she has left in a career that seems stuffed with opportunity. When she goes to sing in concert halls, Chenoweth always asks a director to critique her performance. "I worry if I'm too broad because I'm used to 3,000-seat theaters," she says. "I need to know if I should add more or take away a little bit. Maybe if you're true and honest, it's all the same."
On "West Wing" (where she plays an assistant to John Spencer), Chenoweth knows she can't "sell it to the back row. It's still a little bit heightened because of the energy of the show. But it's not like playing 'Wicked.'"
"Wicked," in fact, is the credit that gave Chenoweth a whole new fan base. Cast as Glinda the good witch (in a prequel of sorts of "The Wizard of Oz"), she got another Tony nomination and a chance to show all the colors in her talent palette -- singing, dancing, acting.
Now, "I can go anywhere in the United States and girls from age 12 to 18 turn up to grab me and say, 'You are a role model.' The transformation from being a superficial person to a real person resonates with them. Girls are living that life now."
Composer Steven Schwartz wrote the musical with Chenoweth in mind. She was treated like a rock star after every performance and watched as the cast album shot up the charts. "If there's a movie, I'm attached," she says. "They have to pay me a lot of money not to do it. So if you see Reese Witherspoon, just know that I got a house in the hills." She laughs.
Suspended several times in the air (in a big bubble) [see photo above], Chenoweth had her share of close calls and mishaps during the show's run. How much did she bring to the show? "A lot," she says. "We all have to put our stamp on it."
Broadway's Lost Treasures III
This series features footage from past Tony Awards telecasts and other sources. In Broadway's Lost Treasures III: "My New Philosophy" from You're a Good Man, Charlie Brown performed by Kristin Chenoweth:
Back to the main Wicked index