Wicked Dolls and The Wizard of Oz Dolls
Glinda Doll, Elphaba Doll, and Wizard of Oz toys - For kids or adult collectables
Wicked - Madame Alexander dolls are based on the characters from the internationally popular musical Wicked- a story of the witches of Oz. Their outfits were inspired by Susan Hilferty's Tony Award-winning Wicked costumes. The Wizard of Oz costumes remind us of the 1939 Judy Garland movie.
Look, it's Glinda!
The Wizard of Oz Glinda
Amazon.com has sold out of the limited edition of Glinda dolls fashioned after Wicked but they do have this:
Glinda the Good Witch
Remember Billie Burke's super sweet Glinda who descends in a pink bubble? Now she can be remebered with this doll dressed in her famous fairy-like pink gown. A Rhinestone crown sits on the red curly hair. This magical Glinda comes dressed in a pink gown, ready to sparkle into your child's playtime.
Wizard of Oz: Glinda, The Good Witch Barbie Doll
Barbie also comes as Glinda or as the Wicked Witch.
Speaking of The Wizard of Oz - Have you seen the latest DVD? The Wizard of Oz (70th Anniversary Two-Disc Special Edition)
Elphaba and The Wicked Witch of the West
Elphaba from Wicked
Elphaba is the green-faced girl in the popular musical Wicked- a story of the witches of Oz based on Gregory Maguire's novel Wicked. The Elphaba dolls are currently sold out at Amazon. But they do have this: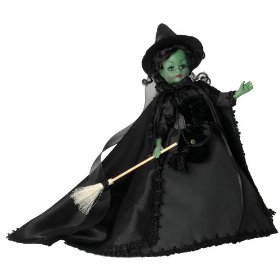 The Wizard of Oz - Wicked Witch version
Wicked Witch of the West
Here is the green-faced witch in her full witch outfit, based on the movie version but relevant (a sweet enough face) to serve as a toy for Wicked the musical enthusiasts.
Also consider Scarecrow Play Doll
; Tin Man Play Doll
And don't forget the Flying Monkeys:
Memorabilia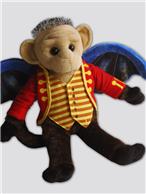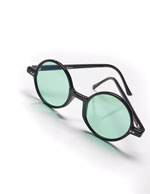 This is Chistery - Elphaba's flying monkey companion. Buy him, tshirts, Emerald City green glasses, and other gifts for children and adults at our Wicked the musical gift shop
Collecting merchandise related to the musical can help you keep the memories alive after seeing this sensational show.
If you haven't seen it yet, go to our Wicked main page to find out more about the show.