Wicked Fan Fashions
Elizabeth Anne Boone reports from her Wicked habitat in Florida about fashions from The OzDust Boutique
Wicked Clothes - Will You Be Pop-u-lar?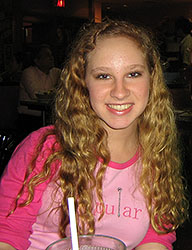 By Elizabeth Boone
I fell head-over-heels in love with Wicked when I first heard the CD. The voices made me cry every time I listened to it. I had no idea music could do this much for a person, and I was only 10 years old!!
Here I am [photo to the left] in the "Popular" shirt.
I'm now 14-years-old, in 8th grade, and still in love with Wicked!!!!! It seems dramatic, but I think it's right to say that Wicked has changed my life. I was going to take my parents' path and be a doctor or a lawyer like a lot of my family members......until Wicked. The music just totally spoke to me, and I made role models out of the cast. I could relate to everything in the show, and I realized I could be in it for a living.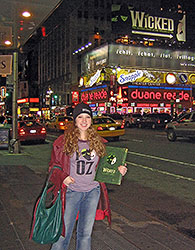 I finally got to see Wicked on stage for the first time when it toured to Florida, January 25, 2005. Seeing it live was really, really, incredible and captivating. It tells you so much more than the soundtrack can. You can't compare seeing it live to anything else.
My parents and I flew to New York for winter holidays 2006 when Ana Gasteyer played Elphaba.
Here I am near the Gershwin Theatre Photo to the right], with my Grimmerie in hand. This "I Heart Oz tshirt" is so Ozmopolitan. I bought almost every single piece of Wicked merchandise: clothes, jewelry, and all.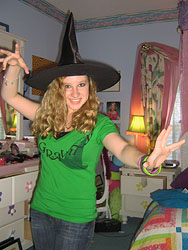 I've now seen the show again on Tour. Every time I see the show, I dress up in full costume and green makeup (the ruby slippers [my own creation], striped tights, black dress, black wig, witch hat, you name it!) and get lots of stares. Everyone laughs, points, or points and laughs! I get a lot of attention, and I feel just like Elphaba. But when the lights dim in the theatre, I'm back at home: Oz!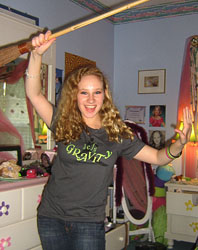 There's three Defy Gravity Shirts now. The green one is great for St. Patrick's day and any shopping trip to the mall. I wear a black camisole underneath. I got the witch hat at a party store.
On the darker gray shirt, behind the lettering, is a silhouette of the Wicked Witch holding up a broom, like I am in the photo.
The longer sleeve Defy Gravity shirt was one of the first ones I bought.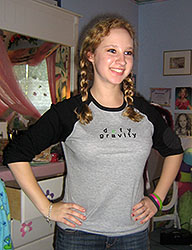 I sing Wicked songs for almost all my school's talent shows, and I dream of being Elphaba on Broadway someday! I'm taking singing and dancing lessons constantly and practicing and working hard to fulfill my dream!
I feel like I can related to both Glinda and Elphaba. I've loved The Wizard of Oz forever. My mom turned me on to it. And Glinda and the Wicked Witch of the West are characters that fascinated me. And then when I heard Wicked the musical, I could relate The Wizard of Oz to it. But there was a whole side of Glinda and the green witch that I never considered.
What's great is sometimes I feel sad or down or have a bad day, I put on my Ipod (which I named "Elphaba") and listen Wicked and I enter a whole other world.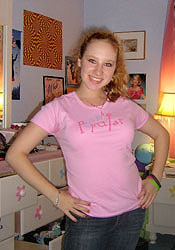 On the inside I sometimes feel like an Elphaba. At school, just because I like Broadway, people think it's stupid. When I perform in the talent shows and dress in Wicked clothes, I get a little bit of bad feedback from some of the kids. They don't know Broadway music--they like rap and rock and popular groups like My Chemical Romance.
When they see me, they say, "Oh, it's "Popular girl" and all this weird stuff. I try not to let it get to me. Why do I do this if they are going to bug me about it? It's because I love it. My life philosophy is that no matter what, you can defy gravity--go for your dreams and not be swayed by others.
Other times I seem like a Glinda. I get totally crazy and have all these people around me. It's bizarre. I've always tried to ask myself what is the real me, but I can't yet. I can relate to both characters as sides of myself.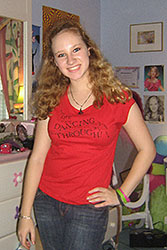 This red Dancing Through Life shirt is new. On the front it says:
"It's just LIFE so keep DANCING THROUGH!"
in black letters on center chest.
It's kind of a dancer's style with a wider collar, but not too wide. Like you could wear it over a leotard. Sometimes I wear it to my dance class, and it kind of applies to my class--I keep dancing through.
Sizes:
I'm about 5' 2" and weigh about 100 lbs, and I usually wear a size medium in most of these. The hoodie is a small (But it's still pretty big).
For colder days there's the Wicked hoodie.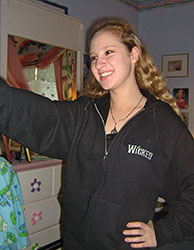 Accessories: Don't forget the green glasses, the Glinda necklace, and the Elphaba necklace--all on view in the photo. If you wear the pink Glinda necklace with the green Defy Gravity shirt, you can say "pink goes good with green."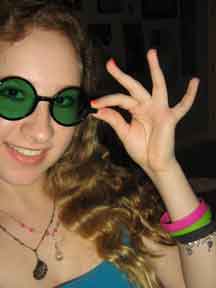 I was recently in a "Bookarama" competition. We had to read a book and write a monologue about it, and then talk about the book as if you were one of the characters. I talked about Wicked the novel from Elphaba's point of view. (I had to narrow down the book to Elphaba's time at Shiz.) I wore Elphaba necklace to help me get into the character.
When I wore the green glasses to school everyone wanted them. They said they were awesome, and very "wicked."
About those green glasses and how one sees the world:
My sister was talking to me the other day about high school, and how I'd be offered drugs and alchohol. I said "Why would I do drugs when I've got Wicked?" I think that's the best reason I've ever known to not to drugs, other than they'll kill you! (Schools now are going big on being drug-free, so we in school hear about it a lot.)
Wicked has me seeing through different eyes.
So if you're feeling determined and showing your Wicked pride, display it proudly wearing these shirts. Be popular while defying gravity.
Where to Buy Wicked Fan Fashions:
The Ozdust Boutique: The only official source for WICKED THE MUSICAL merchandise
How to plan a Wicked Fan Party
Visit our Wicked fan party page to plan your own bash. See how one fan from Texas entertained her crowd.
---