Wicked: Grimmerie
Reviews and Street Buzz
The musical tie-in book about Wicked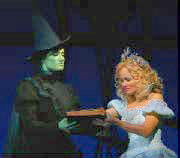 The Wicked Grimmerie is now available.
Street Buzz - Grimmerie Reviews
The Wicked Grimmerie is now available. Wicked: The Grimmerie -Amazon.com
1. Review by Wicked Fan Tanner of Tampa Bay Florida (Age 16)
Forget shirts, plush monkeys, and posters, "The Grimmerie" is the one piece of merchandise that every Wicked fan should own. The Wicked team has done an absolutely brilliant job with this book.
Upon first glance, "The Grimmerie" has an ancient look, a theme resent throughout the book. Though at times this effect seems overused and every once in a while makes pictures a little hard to see, overall it is a nice touch. Speaking of pictures, the book is full of gorgeous pictures from various photo shoots, live performances, and even some candid shots. There are quite a few that I, as a big Wicked fan, haven't seen, and that I have seen look amazing in print. These pictures are mostly of the Original Cast (which is to be expected ), with additions from the tour and second broadway cast (no Chicago cast pictures if I recall correctly).
But don't get me wrong, "The Grimmerie" isn't just pictures, it has a good amount of reading.
The only part lacking is the libretto, which was originally supposed to feature the entire script and lyrics. Parts are summarized to give you an overall feel, which is ok but not as good as the entire script.
Still, the reading material is so insightful and informational, and it is safe to say that there has been no source prior to this book with all of this information. I thought I knew it all about Wicked, but I was pleasantly surprised with the amount of Wicked knowledge that I have acquired.
There are even two pages of early drafts of the Wicked novel in Gregory Maguire's handwriting, early drafts of the sheet music and lyrics for "Defying Gravity" written by Stephen Schwartz, set drawings from Eugene Lee, and costume sketches by Susan Hilferty.
The book is also great fun with "How Elphie Get's Green" ,a section on Elphaba's elaborate makeup, a quiz to determine if you are more Elphie or Glinda, and even instructions on how to "Do The Elphie," Elphaba's hilarious dance during "Dancing Through Life".
Overall, there is absolutely no doubt in my mind that any Wicked fan will love this book. "Thank Goodness" for this phenomenal book...I couldn't be happier with it.
Back to the main Wicked Grimmerie page
2. Carol's Notes from the Webmaster
The book is homey and highly designed to really look like an aged manuscript. When Stephen Schwartz was interviewed for it, he was asked how the songs were developed. So there's wonderful descriptions of the songs. (I also have some of those stories here Wicked lyrics and song stories)
The Grimmerie includes lyrics and a version of the script with many scenes in tact and a few sections carefully described by Winnie Holzman (without actual dialogue). In any case, it makes a satisfying read. (Originally I had been told it was the full script, but somebody decided to change that.)
Wicked: The Grimmerie -Amazon.com
(Your purchases through these links help support this independent website with 50 Wicked-related pages.)
3. Review by Ryff W. (adult)
I'm a devout fan of this show now that I've seen it twice, read the novel and listened to the cast album enough to know every note and lyric of every song. So I was waiting with great anticipation for the Grimmerie. It is beautifully designed and produced, quite a lavish keepsake, and filled with some illuminating snatches of stories and interviews. Most of the photos are simply beautiful. I was disappointed on three counts, however. First and foremost, I was expecting the ENTIRE libretto and not the condensed passages, that is truly a miss by the publishers and authors. Second, there are few spectacular photos of backstage doings in running the show, and third, I was also wanting a very precise explanation about the technical aspects of the first act finale. But, these are minor quibbles except for the chopped libretto. We all were expecting the whole thing and many, many people are disappointed by this decision.
4. Review by Zach from St. Louis, (age 14)
The book is amazing! Especially the presentation of everything. The only thing I didn't like about it was the lack of pictures--I mean pictures I haven't seen. I did like the original handwritten pieces of music Stephen wrote and the part of the book that Gregory wrote. But overall it will without a doubt be one of those books I pick up everyday and read a little of no matter how many times I've read it. I really like the part where it gives the description of the characters. They were all funny.
5. Review by Maddie, (age 12), Eastern, North Carolina:
Wicked:The Grimmerie captivates you from the start, with an image of a green baby. You immediately want to know more. And as you flip through, you can see excerpts of Gregory Maguires original hand written "Wicked: The Life and Time of The Wicked Witch of the West," the multiple actors point of views on their characters, and it goes right down to the importance of lighting and choreography of the show. A sure favorite, Wicked: The Grimmerie will captivate you with the never-ending magic of theater."
6. Review by Adam Veenstra, 17 years old, Bloomfield, ON Canada
I finally received my copy of the Grimmerie yesterday, and it was well worth both the wait and the extra money for rushed shipping! It is nearly 200 pages of everything you'd ever think to ask about WICKED, and then some. Perhaps my favourite part of the book is the section where the cast members get the chance to talk about what it's like for them to be a part of such a wonderful musical. That part alone is worth the price of the book, and after reading such wonderful remarks from the cast, I definitely have a new appreciation for not only the physical demands of the show, but the emotional ones as well.
But I could go on all day about what's great about the book, so I'll take just a minute to mention the few minor problems I have with it. First and perhaps most obvious is the missing libretto. I love that we finally get official lyrics to "Wicked Witch of the East", but I would have loved to see the full text. I can do without a personality quiz or advertisment for Green Elixir: it's harder to due without the libretto. We can only hope this means that the creators are holding out for an offical release somewhere in the future (possibly to coincide with a CD release of cut songs?).
The only other minor problem that caught my attention was the photographs: there were only 4 or 5 cast photos that I hadn't seen before, and for the "Primer of the Curious and Incredible Inhabitants of OZ", I would have rather seen the Henry Leutwyler photo of Norbert Leo Butz as Fiyero, as opposed to a spread of Joey McIntyre.
However, these problems are easily overlooked: I love the Grimmerie, and applaud all who were involved in its production. It was an incredible gift for all WICKED fans, and a simple "thank you" hardly seems enough to show the gratitude we feel not just for the book, but for the show as well.
Back to the main Wicked Grimmerie page
Back to main Wicked page