Wicked the Musical Links to Fan Sites and Sites with Forums
Don't miss our Wicked index page: All About Wicked - Wicked home page
Chat about Wicked on Wicked E-mail Groups, Wicked Message Boards, Wicked Fan Sites, Podcasts, etc.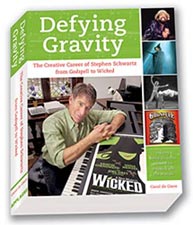 Hello Wicked fans. Get Stephen Schwartz's autograph on the book that describes the full story of the making of Wicked . Find out more at DefyingGravityTheBook.com
Some Official Sites with Forums or Podcasts for Schwartz and Wicked
Stephen Schwartz's official site has a forum for all Schwartz musicals. StephenSchwartz.com [new browser window]
MusicalSchwartz.com (the site you are on) is a fan site for Stephen Schwartz. Stephenschwartz.com serves as the forum for this site. MusicalSchwartz.com has many pages for fans, such as Wicked history | Wicked Lyrics | Wicked fan party - ideas for a fan group gathering | Wicked shop where you'll find logo clothes, and The Schwartz Scene newsletter with updates from the show's composer.
Wicked's official fan facebook is at Facebook Wicked and there's a section of the official site for fans at Wicked site news and fan info
UNLIMITED: The First Wicked Fan Society is now at: http://unlimitedwicked.weebly.com/index.html
Gregory Maguire's site has a Wicked forum. Gregory Maguire - Wicked Discussion Forum - (Wicked Chat board for the musical and novel)
USA based Wicked fan sites with forums
Musicals.net has added a Wicked forum to their many forums on musicals. Wicked at musicals.net
Witches of Oz - fan site www.witchesofoz.com/ with discussion forum.
UK-based Wicked Fan Sites with forums
http://www.wickedonwestend.co.uk/ large site devoted to WICKED on the West End
http://www.wickedtheforum.com/ UK based but general WICKED
An "official" discussion forum for Wicked run by iVillage
German Wicked Fan Site
http://www.wickeddasmusical.de/
Wicked Fan Site for Finland
This fan site operates on Facebook: Wicked Fanclub Suomi
More Wicked Fan sites
Kevin's site at Geocities [new browser window] (includes lyrics) (opens new browser window)
Visit wickedonbroadway.net [new browser window] (opens new browser window) - has many article links and photos, etc
Check http://groups.yahoo.com/ [new browser window] plus a separate group for Kristin Chenoweth [new browser window].
Another WICKED FAN SITE (at geocities) [new browser window](opens new browser window)
Wicked Pop-Princess.com site [new browser window] (opens new browser window)
http://www.geocities.com/defying_gravity_site/ - fan site
http://www.theatre-musical.com/wicked.html Fan site
http://www.beyondtherainbow2oz.com/wicked-a-new-musical-in-pictures.html - This site focuses on photos
http://www.geocities.com/galindaswardrobe/ This site is about the costumes.
Official Wicked Sites:
For articles and photos visit the official Wicked site: WickedtheMusical.com [new browser window]
http://www.wickedthemusicaltour.com/ - tour
http://www.wickedthemusical.com/LA/
etc. Find them on Google.
More links
http://www.artspass.com/ offers WICKED interviews with Stephen Schwartz and others.