Wicked Los Angeles
Wicked the Musical in Southern California--Tickets, History, & more

Sorry you missed Wicked. It was in LA again Nov 30th, 2011 to Jan 29, 2012.
Don't miss our Wicked Shop for logo shirts, logo hoodies, monkeys, posters and frames, souvenir programs, gift certificates, etc
Wicked History - Los Angeles Origins -
How did these musical writers condense a 400+ page novel into a 2 1/2 hour musical?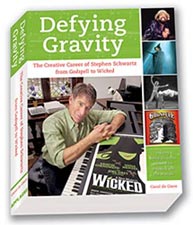 THE TRUE STORY OF WICKED. Find out in this book: Defying Gravity: the Creative Career of Stephen Schwartz, from Godspell to Wicked includes 150 pages of fascinating narrative about the development of Wicked including many never-before-told stories. Defying Gravity - Stephen Schwartz biography with Wicked's story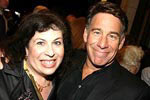 Sometime in 1995 or 1996, Winnie Holzman was in Los Angeles writing for television when she noticed Gregory Maguire's book Wicked in a bookstore, and thought it would be an intriguing basis for a film adaptation. But she found out the rights were already taken and dropped the idea. When Stephen Schwartz heard of the book in December of 1996, he immediately recognized it as "the best idea for a musical I'd ever heard."
He began working with producer Marc Platt, and planned to write the show's music and lyrics. Schwartz knew he wanted to team up with a woman to complete the libretto for a show that focused on women. Fortunately he thought of Winnie Holzman, and soon Platt, Schwartz, and Holzman were holding regular meetings in Los Angeles to plan the whole complicated story line.
To read more about Wicked on this website go to our Wicked index
(PHOTO above of two witches is by Joan Marcus: Natalie Daradich as Glinda and Anne Brummel as Elphaba sing "For Good")
Wicked as spectacle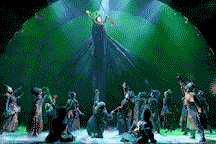 In 2005, one LA critic described the Wicked Tour, saying it came "...complete with all the visual razzle-dazzle that garnered Tony Awards for Eugene Lee's phantasmagorical set designs, Susan Hilferty's whimsical costumes and a nomination for Kenneth Posner's spectacular lighting."
Another said, "Lovers of spectacle won't be disappointed. Susan Hilferty's Tony award-winning costumes are practically their own character. The winged monkeys are pretty cool." Although these production elements are costly, the producers are committed to bringing Wicked in all its colorful glory to Los Angeles.
Don't miss seeing the show when it stops again in the LA area in 2011 at the Orange County Performing Arts Center March 9 - April 3, 2011 and at the Pantages November 30, 2011 to January 22, 2012.
Wicked Shopping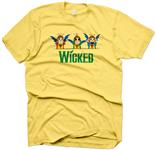 New items have been added to the Wicked shop since the tour last came to the area, like this adorable flying monkey shirt for kids. Wicked Shop for logo shirts, logo hoodies, monkeys, posters and frames, souvenir programs, gift certificates, etc
For the original Broadway cast

Wicked Original Broadway Cast album: Wicked musical - Amazon.com $13.49 (List price $18.98).
Wicked Karaoke CD [opens to our sister site musicalsingers.com] sing along with Wicked. Acompaniment tracks for Wicked and other Broadway shows.
Gregory Maguire's NOVEL:

Wicked Musical Tie-in Edition : The Life... [new browser window] This tie-in edition of Gregory Maguire's novel Wicked: The Life and Times of the Wicked Witch of the West features 16 pages of photos from the musical.
Wicked Los Angeles Reviews
March 13, 2011 Getting "Wicked" at Last
Orangecounty.com writer Lisa Liddane reports on her experience of catching up to Wicked, the novel and the musical playing at the Orange County Performing Arts center. She recommends the show, and comments.... The musical's storyline takes reasonable and understandable liberties with Maguire's work, and in doing so, begs to be regarded as an reinterpretation, not replication....
Getting "Wicked" at last - Orange County Wicked review
Posted March 8, 2007 ...."Wicked," the highest grossing show on Broadway, is now entertaining full houses nightly to the delight of Southern California audiences for the next year in an open-ended run. Last Thursday, the audience rose to its feet, loudly applauding the cast during the curtain call. "Wicked" lived up to the hype with its spellbinding sets, spot on performances of the lead actresses and clever script....
Los Angeles Times for 2007: Wicked' is almost sure to be evergreen. The hit musical makes L.A. its new Oz, with terrific lead performers who enhance the magic.
Eden and Megan - Wicked Los Angeles Review and photo on Theatremania .... Eye-popping sets, special effects that could dwarf a James Cameron film, a cohesive and sophisticated script by Winnie Holzman, and a pair of diva-worthy roles all conspire to make a feast for the eyes and ears.....
Wicked Reviews of the LA production by Audience Members: Street Buzz
By Deanna O. of Visalia, CA
Wicked? There is not a greater musical out there. I have always been a fan of theatre and recently saw Wicked in Los Angeles. I was utterly spellbound...even though I had listened to the soundtrack for years.
By Laura H. of Santa Clarita
Just yesterday I was so very fortunate enough to experience Wicked at the Pantages, and even MORE fortunate to have incredible seats (I will NOT disclose to anyone how much I paid for 2 orchestra level seats row E dead center).
I've been telling everyone at my office this morning that in my opinion, Wicked is easily on the same level as Les Mis and Phantom of the Opera (and I have a large Phantom tattoo so for ME to say that anything is on the same level as POTO is pretty huge). I just loved the chemistry between Glinda ("The Ga is silent") and Elphaba...I had no idea how humorous the production would be, and yet so dark, and touching! The scenery and costumes were fab, the singing was sublime, the ensemble was incredibly talented. Funny how I found myself relating to Glinda and to Elphaba both. I guess that says something about the incredible character development and interpretation by the players. What a great day....I was buzzing all the way home! This evening may find me on Ticketmaster looking for another pair of tickets (but don't tell my husband....I have yet to pay the credit card bill for the FIRST pair of tickets)!
More Street Buzz - People's reviews of Wicked at the Pantages Theatre in Los Angeles. "Cute story, good ending, performance fresh and snappy, a tad slow in a few parts, very nice costumes, ornate and not the typical. I liked it better than the performance I saw of Lion King. Definitely take a restroom stop before seating as it is a long time before intermission...."