Wicked's Success
Wicked is so popular that it's a cultural phenomenon. It's hard to keep up with the show's success but on this page you'll find some details from press coverage, photos of the 1000th performance party, and more.
From a press notice in 2016:
Since opening in 2003, Wicked has been performed in over 100 cities in 14 countries around the world... and has been translated into six languages: Japanese, German, Dutch, Spanish, Korean, and Portuguese. The musical has amassed nearly $4 billion in global sales and has been seen by over 49 million people worldwide.
Declared "The Best Musical of the Decade" by Entertainment Weekly and "A Cultural Phenomenon" by Variety, Wicked is the recipient of over 100 international awards including the Grammy Award and three Tony Awards.
In addition to the Broadway production, Wicked in North America has enjoyed unprecedented record-breaking sit-down engagements in Chicago, where it ran for nearly four years; Los Angeles, where it ran for two years; and San Francisco, where it ran for nearly two years, as well as two concurrent National Tours. The musical has grossed a combined total of over $2.8 billion, solely from its North American companies. It continues to be among Broadway's highest grossing musicals, 13 years into its run.
For BROADWAY: Despite mixed reviews and the 2004 Tony Awards upset when Wicked lost out to Avenue Q, the show about the witches of Oz has broken box office records and sold out nearly every show.
1000th Performance Party
Wicked, the Stephen Schwartz musical that opened at Broadway's Gershwin Theatre Oct. 30, 2003, celebrated its 1000th performance March 23, 2006.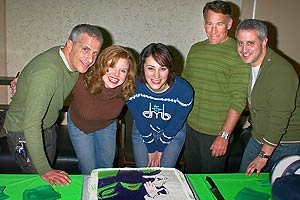 Photos on this page are by Ben Strothmann for BroadwayWorld.com (Copyrighted)
Flanked by producers Marc Platt (left), Stephen Schwartz and David Stone (right), Wicked stars Megan Hilty and Eden Espinosa prepare to cut the celebratory cake after the 1000th performance of Wicked in the lobby of the Gershwin Theatre on West 50th Street and 8th Avenue in New York City.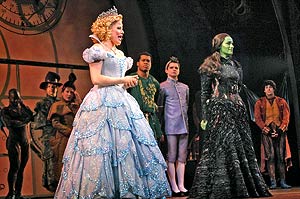 Here Hilty as Glinda shares her comments at the curtain call at the end of the performance. Susan Hilferty's costumes contribute to the glory of the show.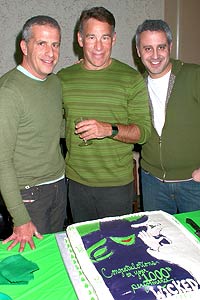 Lead producer Marc Platt (left) was developing a film of Wicked when Stephen Schwartz (center) approached him in 1997 about turning it into a stage musical instead. Platt, Schwartz, and Winnie Holzman, spent a year planning the show and it all unfolded from there. The team needed to draw on the business sense of producer David Stone (right) to make their vision a reality on the Broadway stage.
They have a right to be proud. According to Internet Broadway Database, only 99 shows in all of Broadway history have made it past the 1000 mark. Of Schwartz shows, Pippin holds position number 25 for longest running with a performance count of 1944, and The Magic Show is number 27, with a performance count of 1920. Godspell is at number 326, having run Jun 22, 1976 - Sep 4, 1977 on Broadway for a total of 527 performances. It also ran over 2000 performances off-Broadway just before it hit the Great White Way.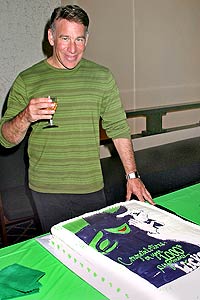 Stephen Schwartz turned 58 on March 6th, and so this March 23rd party for the 1000th performance party is his second celebration of the month. Sometime after his 60th birthday, Wicked's performance numbers are likely to surpass those of his Pippin and The Magic Show, making his show featuring the green witch Elphaba his longest running musical on Broadway.
Stephen likes to wear green to Wicked celebrations. Of course he is relieved and pleased that his diligent work helped produced a mega-hit musical--especially since it was his idea to turn Gregory Maguire's novel Wicked into a stage musical.
The cake decorator managed to frost the cake with Wicked's logo image.

Don't miss our Wicked Shop for logo products, Emerald City green glasses, and more.
This page was published in conjunction with The Schwartz Scene newsletter issue #23.
ABOUT THE PHOTOS:
Photos by Ben Strothmann for BroadwayWorld.com
MusicalSchwartz.com made special arrangements with Ben Strothmann for display of these wonderful photos. Please respect his copyright and do not copy them. Visit www.BenStrothmann.com