Wicked in Finland and Denmark are the first "non-replicated" productions
Wicked at Helsingin Kaupungin Teatteri, Helsinki, Finland
Wicked opened in Finland in August, 2010. The photo shows a banner in the theatre lobby - photo by Steve Loucks who flew over to see the show and write a report for his blog. (More info below)
Website in Finnish - some photos and video clip Wicked in Finland
Stephen Schwartz reports about the Finnish production in The Schwartz Scene newsletter The Schwartz Scene newsletter
From Steve Loucks for "Steve on Broadway" ".... the show now playing at the Helsingin Kaupungin Teatteri (Helsinki City Theatre) is the first "non-replicated" production ever of the tuner, meaning that Wicked isn't using the original Broadway staging. Instead, it's been conceived with new creative designs that lends an incredibly fresh perspective to this already classic work, thanks to Hans Berndtsson's inventive direction." Read the full review

Read the story behind this special Finnish production of Wicked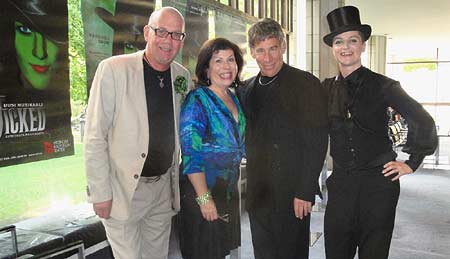 PHOTO: A Wicked team: Hans Berndtsson (director for Wicked in Finland), Winnie Holzman (bookwriter), Stephen Schwartz (composer-lyricist), Rebecca Evanne (choreographer).
Notes from the Director - Hans Berndtsson.
It was not without some anxiety that I approached my first meeting with Stephen Schwartz. I was visiting NY and would introduce my concept (interpretation) of the first non replicated version of WICKED.
But my concern was unwarranted. I met a very friendly man, a devoted listener and great artist. Many cups of tea later, I left his apartment in NY. It had been a very productive meeting at all levels.
What followed was an extensive e-mail correspondence between me, the theater, translators and Stephen Schwartz and Winnie Holzman. In detail, we reviewed the Finnish translation and interpretation of the text.
Finally in the springtime, Stephen visited us during the rehearsal period. It was not many days, but it was intense and pleasurable. Sure, there was a tension in the air as we made our first run through in front of the Stephen's watchful eyes. After the run through, Stephen sat silent for a while. This was the first time he had seen anyone make their own interpretation of his WICKED. We had also made some changes to the beat of the music. So after a while, which probably was only a few seconds but seemed like an eternity, he turned to me and said, very briefly, "Cool!"
And so we started working together. There were scenes that I, as a director, had a hard time finding good enough solutions. Stephen came up with good suggestions and I asked him to actually help me in directing them--something he, at first, was very hesitant to do. He was not accustomed to working that way on Broadway. And I just replied, "Welcome to Scandinavia!" And after a short while, he found himself perfectly comfortable and with almost a childlike joy we ran around the stage, and we were staging, directing and changing certain scenes to be much better.
During the last weeks rehearsal before the premiere, Stephen came back, and this time, Winnie Holzman came too. It was a wonderful meeting. With the help of these two wonderful people, we added the finishing touches on what would become a new WICKED.
I would like to express my sincere thanks to Stephen Schwartz and Winnie Holzman for their great generosity, dedication, and especially the support that I received as a director and the warm support which the whole cast received. It was a premiere of joy. And the with the large attendance the shows have, we now know that the Finnish audience have taken WICKED to their hearts.
Hans Berndtsson
Director
November, 2010
Wicked Finland - another site
This fan site operates on Facebook: Wicked Fanclub Suomi
Order Wicked Logo Merchandise from London, England
The Ozdust Boutique: The only official source for WICKED THE MUSICAL merchandise
More Wicked Info