...MORE
Everything Else by Stephen Schwartz that didn't fit on other pages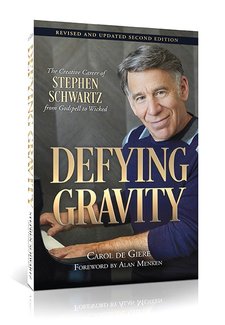 NOTE: The Revised and Updated 2nd edition of the Stephen Schwartz biography Defying Gravity covers the fascinating development of all these newer projects. See Defying Gravity 2nd Edition
Links to:
Magic to Do Cruise show album - 2016 album with new songs, and more about the Princess Cruise shows created by Stephen Schwartz.
Schikaneder- or A new stage musical by Stephen Schwartz (music and lyrics) and Christian Struppeck (book) that premiered in Vienna, Austria in 2016.
The Prince of Egypt stage musical. This is an adaptation for the movie musical. Material about the stage production has been added to the movie page on Musicalschwartz.com.
Mumbai Musical- animated feature movie in the works with lyrics by Stephen Schwartz
Disney's My Son Pinocchio [Formerly Geppetto and Son, based on the TV movie Geppetto]
Snapshots - stage musical
Bernstein's Mass - stage musical
Schwartz choral pieces: "Keramos," "Testimony" and a section of the "Tyler Suite"
Houdini - Schwartz stopped work on Houdini but two songs from the show can be heard on the Magic To Do album. Hugh Jackman was set to play the title role but withdrew in December 2013. "I have greatly enjoyed the collaborative process on Houdini," Jackman said in a statement. "Ultimately, though, I wasn't able to commit to the time this role will require." Schwartz withdrew shortly after that.

On this page:
(Also check out: Stephen Schwartz Songs Recorded by Other Artists. Some of these includes songs not recorded anywhere else)
Personals - Musical
Personals

[1998 Original London Cast], Jay Records (UK), 1999. Songs (music) by Stephen Schwartz on this collective work include: "Nothing to Do With Love," "Moving in with Linda," and "Some Thing's Don't End." Personals: The Comedy Musical Revue... [new browser window]
Note from Carol de Giere: I highly recommend the Personals CD (Jay Productions Ltd, 1999: Original London Cast). I don't remember ever sitting to listen to a recording, and laughing out loud at some of the lyrics and spoken lines as I did with this CD. It's totally delightful. Also I recently received an email from a US production saying, "PERSONALS ran 19 performances from 2/00 to 4/00, and was sold out every performance." The music is bouncy and a perfect fit for the whimsical, truth-telling lyrics describing personals column ads and other relationship adventures. I especially appreciate how Stephen Schwartz's music for "Moving in with Linda" carried me through more than 6 minutes of story lyrics without ever dropping my interest. I can't wait to see the show sometime. A bright and successful collaborative effort on the part of Stephen and 5 other musicians plus several book and lyrics writers.

True Home and "Forgiveness' Embrace"
True Home

Stephen Schwartz wrote music and lyrics for "Forgiveness' Embrace," the final song for this show. He includes "Forgiveness' Embrace" on his Uncharted Territory CD and in the Stephen Schwartz Songbook
In creating TRUE HOME, Morgan solicited songs from songwriter friends and colleagues to create an entirely new concept of musical. She penned sketches or essays of events that she wanted included in the work and gave them to the songwriters. The musical includes work by Tony nominee Jeanine Tesori (Thoroughly Modern Millie), Jack Herrick (Red Clay Ramblers), Randy Courts and Mark St. Germain (The Magi and Jack's Holiday), Steven Alper (The Immigrant), and the late David Bucknam, in addition to the song by Stephen Schwartz.
In TRUE HOME, each story and each location in the piece "is about looking to belong somewhere, looking for home", said Morgan, a Rochester, NY native. "I think that's what everyone is always doing. I wondered what a 'true home' was."
Cass Morgan: Morgan played Eve/Mama Noah in one of the first American productions of Children of Eden. A well-known Tony nominee for the Broadway musical, PUMP BOYS AND DINETTES, which she co-wrote, Morgan's performance list is extensive. She has been featured on Broadway in Paul Simon's controversial musical CAPEMAN, BEAUTY AND THE BEAST, THE HUMAN COMEDY, and HAIR. Her Off-Broadway credits are many and include the new musical, THE IMMIGRANT, the award-winning Playwrights Horizons productions of VIOLET and FLOYD COLLINS and the York Theatre Company revival of MERRILY WE ROLL ALONG. Cass has worked extensively regionally in BEST LITTLE WHOREHOUSE IN TEXAS and 1776, the national tour of CABARET, DAS BARBECU and DIAMOND STUDS.
"Forgiveness' Embrace" is featured on Uncharted Territory, a CD Schwartz released in the fall of 2001. He included the sheet music in his Stephen Schwartz Songbook. It's a moving song about making peace with the past. In an interview published in The Schwartz Scene from MusicalSchwartz.com, Stephen Schwartz described his technique for writing the song.
SS: It was actually a very interesting technique of writing a song that I'd never used before but subsequently used with two other songs on the "Uncharted Territory" CD. Cass had been putting together essentially a one-woman show -- even though there are three people in it -- which was autobiographical. There were songs in it that she wrote because she is a good writer herself but she wanted to have songs contributed by other writers that she knew. She and I had known each other a long time so she asked me to write the closing song for her. I then saw a reading of the show as it existed then so I kind of knew what it was about. Then I went and essentially interviewed Cass at her house with a yellow pad of paper and we talked for a couple of hours and I said "Tell me what you think this song should be about, what's the song about, what point are you really trying to make" and she just talked while I took notes. Then I went home and used those notes as the basis of a character for which I was writing a song. I also tried to find a place where what she was saying coincided with things that I felt - and I told her I was going to do this - so that I could write something that was both appropriate for the last song in her show but something that I could sing as well. It turned out to be a really interesting technique to write a song.
Thiruvasakam

Stephen Schwartz has contributed lyrics to a section of Thiruvasakam by Ilaiyaraaja also known as Thiruvasakam in Symphony, a project of Maestro Ilayaraaja of Tamil Nadu, India Thiruvasakam: A Classical Cross Over
Question for Stephen Schwartz: Translating from any language to any language is difficult, particularly when the original has deep meaning. It is even daunting when the source language is rich such that there may be 30~40 words to describe one thing. What is your experience in translating Thiruvasakam for TIS ?
Answer from Stephen Schwartz: Because I do not know any Tamil, I didn't attempt to "translate" the Thiruvasakam. I used Dr. Raaja's interpretation of the specific portions of Hymn I that he wanted to set, and then, as he requested of me, I wrote my own modern English version of the ideas and feelings expressed. So the relatively small amounts of English used are interpretations of the original, rather than translations per se. Nevertheless, I think you will enjoy the piece when you hear it; I was extremely impressed, as I have said, by what I have heard of the entire project.
(As posted on stephenschwartz.com forum)