Mumbai Musical - Bollywood Superstar Monkey
Update 2015
From a Variety article on DreamWorks cutbacks: Bollywood-themed "Mumbai Musical" have been put back into development.
A new DreamWorks Animated Feature with Lyrics by Stephen Schwartz
According to his biographer Carol de Giere, Stephen Schwartz is an artist who likes to expand his experiences as a writer. Even though he was doing well with Disney in the mid 1990s, when his collaborator Alan Menken advised him to stick with the studio, Schwartz said, "Well, I've done that already... I tend to ask, 'Okay, I did that, now what's new to do?'" He started working with DreamWorks on The Prince of Egypt. He later returned to work on Broadway with Wicked, and wrote an opera.
This Bollywood-styled film is a new adventure for him, and one that suits his exploratory nature.
Update February 2014
The current USA release date has been set for March 18th, 2016. It will feature songs by A.R. Rahman (music) and Stephen Schwartz (lyrics).
Update September 2012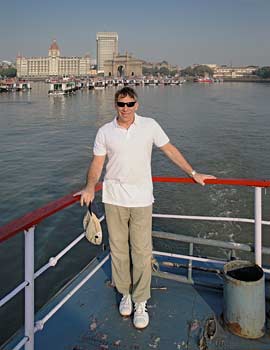 The planned release date of the new movie musical with lyrics by Stephen Schwartz has been announced to be December 19, 2015. Mumbai Musical (working title), is Dreamworks Animation SKG studio's first-ever Bollywood-style animated musical. This "adventure" of a film was inspired by the great Indian epic tale of The Ramayana but told from the point of view of the monkeys. Kevin Lima (Enchanted) is directing. A.R. Rahman (127 Hours, Slumdog Millionaire, Bombay Dreams) is writing the music, and he and Schwartz are both executive producers on the film. David Sussman is writing the screenplay. Gurinder Chadha and Paul Berges, who penned Bride & Prejudice and Bend It Like Beckham, are writing the script.
Update June 2012
Stephen Schwartz has been to India and back while working on "Monkeys of Mumbai" (working title) for Dreamworks. PHOTO. Mr. Schwartz is pictured at the Mumbai Harbor. He loves going on field trips to pick up ideas for lyrics from the environment. FREE NEWSLETTER - Stay informed about this and other Schwartz projects. The Schwartz Scene offers quarterly updates written by Stephen Schwartz about his activities, plus much more including his updates about Mumbai Monkeys.
Update August 2011
Kevin Lima will direct a new animated musical Mumbai Monkeys for Dreamworks. Stephen Schwartz, who will write the song lyrics, worked with Lima on Disney's Enchanted.
"Ever since Enchanted, I've been looking for a film musical," Lima tells The Hollywood Reporter. 'When DreamWorks Animation approached me with the prospect of doing a Bollywood musical with such renowned collaborators, I knew this was the one.'"
Update January 11, 2011.

DreamWorks has recruited composer-lyricist Stephen Schwartz to write lyrics for a new animated feature film Monkeys of Bollywood, with a yet-to-be-announced release date. "As soon as I heard that DreamWorks Animation envisioned making an animated Bollywood movie, I knew I wanted to be a part of it," said Schwartz in a statement. "The fact that A.R. Rahman got involved made it an even more exciting project."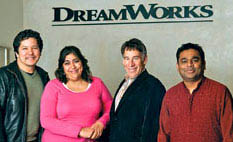 PHOTO: Monkeys of Bollywood creative team as announced in January 2011. Left to right: Husband-and-wife producing team Paul Berges and Gurinder Chadha, songwriter Stephen Schwartz, and film score writer A.R. Rahman.
Described by the movie company as "a Bollywood-style animated musical adventure set in modern-day Mumbai," Monkeys of Bollywood was inspired by the great Indian epic tale of The Ramayana – but retold through the point of view of its monkeys. The new movie revolves around two commonmonkeys who become unlikely heroes in a last ditch effort to stop an ancient, thought-to-be-mythical demon from conquering the world. The project is being overseen at DreamWorks Animation by Bill Damaschke and development executive Chris Kuser.
Stephen Schwartz started writing for film in the early 1990s with Disney. Then in 1994, when Jeffrey Katzenberg, Stephen Speilberg, and David Geffin had just formed DreamWorks SKG, they invited Schwartz to write songs for the first animated feature The Prince of Egypt. Schwartz's "When You Believe" went on to win an Academy Award for Best Original Song the year after the film's 1998 release.
Schwartz went on to write the score for the blockbuster musical Wicked, and previously was known for his scores for Godspell, Pippin, and others for stage, as well as lyrics for Disney movies Enchanted, Pocahontas, and The Hunchback of Notre Dame. He also wrote songs for a Disney TV movie Geppetto that has since been turned into a stage musical My Son Pinocchio.
"To reunite with Stephen Schwartz and work with such a celebrated team of artists on DreamWorks Animation's first-ever CG animated feature musical project is incredibly exciting," said DreamWorks Animation's Chief Creative Officer, Bill Damaschke. "Together we will create a movie that is full of magic, fantasy, adventure, comedy and emotion in which inspiring songs and dances will delight audiences everywhere."
Although India has not yet been on the long list of countries that Stephen Schwartz has traveled to, he has previously worked with an Indian composer when he contributed lyrics to Thiruvasakam in Symphony, a project of Maestro Ilayaraaja of Tamil Nadu, India. Thiruvasakam: A Classical Cross Over
A.R. Rahman, responsible for scoring both Slumdog Millionaire and 127 Hours, will also be a selling point for the film, as will having the producing team that delivered the Bollywood style romantic comedy Bride and Prejudice behind the project.
Rahman received two Academy Awards and a Grammy Award for his music for Slumdog Millionaire. In addition, he has written the scores for the stage musicals Bombay Dreams and Lord of the Rings.
According to PR wire release of January 12, 2011, executive producer and lyricist Stephen Schwartz, executive producer and composer A.R. Rahman, and writers Gurinder Chadha & Paul Berges are together this week at DreamWorks Animation's headquarters in Glendale, California to continue their collaboration on the feature project.