Pippin the Musical
with Music and Lyrics by Stephen Schwartz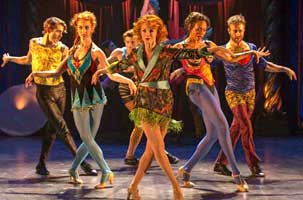 Check this page for all your Pippin-related resources: Albums, DVD, sheet music, books on Pippin, history, photos, licensing information, and more.
Pippin Recordings
Cast Album - New Broadway Cast

Pippin / New Broadway Cast Recording (link opens new browser window to Amazon.com)
This new album features the amazing cast of the current Broadway revival and will include pieces left off the original album. (The original Pippin album didn't include some of the shorter pieces like the one that Catherine sings "There he was..." Back in the vinyl album days, there were many more limitations than there are with digital.)
You'll hear outstanding vocal performances by Matthew James Thomas, Patina Miller, Andrea Martin, Terrence Mann, Charlotte d'Amboise, Erik Altemus, Andrew Cekala, Rachel Bay Jones, and others on this Broadway Revival cast album. Ghostlight Records.
Track List: 1. Magic To Do, 2. Corner Of The Sky, 3. War Is A Science, 4. Glory, 5. Simple Joys, 6. No Time At All, 7. With You, 8. Spread A Little Sunshine, 9. Morning Glow, 10. Entr'acte, 11. On The Right Track, 12. Kind Of Woman, 13. Extraordinary, 14. Love Song, 15. I Guess I'll Miss The Man, 16. Finale
"SING ALONG WITH THE PIPPIN ORCHESTRA" BONUS TRACKS 17. Corner Of The Sky, 18. Simple Joys, 19. Kind Of Woman, 20. Extraordinary
Pippin Original Cast Album

Original Broadway Cast Recording, UNI/Motown, 1972 REMASTERED in 2000! Listen to Pippin - CD and MP3 Files - (1972 Original Broadway Cast) [new browser window]

Includes: Magic To Do, Corner of the Sky, War is a Science, Glory, Simple Joys, No Time At All, With You, Spread a Little Sunshine, Morning Glow, On the Right Track, Kind of Woman, Extraordinary, Love Song, I Guess I'll Miss the Man, Finale
BONUS TRACKS on this recording: I Guess I'll Miss the Man -- The Supremes, Corner of the Sky -- The Jackson 5, Morning Glow -- Michael Jackson
Pippin Karaoke for performers
Broadway Box Karaoke - Includes "Corner of the Sky"

The Broadway Box- 80 Songs From 51 Shows [new browser window] Here's a 5-CDG box set that contains 80 classic songs. Includes songs from Pippin and Godspell - 51 top shows in all. Great gift item.
Pippin Karaoke Backing Tracks

Just Tracks - MP3 Just Tracks: Pippin - Pocketsongs

Recording: Pippin Karaoke The price is lower on this one and it includes both vocal track and instrumental, so you can practice with the vocal first. Note, though, that the orchestration is less like the original cast album than the Pocket Songs version

Pippin DVD and related DVDs

Pippin on DVD [new browser window] The Pippin DVD features Ben Vereen as Leading Player, William Katt as Pippin, and Chita Rivera as Fastrada. It includes a short clip of Bob Fosse interview.

Note that the DVD version does not provide the same feel as the original Broadway production, but it does show much of Fosse's choreography. William Katt plays-sings-and-dances barefoot in the title role for this musical that explores a young man's quest for self and meaning. The DVD shows similar sets and costumes as the original, and the opening number, "Magic to Do," reveals the exciting white gloves - light curtain effect that dazzled Broadway audiences.

You'll hear "Corner of the Sky," the romping "No Time at All" (by Martha Raye as Pippin's grandmother), and more.

PBS Documentary on Broadway: The American Musical includes a passing reference to Pippin and a sizable segment on Bob Fosse. In an interview Fosse explains how he developed his dance style.

Broadway - The American Musical - DVD [new browser window to Amazon.com

[For the region 2 - PAL version in Europe: The History Of Broadway [DVD]

Fosse video and DVD includes very little of Pippin but presents Bob Fosse's choreography and includes some interesting interviews. DVD: Fosse [new browser window]

Fosse fans: Catch an amazing Fosse dance by Gwen Verdon and cast of Sweet Charity: The Best of Broadway Musicals - Original Cast Performances from The Ed Sullivan Show (Available in video or DVD from Amazon.com)
Pippin Sheet Music
Visit our complete music page at PIPPIN Sheet Music, Songbook, Pippin Score....
Books on Pippin
If you're performing in Pippin or just learning more about the show, you'll find quite a bit of literature in print.
Defying Gravity includes Four Pippin-related Chapters - Dispells myths.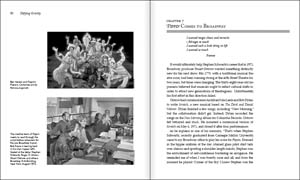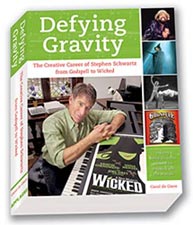 Defying Gravity: The Creative Career of Stephen Schwartz, from Godspell to Wicked is the first and only book source with Pippin's history from Stephen Schwartz's point of view. Use this source to find the truth behind some of the Pippin myths. Find Pippin-related information in
Chapter 2 "Morning Glow--the College Years,"
Chapter 6 "Godspell meets Mass and Pippin,"
Chapter 7 "Pippin Comes to Broadway,"
and the Extras section chapter "Updates and New Projects" that includes an explanation of the new Pippin "Theo ending."
Defying Gravity also includes more than 200 photographs and illustrations, including photos from the original college version of Pippin. Read more or buy Defying Gravity. Autographed copies signed by Stephen Schwartz and the author are available.
Present at the Creation (of Pippin...)
Pippin's Broadway producer Stuart Ostrow mentions Schwartz, Fosse, and Pippin in his new book Present at the Creation, Leaping in the Dark and Going Against the Grain: Present at the Creation, Leaping in the Dark, and Going Against the Grain : 1776, Pippin, M. Butterfly, La Bete, and Other Broadway Adventures
He believed that Schwartz's pop/rock sound was the new voice he was looking for to bring Broadway up to date.
From Assassins to West Side Story
See Scott Miller's book From Assassins to West Side Story: The Director's Guide to Musical Theatre for a complete chapter on Pippin and offers some advise for directors. Buy From Assassins to West Side Story. [new browser window]
All His Jazz
Check the index of this Martin Gottfried's book on Fosse for Stephen Schwartz (and for Carole Schwartz). There's a few interesting tidbits. Gottfried presents a comprehensive look at Bob Fosse as a director, choreographer, and person. Buy All His Jazz: The Life and Death of Bob Fosse. [new browser window]
Others
Bob Fosse's Broadway includes some Pippin information. Buy Bob Fosse's Broadway. [new browser window]
The Fosse book Razzle Dazzle: The Life and Works of Bob... (opens new browser window to Amazon.com [new browser window]includes Pippin material, and is particularly strong on the dance aspect.
Michael Shurtleff's Audition: Everything an Actor Needs to...[new browser window] also has insights on the formation of the show.
Peter Filichia's Broadway Musicals: The Biggest Hit and the Biggest Flop of the Season - 1959 to 2009
includes Pippin as the 1972-1973 biggest hit.
About Pippin
Pippin has a book by Roger O. Hirson and songs by Stephen Schwartz. It is based on the story of a historical man, Pippin, who was the son of emperor Charlemagne in the 8th century. Pippin the musical opened 10/23/1972 on Broadway and ran for 1944 performances. It continues to be performed around the world, licensed by Music Theatre International.
The Leading Player tells us the tongue-in-cheek story of Pippin, son of the 8th-Century King Charlemagne, who is on a quest to find his true calling in life. He goes through war, love, politics and other pursuits before settling down with Catherine and her son.... More than with most shows in which the characters carefully stay confined to the stage, Pippin invites the audience into its world and the characters frequently "break the 4th wall" and talk to the audience.
Stephen Schwartz co-wrote an early version of the show in college in 1967 (then called Pippin, Pippin). By the time he approached Broadway producer Stuart Ostrow with the script and score, all of the original songs and scenes had been completely replaced with new material.
Broadway Revival and Tour
Pippin on Tour: The award-winning Pippin production is now on tour. Find tour dates: Pippin tour
Read about the Broadway revival of Pippin
Pippin productions can seem heavy-handed, grossly burlesque, vapid, and/or dated. But some are truly magical and revelatory of why live theatre is worth leaving home to see. If you haven't seen a magic one, be sure to catch the Broadway revival production now on tour truly enchants.
Pippin Song List for Stage Production
Magic To Do -- Leading Player, Company

Corner of the Sky -- Pippin

Welcome Home -- Charles, Pippin

War is a Science -- Charles, Pippin, Company

Glory -- Leading Player, Company

Simple Joys -- Leading Player

No Time at All -- Berthe, Company

With You -- Pippin

Spread a Little Sunshine -- Fastrada

Morning Glow -- Pippin, Leading Player, Company

On the Right Track -- Pippin, Leading Player

There He Was -- Catherine

Kind Of Woman -- Catherine

Extraordinary -- Pippin

Prayer For a Duck -- Pippin

Love Song -- Pippin, Catherine

I Guess I'll Miss the Man -- Catherine

Finale -- Company
PIPPIN Licensing for Local Productions:
Music Theatre International provides a detailed description and ordering information for the production Mtishows.com
Casting - Pippin vocal ranges
Pippin role requirements as listed on the Music Theatre International site:
Leading Player, dynamic, magnetic (male or female); baritone
Pippin, earnest, attractive, misguided; baritone [often played by a tenor]
Fastrada, Pippin's conniving step-mother, mezzo
Catherine, an attractive, sharp woman, mezzo
King Charlemagne, military, imposing; bass
Pippin's saucy Grandmother; mezzo
Lewis, Pippin's foppish stepbrother
Catherine's 8-year-old Son
Resources for your production
In addition to the resouces that MTI provides, consider buying the Stephen Schwartz biography and showing it to the cast members for research on Pippin. www.DefyingGravityTheBook.com Defying Gravity includes details on the development of songs like "Magic to Do," "Corner of the Sky," "Morning Glow," "On the Right Track," "Kind of Woman," and "Love Song." It also includes Schwartz's comments about the show's meaning as presented in the finale. And in the Extras section chapter "Updates and New Projects" you'll find an explanation of how the new Pippin "Theo ending" came to be.
The new Theo Ending
The currently licensed version includes the new "Theo" ending. For info about the ending see Stephen's discussion forum archives. Look in the Pippin section under Notes for Directors. You will find questions and answers regarding whether there are any options, about adding a verse, about casting, and so on. Schwartz archives - look for Pippin section
Pippin Songs Recorded by Various Artists
"Magic to Do"
"Corner of the Sky"
"Morning Glow"
Michael Jackson - Best of Michael Jackson (Motown, 1981)
Ethan Freeman - With You - (TER, 1997)
"I Guess I'll Miss the Man"
The Supremes - rerecorded on the Pippin soundtrack as a special track - (Decca Broadway, 2000)
"No Time At All"
"Love Song"
Dame Kiri Te Kanawa with Malcom McNeil - Heart to Heart - (EMI Angel, 1991)
"Marking Time" (Cut from the musical)
John Barr - a top British singer includes a swinging version of this song on his CD In Whatever Time We Have
Michael Rupert - Lost in Boston IV - (Varese Sarabande, 1997) Lost in Boston, Vol. 4 [new browser window] This is the ONLY recording of this song that was replaced by "Extraordinary"
"With You"
Pippin acquired for film
April 2013: According to Deadline.com, the Weinstein Company has asked James Ponsoldt, the writer-director of The Spectacular Now and Smashed to write the screenplay for movie adaptation Pippin.
June 2003. The Stephen Schwartz musical Pippin, originally directed on Broadway by Bob Fosse, attracted the attention of Chicago's film studio. For updates on Stephen Schwartz's projects and general musical news, subscribe to the free email newsletter The Schwartz Scene
Pippin - Articles
Read reviews and comments about the professional production in Los Angeles in 2009. This production interwove music, voice, American Sign Language and dance, and combined powerful storytelling techniques from both hearing and deaf cultures. Special revival of Pippin in Los Angeles
"Composer Looks Back on Pippin" - Seattle Times Seattle Times May 4, 2006 Schwartz says about the show "....It has become timely again. It arose out of the Vietnam War and the fracturing of American society. In the 1990s that seemed like old news. Now we're at war again, there's more political protests. A story about rebellion against an unjust father doesn't feel like such a museum piece...."
Read about original Leading Player Ben Vereen
Review: Professional PIPPIN production at Sag Harbor, NY Aug/Sept 05
For interviews and articles about Stephen Schwartz, Pippin's composer see: Stephen Schwartz page
Pippin Reviews and Features: INCLUDES:
"Pippin's Score has Magic To Do" by Shawn McCarthy for the 30 year anniversay; and

"Memories of Pippin" by John V.J. Gillespie - about the original Broadway production
See story behind "Corner of the Sky" on the "Corner of the Sky" page
Pippin Lyrics
Lyrics | Special "Corner of the Sky" page | Special Extraordinary page
Links to Relevant Websites, Pippin Forum and show schedule
Forum
Go to the MTI Showspace for an online community with a Pippin section. http://www.mtishowspace.com/
and www.musicals.net Forum list for their active Pippin discussion Forum.
See www.stephenschwartz.com forum for general discussion.
http://www.fosse.com has a forum where Pippin is sometimes discussed and includes a long article on Pippin under "features."

Show Schedule for Pippin Productions in North America
Want to see a production of Pippin near you? Try this list: Go to the licensing agency site MTIShows.com Pippin page and look for the blue tab that says "Upcoming." Click there to find dozens of productions.
For singers: Visit our sister site MusicalSingers.com for tips, recorded courses on singing, sheet music, vocal health information, vocal coach links, and more. Everything for singers who love musicals.
Pippin Original Broadway Cast Credits
STUART OSTROW
presents
PIPPIN
Book by ROGER O. HIRSON
Music and Lyrics by STEPHEN SCHWARTZ
Directed and Choreographed by BOB FOSSE
Scenery Design by TONY WALTON
Costumes by PATRICIA ZIPPRODT
Lighting by JULES FISHER
Sound Design by ABE JACOB
Musical Direction by STANLEY LEBOWSKY
Orchestrations by RALPH BURNS
Dance Arrangements by JOHN BERKMAN
Cast:
Leading Player.........BEN VEREEN
Pippin.........JOHN RUBINSTEIN
Charles.........ERIC BERRY
Lewis.........CHRISTOPHER CHADMAN
Fastrada.........LELAND PALMER
Musician.........JOHN MINEO
The Head.........ROGER HAMILTON
Berthe.........IRENE RYAN
Beggar.........RICHARD KORTHAZE
Peasant.........PAUL SOLEN
Noble.........GENE FOOTE
Field Marshal.........ROGER HAMILTON
Catherine.........JILL CLAYBURGH
Theo.........SHANE NICKERSON
Players.........CANDY BROWN, ANN REINKING, JENNIFER NAIRN-SMITH, KATHRYN DOBY, PAMELA SOUSA