Pippin Revival on Broadway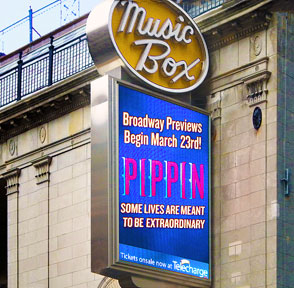 Pippin, the beloved Stephen Schwartz - Roger O. Hirson musical, returned to Broadway for 709 performances between Apr 25, 2013 and Jan 4, 2015. It then toured the USA.
Winner of the Tony Award for Best Revival of a Musical, this version was truly a fresh take with astonishing acrobatics, creative staging, slight script and score revisions, and stunning star performances.
PNew Broadway Cast Album on the Ghostlight Records label

Order the new Broadway revival album
Pippin / New Broadway Cast Recording (link opens new browser window to Amazon.com)
This new album features outstanding vocal performances by Patina Miller, Terrence Mann, Andrea Martin, Matthew James Thomas, Rachel Bay Jones, Erik Altemus, Charlotte d'Amboise, Andrew Cekala, and others. You won't want to miss the nuances, updates, and previously unrecorded material.
New orchestrations are by Larry Hochman. Charlie Alterman served as musical director. Composer Stephen Schwartz and Ghostlight Records owner Kurt Deutsch produced the album.
Track List: 1. Magic To Do, 2. Corner Of The Sky, 3. War Is A Science, 4. Glory, 5. Simple Joys, 6. No Time At All, 7. With You, 8. Spread A Little Sunshine, 9. Morning Glow, 10. Entr'acte, 11. On The Right Track, 12. Kind Of Woman, 13. Extraordinary, 14. Love Song, 15. I Guess I'll Miss The Man, 16. Finale
"SING ALONG WITH THE PIPPIN ORCHESTRA" BONUS TRACKS 17. Corner Of The Sky, 18. Simple Joys, 19. Kind Of Woman, 20. Extraordinary
About the Pippin Revival
Stephen Schwartz and Roger O. Hirson's coming-of-age musical was recently directed in Boston by Diane Paulus. This new production that started at the American Repertory Theatre included circus choreography by Gypsy Snider of the Montreal-based circus company Les 7 doigts de la main (also known as 7 Fingers).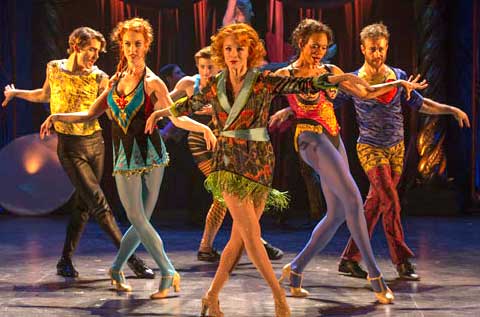 Dance choreography was by Chet Walker in the style of Bob Fosse. Walker was a close collaborator of Bob Fosse, co-created and choreographed the Tony and multi-international-award-winning musical Fosse, and appeared in Fosse's musicals The Pajama Game, Pippin, Dancin', and Sweet Charity.
[Photo: Charlotte d'Amboise as Fastrada (center) with the company of "Pippin." Photo by Michael J. Lutch.]
Among the many awards Pippin won are the 2013 Tony Award for Best Revival of a Musical. Also taking home Tony Awards were the show's director Diane Paulus and performers Patina Miller and Andrea Martin. The production has received 4 Drama Desk Awards including Outstanding Revival of a Musical, Outstanding Director of a Musical (Diane Paulus), Outstanding Choreography (Chet Walker & Gypsy Snider) and Outstanding Featured Actress in a Musical (Andrea Martin).
Pippin Changes
Stephen Schwartz and Roger O. Hirson worked together to refine the script, and have been collaborating with Diane Paulus and her group. Schwartz said in an interview that he focused on transitions. "When Pippin was done in 1972, the Vietnam War was on, so kids of Pippin's age were, in fact, enlisting or resisting. And the sexual revolution was going on, there was a huge generation gap, and protests against the government, et cetera. So the experiences that Pippin goes through were very much in the world then. His choices didn't need to be as dramatically justified because people understood right away. Now that we are in different times, people still make those choices but they are not a generational constant. Therefore we felt that his coming to each of those decisions needed to be more dramatically validated."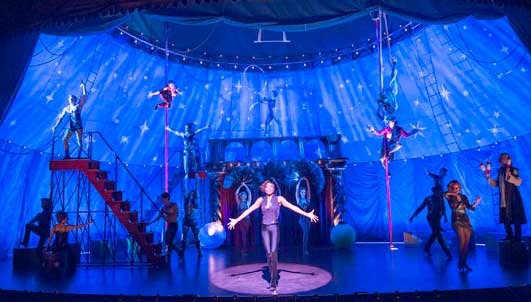 Stephen Schwartz wrote a new song, "Back Home Again, for a production of Pippin at the Mark Taper Forum in Los Angeles, and it was used again in a London revival, but he has since dropped the song from the score. "I just came to feel it wasn't doing us any favors," he says and he was able to let it go.
[Photo: Patina Miller as Leading Player with the cast of Pippin. Photo by Michael J. Lutch]
Updated Schwartz Biography Covers Pippin revival and original production: Essential PIPPIN reading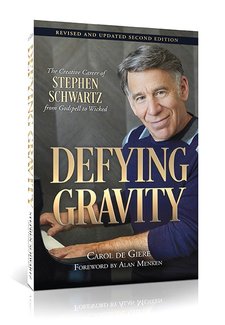 Defying Gravity updated second edition covers Schwartz's views on Pippin and show history. Defying Gravity - Stephen Schwartz biography by Carol de Giere
Learn about the many years of development for the show, Schwartz's experience working with Bob Fosse and Roger O. Hirson, the try-out in Washington, DC, details on the songs, and more. The new edition also includes details about the Broadway revival.
Larry Hochman's Pippin Orchestrations
Orchestrator Extraordinaire Revisits Extraordinary Pippin
By Shawn McCarthy
Creating a new Broadway-bound musical from scratch is without question a daunting prospect for anyone and everyone involved in such a risky venture. Perhaps an equally challenging endeavour -- though in different ways -- is taking on a major revival of a much-loved Broadway classic. Comparisons to the original are inevitable and let's face it: critics and musical theatre aficionados can be a rather hard-to-please bunch. It's therefore a daring undertaking that director Diane Paulus (revivals of Porgy & Bess and Hair) and her creative collaborators are facing as they launch a new production of the Stephen Schwartz/Roger O. Hirson legendary musical Pippin at the American Reparatory Theatre in Cambridge, M.A.
Aside from having a top-notch cast, Paulus has assembled an all-star team on the creative side including orchestrator extraordinaire Larry Hochman who himself has the challenging task of writing new orchestrations for this major revival.
Larry Hoch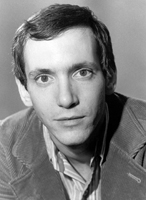 man's Background with Musicals
Hochman, to say the least, has an impressive pedigree having provided orchestrations for such recent Broadway hits as The Addams Family, Spamalot, the revival of Fiddler on the Roof, not to mention co-orchestrating the current juggernaut The Book of Mormon with Wicked's music director Stephen Oremus. He has a B.A. from the Manhattan School of Music and has also studied at Eastman School of Music and Mannes College of Music with an elite group of contemporary classical composers. [For more details visit LarryHochman.net]
But pedigree aside, when Broadway producer Barry Weissler recommended Hochman to director Paulus for this A.R.T. revival, he wasn't aware of Hochman's history with the original production. "What Barry didn't know was that the first time I ever played piano in a Broadway pit happened to be for Pippin in 1974. So he was just delighted that I actually have a history, even a sentimental one," said Hochman in a recent interview. Indeed, he was more than familiar with the score having also played in the pit at the Paper Mill Playhouse production in 1978. "I'm pretty close to having memorized it. Through the years I have been able to just sit down and play songs from Pippin, note for note."
Today, Hochman is playing a different role, not in the pit but behind the scenes creating the actual orchestral arrangements for the pit musicians, which for this production, consists of 12 players. If that doesn't sound like a very big number it's perhaps because it's virtually half the size of the original Broadway production. Even so, it's only slightly less than what's become the norm in today's musical theatre world. "The bigger Broadway orchestras only have 17 these days," says Hochman. "Compared to an average Broadway show this is a middle-sized group."
Updated Sound
So what will this new production sound like with these 12 musicians? Will it be radically altered like the recent Kansas City Rep. production with its hard-edged post-punk aesthetic? Or will it be more like the 1972 original as crafted by the late renowned orchestrator Ralph Burns? Or maybe neither? While Hochman confesses to finding aspects of Burns' originals useful, particularly in the woodwinds and mallet percussion, this production will not be an exact duplicate of what was heard on Broadway in the 70s. Director Paulus suggested removing the now kitchy sound of the original keyboard/electric piano (a model called the RMI Rocksichord according to Hochman), which was the accompaniment for the "Mansion Trio" dance break in "Glory."
The Circus Metaphor
In this production as conceived by its director, the entire concept and aesthetic are rooted in the world of the circus. "Diane Paulus and Nadia Di Giallonardo, the music director, and I talked about sounds that might occur in a circus. Not a Ringling Brothers circus but more of an urban, timeless circus." Hochman outlined several sounds that could enhance the circus metaphor. These include a harmonium (a small, portable organ), an accordion, and even a hurdy gurdy for an eerie effect. Many of the sounds are being digitally sampled on two keyboards used in the orchestra pit.
"Morning Glow," "Magic to Do," and More
But what about specific much-cherished songs in the iconic score, will they be completely overhauled or simply reinvigorated in some way? Take "Morning Glow" for instance. "There was quite a conversation about that piece," says Hochman. "Stephen talked about a particular pop song that inspired him for the opening keyboard sound." (The pop song was the Judy Collins version of Joni Mitchell's "Both Sides Now", which used a high sparkly harpsichord sound.) After some discussion with the composer and show director, it was decided to go with an approach that Hochman described as having more of a layered orchestral quality. Using sampled sounds via keyboard, "Morning Glow"'s illustrious intro will be heard with the sound of two harps plus a high-pitched bell-like percussion instrument called a glockenspiel.
Then there's perhaps the two most well known pieces from the show, namely "Corner of the Sky" and "Magic To Do." How will they be treated?
For "Corner of the Sky" the prominent piano intro still exists, According to Hochman, "It's on piano but backed by a very dramatic orchestration, a tutti orchestra, (a full orchestra in unison), that strikes very hard and then backs off immediately, exposing the piano but it still stays there as reinforcement right through the whole intro." Hochman hastened to point out that the piano intro, while famous due to the original cast recording and the vocal selection sheet music, was actually not in the original Bob Fosse directed production. "Stephen was actually adamant about that and he said, 'I'd really like that back in'. It's a great intro." No doubt, musical theatre fans and piano accompanists would heartily agree.
"Magic To Do" also has a particularly identifiable piano vamp, which its many fans are more than a little partial to. "I'm using the piano solo just as we remember it. We talked about that very first note, that organ note, we talked about other options but Stephen preferred it to be the organ, without changing that."
Hochman did have another idea for the very beginning of that song that may or may not make it into the show: "I had a notion of starting with instruments tuning up, starting with the 'A' given by the oboe, spreading out to the strings, tuning up with their open strings and morphing into an orchestral kind of avante garde crescendo, a little bit like the end of "A Day In the Life" (The Beatles). And I'm doing it in about 5 bars and when we get to the peak of it, it cuts off sharply exposing the single organ note, so all of a sudden we will be in the familiar land of Pippin. I think if we can get the right effect it'll be terrific."
More about Pippin
VISIT THE MAIN PIPPIN PAGE for recordings, licensing information, DVD, sheet music, and other resources.