News and Events - Stephen Schwartz, Composer - Lyricist
Stephen Schwartz events and news
Updated regularly - Keep checking here for news on Broadway and film songwriter Stephen Schwartz. For background info on Schwartz see our Stephen Schwartz page.

To keep up with future Schwartz-related events Subscribe to free email newsletter: Newsletter: The Schwartz Scene
ALBUMS
Cruises and Cruise Album Magic to Do
Stephen Schwartz has created a show Magic To Do for the Princess Cruise lines. The show's cast album has been released - read details at Magic to Do. For the 2016-2017 cruise season, the show is Born to Dance. New shows will come up in the following two years.
The Hunchback of Notre Dame Album and licensing
The new version of Disney's The Hunchback of Notre Dame stage adaptation premiered at the La Jolla Playhouse in the fall and will open at Paper Mill Playhouse in New Jersey. It's now available for limited licensing. Read here about the show and studio album: The Hunchback of Notre Dame.
CONCERTS AND WORKSHOPS
October 6 Concert in PA
Stephen Schwartz and Friends will perform their Defying Gravity concert in PA near the Ohio border. See Westminster College - Concert
October 7 Concert - Chicago suburbs
Stephen Schwartz and Friends will hop over to Chicago for an evening concert in Glen Ellyn, IL. McAninch Arts Center at College of DuPage. See Stephen Schwartz concert IL
November 12 - Jupiter Florida
"He's Got Magic to Do: The Music of Stephen Schwartz" concert will come to the Maltz Jupiter Theatre in Jupiter Florida. Nov 12 Schwartz concert - Florida. Proceeds from the one-night-only concert will benefit the not-for-profit Maltz Jupiter Theatre and its Goldner Conservatory of Performing Arts. As part of the exclusive concert, top sponsors can attend an elegant pre-concert sit-down dinner onsite at the Theatre in The Green Room Club Level Lounge before moving to their VIP seats in the orchestra. After the performance, Schwartz will join the dinner guests for dessert, coffee and cordials. A special Master Class with Stephen Schwartz and the cast is also available for students.
November 13 - Clermont Florida (near Orlando)
Sunday November 13 at 4 pm, Stephen Schwartz and friends perform their Defying Gravity concert at the Clermont Performing Arts Center. There's also a VIP opportunity to meet and greet the performers. See Clermont - Stephen Schwartz and Friends
Los Angeles 2017 - Feb 2017
On February 3, 2017 the Wallis Annenberg Center in Bevely Hills and ASCAP, presents an Evening with Stephen Schwartz Music & Broadway Memories with special Broadway guest stars. The Wallis will also bring back a Musical Theatre Workshop February 1 and 2nd, 2017.
SHOWS
September 2016 Schikaneder
Schikander is a new musical being presented in Vienna, Austria, with score by Stephen Schwartz. It opened Sept 30th for a limited run. Read more at Schikaneder
Wicked on Broadway
Stephen Schwartz wrote the score for the smash hit Wicked that opened on Broadway in October, 2003 and is still running. Wicked - see WICKED index page.
Wicked Movie release
A release date of December 20, 2019 has been chosen for the forthcoming Wicked movie, adapted for the screen by Wicked's writers Stephen Schwartz and Winnie Holzman.
Rags - new
A new adaptation by David Thompson will be staged at Goodspeed Opera House in 2017. Music is by Charles Strouse and lyrics by Stephen Schwartz. See the Goodspeed Musicals site.
Godspell book published
Stephen Schwartz has written the Foreword for a new book The Godspell Experience. The 384-page book includes behind-the-scenes stories for the making of Godspell, an exploration of each song, complete lyrics, 90 photos, and more. The Godspell Experience
Schwartz's career is subject of Biography "Defying Gravity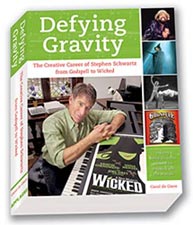 In September of 2008, Applause Theatre and Cinema Books published the first biography of Stephen Schwartz, "Defying Gravity: The Creative Career of Stephen Schwartz, from Godspell to Wicked," by Carol de Giere. See DefyingGravityTheBook.com.
This 544-page authorized book features the behind-the-scenes stories on the making of musicals to which Stephen Schwartz contributed music and/or lyrics, including Godspell, Pippin, The Magic Show, The Baker's Wife, Working, Rags, Children of Eden, and Wicked for stage as well as movies Pocahontas, The Hunchback of Notre Dame, The Prince of Egypt, and Enchanted films.
Schwartz receives special Tony Award, 2015
Stephen was honored as the 2015 recipient of the Isabelle Stevenson Tony Award, granted for his commitment to foster the next generation of musicla theatre actors, lyricists, and composers. Read about his awards. Awards: Tony, Oscars, Grammys...
Defying Gravity: the Music of Stephen Schwartz
Stephen Schwartz and Friends concerts
To book a concert of Stephen Schwartz music go to Defying Gravity Concert info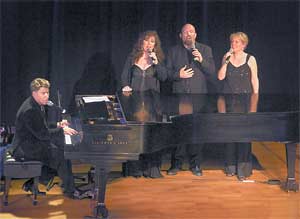 PHOTO: The concert photo by Maryann Lopinto is from Stephen Schwartz and Friends concerts, for which Liz Callaway and Stephen Schwartz are joined by Debbie Gravitte and Scott Coulter. To book Stephen Schwartz and Friends, go to
Related Info:
Reviews of concerts by Stephen Schwartz and Friends
Visit the Concert Reviews page
Organizing a Schwartz Concert
Vist the Concert Reviews page
---
Don't miss our Wicked shop for posters, shirts, etc.