WICKED Souvenirs USA
The Ozdust Boutique: The only official source for WICKED THE MUSICAL merchandise (opens in new window)
Get your Wicked clothes here, and so much more. Click on the "Apparel" "Souvenirs" "Jewelry" and "Media" sections. Merchandise includes Wicked the musical shirts, Wicked backpack, Wicked logo mug, souvenir books, Wicked leggings, Wicked track jacket, Wicked socks, Defy Gravity cap and Wicked beanies, Wicked wrapping paper, Chistery Monkey, and more.
Essential Books for Wicked Fans
1. Updated SECOND EDITION Defying Gravity: The Creative Career of Stephen Schwartz, from Godspell to Wicked. Defying Gravity - must-read book. (Signed copies are available.)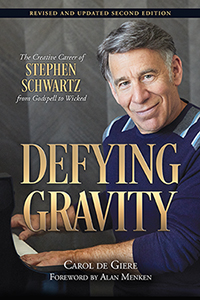 This essential book features hundreds of behind-the-scenes stories of Wicked's creative development. It includes many special features, such as the full story behind "For Good," handwritten notes for several songs, the original show outline, dozens of photos, and more. NEW EDITION has a chapter on WICKED WORLDWIDE.
2. Wicked: the Grimmerie. A special souvenir book for fans. Note that most of the script is in the Wicked Grimmerie souvenir book. This essential book provides lyrics, many color and black and white photos, and comments mostly organized by topics.
3. Unnaturally Green Unnaturally Green memoir

What is it like to be on stage as Elphaba? Find out in this humorous romp of a memoir. Unnaturally Green presents the real-life account of Felicia Ricci as she tackles the role of Elphaba, Wicked's green-skinned heroine. She leaps countless hurdles, both professional and personal: conquering the "Songs of Death," and more. A must-have for teens and aspiring performers.
4. One of the Wicked Songbooks. On MusicalSchwartz.com, Stephen Schwartz describes the show songbooks he was involved in creating. Read details and find links Wicked Songbooks.
5. Wicked: The Life and Times of the Wicked Witch of the West - Novel

Musical Tie-in Edition : The Life... [new browser window]
This musical tie-in edition of Gregory Maguire's novel Wicked: The Life and Times of the Wicked Witch of the West features 16 pages of photos from the Broadway show. Maguire based his novel on one of the most popular stories of all times: The Wizard of Oz, yet had provided a new, psychological "life and times" story of an unusual heroine--the Wicked Witch of the West--whom he called Elphaba.
6. Wicked nonfiction

Wicked: A Musical Biography
- This book by Paul Laird, a professor of Musicology at the University of Kansas, provides details on Wicked's development that may be of special interest to musicians and super fans. Includes images of Stephen Schwartz's handwritten music.
Another book, The Wicked Truth
by Suzanne Ross, explores the depth, understanding and intelligence of Stephen Schwartz's blockbuster musical Wicked. Containing quotes from the play and song lyrics, The Wicked Truth reveals the ways modern society is not so different from the mythical land of Oz. Stephen Schwartz declares, "The Wicked Truth is a fascinating and valuable study of the ways we all wrestle with wickedness within and without us and how we can combat it."
WICKED COSTUMES

GREEN HANDS: Add to your Elphaba greenness for any upcoming party with these: 22" Classic Adult Size Long Opera Length Satin Gloves in 41 Colors Assorted Glove Colors: Hunter Green

WITCH COSTUME, GLINDA COSTUME Need a costume for a Wickedly cool party?
Amazon.com Costume Store
- search on "Witch" or "Glinda" to find costumes in all sizes.
GREEN MAKEUP! Here are a few options
New Magic To Do album includes Stephen Schwartz songs like Defying Gravity and Popular. See details on the Magic to Do album page.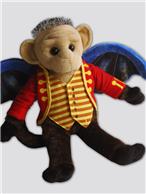 WICKED MEMORABILIA USA: Flying monkey, mugs, key chains...Oh My! Find them in the souvenir section of The Ozdust Boutique - Wearing shirts and other Wicked the musical merchandise is a great way to share your enthusiasm for the show.
DOLLS

Amazon.com has sold out of the limited edition of Elphaba and Glinda dolls but they do have this: Glinda the Good Witch
and several witch dolls
Remember Billie Burke's super sweet Glinda who descends in a pink bubble? She can be remebered with this doll dressed in her famous fairy-like pink gown. This magical Glinda comes dressed in a pink gown, ready to sparkle into your child's playtime. Also Wizard of Oz: Glinda, The Good Witch Barbie Doll
Barbie also comes as Glinda or as the Wicked Witch.
Wicked Witch of the West
There is the green-faced witch in her full witch outfit, based on the movie version but relevant (a sweet enough face) to serve as a toy for Wicked the musical enthusiasts.
Also consider Scarecrow Play Doll
; Tin Man Play Doll
And don't forget the Flying Monkeys.
Wicked in puzzles

1000-piece Broadway puzzle includes Wicked images. Broadway Puzzle
Wicked the musical Ornaments Keepsakes
Glinda in her bubble and more
Wicked Merchandise UK. Buy unique Wicked items from created for the London production:
WICKED THE MUSICAL merchandise - UK [Please see their customer service FAQ page for international shipping instructions.]
Wicked Poster and More

WICKED Poster - Measures 14 X 22 inches. Printed on glossy organic poster paper. The poster is a generic version with no cast members names, so it applies to all Wicked shows.
AMAZON: Wicked posters, mugs, and more - Amazon (link opens in new browser window)
Wicked Good Cook
Support Broadway Cares charity with your purchase of this Wicked apron. Wicked Good Cook apron - Broadway Cares store (opens new Browser window)
For Musicals Fans
Here's another gift idea: Musical Jewelry - it's not specific to Wicked the musical, but closely related.

Music Notes Jewelry at Amazon.com
Wicked "For Good" sheet music
In addition to the information provided here, the page contains affiliate links. If you make a qualifying purchase after clicking on a link, we receive a commission, which helps support this independent website.
Sheet music instant downloads: "For Good" piano/vocal selections - melody in piano part
For choral versions see "For Good" choral, etc.
For more Wicked sheet music: Get WICKED Sheet Music