Defying Gravity and The Grimmerie
Two musical tie-in books for fans of Wicked the Musical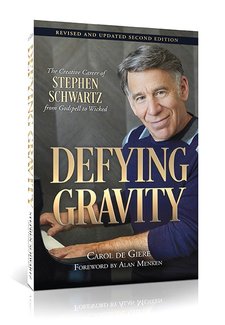 The Wicked Grimmerie features a collection of stories, photos, lyrics, and a partial script. Defying Gravity takes a different approach, covering more details on the making of Wicked through an absorbing, multi-chapter narrative. It reveals what composer-lyricist Stephen Schwartz and Winnie Holzman were thinking as they wrote the songs and script.
Defying Gravity 2nd Edition explores the process by which the Wicked company grew from its first cast member, Kristin Chenoweth, through auditions, the challenging 2003 try-out in San Francisco, the turbulent summer before the Broadway opening, and more. Other highlights include:
Stephen Schwartz's handwritten notes to the eleka nahmen section of "No Good Deed."
22 production photos for Wicked along with never-before-published photos such as Stephen Schwartz and friends in Hawaii at the time Schwartz conceived Wicked as a musical.
"Wicked Witch of the East": a page of handwritten music and lyrics from the "Wicked Witch of the East" section of the musical, not included on the cast album. This is a duet between Nessarose and Elphaba in which Elphaba performs a "heart" chant.
The original Wicked outline--find out how much the show changed from conception through completion.
and much more.
Wicked chapters in Defying Gravity 2nd Edition include:
16. Landing in Oz
17. Structuring Twists and Turns
18. On the Right Track
19. Story by Committee
20. Somewhere Over the Keyboard
21. First Drafts and "Adjustifications"
22. We're Off to See a Reading
23. Turning Points in Oz
24. If We Only Had a Team
25. Character Development
26. The Countdown Begins
27. Shock at First Sight
28. Pre-Broadway Summer
29. Wicked on Broadway
30. Wicked Worldwide and the Life-Changing Milestone
Defying Gravity 2nd Edition Unsigned and signed copies are available (autographed by Schwartz and the author).

Wicked: The Grimmerie -Amazon.com - USA - Also available in the UK "Wicked": The Grimmerie- Amazon.co.uk
with partial script.
MORE BOOKS
Unnaturally Green Unnaturally Green memoir
A humorous romp of a memoir, Unnaturally Green presents the real-life account of Felicia Ricci as she tackles the role of Elphaba, Wicked's green-skinned heroine.
Wicked a Musical Biography
Wicked: A Musical Biography
- ACADEMIC. This book by Paul Laird, a professor of Musicology at the University of Kansas, provides details on Wicked's development.
Changed for Good...

Changed for Good: A Feminist History of the Broadway Musical
Princeton professon Stacy Wolf highlights the assumptions about gender and sexuality in musicals and looks at the leading musicals, with a special emphasis on Wicked. She explores key aspects of the plays as they relate to women.
Other Wicked or Oz Books

FINDING OZ - We also recommend a Wizard of Oz-related book "Finding Oz"
Wicked: The Life and Times of the Wicked Witch of the West - Novel Musical Tie-in Edition : The Life... [new browser window]
Q and A about Wicked & The Grimmerie..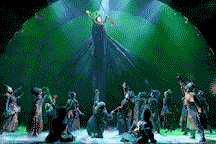 [Photo by Joan Marcus from Broadway production]
SOME QUESTIONS AND ANSWERS
1. Who is Elphaba,... Galinda/Glinda, Madame Morrible, Dr. Dillamond?? Visit the Wicked Characters page is you haven't seen the musical.
2. What is the Grimmery in the musical and Novel?
MUSICAL: In Act I - MADAME MORRIBLE has been scheming with the Wizard about how to get Elphaba to use her magic skills to serve their interests. Morrible wants her to use a levitation spell on the monkeys, and she hands Elphaba the book. Glinda stares at in in awe: " I don't believe it. Is that…The Grimmerie!?"... The Grimmerie plays an important role in ACT II: its use demonstrates how knowledge and power can be abused.
NOVEL: Gregory Maguire introduced the Grimmerie much later in the story of Elphaba's life. In the castle section, when Elphaba is hidden away at Kiamo Ko, she discovers it and begins to experiment with it. In an early paperback edition, the Grimmerie first appears on page 265. [Note that this was written in the pre-Harry Potter era.]
"Elphaba was bent almost double over a huge folio laid out on the carpenter's work bench.... [She explains to Sarima] "As I understand it," Elphie said, "a sort of encyclopedia of things numinous. Magic; and of the spirit world; and of things seen and unseen; and of things once and future. I can only make out a line here or there. Look how it scrambles itself as you watch."
Then Sarima (Fiyero's wife) describes the sorcerer who brought it. "...He said it was a book of knowledge, and that it belonged in another world, but it wasn't safe there. So he brought it here--where it could be hidden out of harm's way."
The implication is that the sorcerer is the man from Earth's Kansas (another world) who became the Wizard of Oz. The reason why Elphaba can just make out some of the writing, even though it's from another world, is that she has a connection with the Wizard.
Read about WICKED VOCABULARY - WICKED script Q and A
For more Wicked Q and A see the FAQ section of the WICKED home page: Wicked home page
Articles and reviews