Captain Louie
A New Family Musical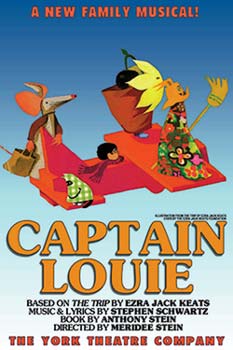 Based on The Trip by Ezra Jack Keats
Captain Louie is a family musical with music and lyrics from the composer of the immensely popular musical Wicked, Stephen Schwartz (Pippin, Godspell). It is adapted for the stage by Anthony Stein, and is available for licensing from Music Theatre International.
Captain Louie Jr. is also available.
Hear the songs of Captain Louie
A new Stephen Schwartz Musical CD with ten charming songs: "Trick or Treat," "Big Red Plane," "Home Again," and more. Hear clips and buy (as a CD or MP3s) it Amazon.com: the world premiere recording Captain Louie (2005 Studio Cast)
ON THIS PAGE
In addition to the information provided here, this page contains affiliate links. If you make a qualifying purchase after clicking on a Musicnotes, Amazon, or Sheet Music Plus link, we receive a commission, which helps support this independent website.
About Captain Louie and Captain Louie Jr.
Captain Louie is the story of a young boy on Halloween night who escapes into his own imagination as a means of coping with the loneliness he feels when he moves to a new neighborhood. Of its initial production, The New York Times said Captain Louie captures "the sound and rhythm of music that runs through childhood fantasies with a book that conveys the communicative magic of the original story."

The show has been adapted for the stage by Anthony Stein, and is based on The Trip by Caldecott Award winner Ezra Jack Keats who authored and illustrated 24 children's classics, including the Caldecott Award winning The Snowy Day and the Caldecott Honor Book, Goggles. Ezra Jack Keats books at Amazon.com [New Browser Window]
Captain Louie enjoyed a short but successful run at the Little Shubert Theatre Off-Broadway, Oct. 28 -- Nov. 13th, 2005. It also played at the York Theatre in the spring of 2005 and was seen in a reading at the New York Music Theatre Festival in October, 2004. It was previously produced (as The Trip) at the Kennedy Center's Imagination Celebration.
Captain Louie Licensing World-Wide
Captain Louie is now available for licensing through Music Theatre International.
MTI - Captain Louie Stock and amateur rights for Captain Louie are represented by Music Theatre International. ALSO Captain Louie Jr.
Stephen Schwartz has explained: There are versions: the full 50-minute version and a shorter 30-minute for schools or groups for whom the full-length version would be too difficult. Book writer Anthony Stein and I are just in the process of getting the final script and scores to MTI so they can get materials prepared. I am looking forward to getting the show out there and having lots and lots of schools and children's theatres perform it!
Captain Louie Show Schedule
To see Captain Louie Live, check the schedule on the Captain Louie page at the licensing agency. Look for the blue tab that says "Upcoming." Click there for details. MTIShows - Captain Louie
Captain Louie Sheet Music, Recordings, Song List
The Recording, MP3s, and Sheet Music include all the delightful songs of Captain Louie:
Captain Louie (2005 Studio Cast) - CD or MP3s

Sheet music Captain Louie (Vocal Selections) - songbook
SONGS:
A Welcome for Louie
Big Red Plane
Captain Louie
Finale
Home Again
Looza on the Block
New Kid in the Neighborhood
Shadows
Spiffin' Up Ziggy's
Trick or Treat

Articles, Review Highlights, Photos
"Captain Fantastic!" ... New York Daily News
Captain Louie photos and review highlights
Read more about the cast album with "Trick or Treat" and other songs. Also on the same page: feature story by Carol de Giere: Soaring with Captain Louie - Recording Day 2005
See also MTI Showspace social media site: Captain Louie at MTI Showspace and Captain Louie Jr. MTI Showspace
Story on BroadwayStars.com: STEPHEN SCHWARTZ'S CAPTAIN LOUIE FLIES; Lands at York by Ellis Nassour
From Peter Felichia's diary - "Oh, Captain!" - May 4th, 2005, article on Theatremania.com
On Talkinbroadway.com posted 5-6-05 An Interview with Stephen Schwartz about Captain Louie - with photo from the show
Articles from a production: Broadwayworld.com's article on Captain Louie and the NYMF [new browser window]
Creative Team
Stephen Schwartz (composer-lyricist) has turned his talents to this family show. For animated film features, he is known for his lyrics for Disney's Pocahontas and The Hunchback of Notre Dame, as well as his songs for The Prince of Egypt. In stage musicals, he is currently represented on Broadway by the hit musical Wicked, and wrote the scores for Godspell, Pippin, and others.
Anthony Stein (book writer) specializes in writing for children and family audiences. He received a Southern Regional Emmy nomination for his scripts for educational science programming. His Pinocchio and the Land of Toys, a musical story (in the tradition of Peter and the Wolf), commissioned by the Bronx Arts Ensemble, had its premiere in the fall of 2004. He also authored American Tales and Legends, a theatrical concert, for the Atlanta Symphony Orchestra.
His Professor Prattle's Tales of Wonder, an original play for puppets, was commissioned and performed by Atlanta's Center for Puppetry Arts. Mr. Stein also wrote The Magical Chameleon, a Spanish language television pilot featuring both live actors and puppets.
He is currently working on two musicals, Silas, an adaptation of Silas Marner, and SeaStory, a fantasy tale of gold, greed and glory.
Mr. Stein is a graduate of Cornell University, and he holds a Masters Degree in Secondary Education. He is a member of the Dramatists Guild and the Society of Children's Book Writers and Illustrators.
Ezra Jack Keats (sets and costumes) wrote and illustrated 24 children's classics, including the Caldecott Award winning book The Snowy Day and the Caldecott Honor Book, Goggles. In 1996, The New York Public Library named The Snowy Day as one of the 150 most influential books of the 20th century. In addition, Mr. Keats illustrated 60 more books and countless magazine articles and covers.
14 of his books were named "Children's Books, Books of the Year" by the Child Study Association of America. The Trip was honored by both the International Reading Association and the Children's Book Council.
Keats' books have been translated into 17 languages, and he was the first children's book author/illustrator to receive a request that he donate his correspondence and illustrations to the Harvard University Gutman Library.
In a particularly fitting tribute, a bronze statue of two of his most endearing characters, Peter and his dog Willie, was commissioned and now stands in Brooklyn's Prospect Park Imagination Playground. The statue serves today as a gathering place for children to read and hear stories.
To further the values emblemized in his work Ezra created a foundation to "do good works." Since his death in 1983, the Ezra Jack Keats Foundation has aimed its support at literacy and arts programs for children in public schools and public libraries. Annually, the foundation, in partnership with the New York Public Library, presents the Ezra Jack Keats Book Award to the best new writer and illustrator of the year. For more information about Ezra, his books, the EJK Book Award winners, and the foundation, go to www.Ezra-Jack-Keats.org.
See info below about buying Keats prints.
MERIDEE STEIN (Co-Producer and Director) Meridee Stein has been with Captain Louie from the beginning. She commissioned the show for her First ACT Company, and produced and directed the staged reading at NYMT in 2004. She co-produced produced and directed Captain Louie at the York Theatre spring 2005, as well as at the Kennedy Center's Terrace Theater for the Imagination Celebration, and Off-Broadway at the Little Shubert. Ms Stein also co-produced and directed the national tour in 2006-7. For nearly two decades, Ms. Stein has produced and directed family entertainment including new works by Charles Strouse, Richard Peaslee, Elizabeth Swados and Stephen Schwartz. Her productions have been performed nationally at such venues as the NYSF/Public Theater, Lincoln Center Out-Of-Doors, The Annenberg Center and The O'Neill Theater Center, and internationally in China, Japan, India, Sri Lanka and the Middle East. Ms. Stein is a member of SDC and the Dramatists Guild Of America, and is a 2004 graduate of the Commercial Theatre Institute.
Ezra Jack Keats Artwork
PODgallery is a well-known New York City-based publisher of fine art prints. By special arrangement with the Ezra Jack Keats Foundation, they have made a selection of 23 of Ezra's images available as fine art prints in a variety of sizes and materials. Ezra's original art work was used to create these extremely high-quality reproductions, which contain many details cropped out of the published book illustrations. To view and order prints visit:
Pod Gallery online - Keats section - Once you are on the page, click on an image for more information.
Co-Producers
MERIDEE STEIN (Co-Producer and Director) (see above bio)
KURT PETERSON (Co-Producer ) and his production company, James William Productions ("JWP"), create, produce and perform American Musical Theatre. The acclaimed Sondheim–A Musical Tribute at the Shubert Theatre in New York, the first celebration of Sondheim's work, was JWP's first creation and paved the way for future Sondheim revues and concerts. Gypsy, starring Angela Lansbury, was staged in London and New York with the help of JWP, and the company also produced the live tours of WPIX-TV's classic children's show, The Magic Garden, and a national tour of Rob Marshall's innovative Side By Side By Sondheim. Current projects include: Last Call, a musical set during the last broadcast of a country music radio station, and a reissuing of the rare Sondheim - A Musical Tribute poster, to benefit Broadway Cares/Equity Fights AIDS, in honor of Stephen Sondheim's 75th birthday. www.jameswilliamproductions.com
Mr. Peterson is also an accomplished performer, he created the role of Young Ben in Sondheim's Follies. Other credits include Tony in the revival of West Side Story at Lincoln Center and Gabey in the revival of On the Town. He also played Dominique in Stephen Schwartz's Broadway-bound The Baker's Wife and Robert in the highly acclaimed Canadian premiere of Company. Hear Kurt Peterson: The Baker's Wife [Original 1976 Broadway Cast], Take Home Tunes, 1997 The Baker's Wife [Original Soundtrack] [new browser window]
Bob Reich (Co-Producer, Marketing Director): President of Bob Reich Entertainment, handling artist management, public relations, advertising and marketing for entertainment professionals in the areas of music, film, and theatre. Theatrical production credits include Co-Producer of the Stephen Schwartz musical, CAPTAIN LOUIE, at the Little Shubert Theatre in New York (2005), and the U.S. National Tour (2006-2007), Associate Producer of the James Kirkwood play, LEGENDS, (2006) featuring Joan Collins and Linda Evans, and its North American Tour (2006-2007), and Producer of Lori Fischer's BARBARA'S BLUE KITCHEN (2006) at the Lamb's Theatre in New York. A partner in Off-Broadway Booking, a theatrical booking agency specializing in national tours of off-Broadway shows, including Almost Heaven (2007), The Great American Trailer Park Musical (2007), I Love A Piano (2007) BINGO (2007) and Judy Gold's TWENTY-FIVE QUESTIONS FOR A JEWISH MOTHER (2006). A graduate of the Commercial Theatre Institiute, class of 2005. Served as North American label manager for Mausoleum Records based in Antwerp, Belgium and London, England. Personal manager of the group BLACK LACE (1982-1988). Marketing Director of Dancing Bull Music, an independent record label and production company featuring recording artists Lisa Asher, Kirk Detweiler, and the original cast recording of Almost Heaven.
Captain Louie National Tour
Captain Louie Partners New York and producers Meridee Stein, Kurt Peterson and Bob Reich, presented the 2006-2007 national tour for the new Stephen Schwartz children's musical, Captain Louie. The tour was booked by the Brad Simon Organization and traveled to California, Oregon, Missouri, Arkansas, Alabama, Florida, Tennessee, South Carolina, Wisconsin, New Hampshire, Connecticut, New Jersey, New York, and around the burroughs of New York City.
The Brad Simon Organization, Inc. offers a stellar line-up of theatrical productions and music artists for both family and adult audiences. Each year our goal is to bring unique and innovative productions and artists to your audiences. From delightful and educational productions for the most impressionable, to enlightening and artistically challenging performances for the most discerning. Each of the presentations by our artists, companies and producers exemplify the finest of their respective genres.