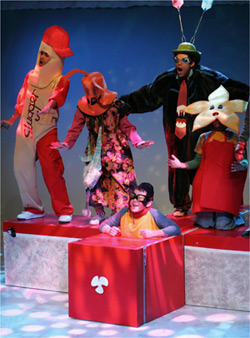 REVIEW HIGHLIGHTS
(Photos by Carol Rosegg from spring 05)
From the tour production, November 2006: Captain Louie Flies High.
"Just because something is "a touring production" doesn't automatically make it better than what you might see at University Theater or any of the community theaters in the region — and that goes double for children's shows. But "Captain Louie," an adaptation of a kids' book titled "The Trip," was sophisticated, high-energy, smooth as silk and warm as hot cocoa on a chilly fall evening.
Chelsea Jo Pattison was luminescent as Louie, a little boy who uses his imagination to fly back to his old neighborhood, and the rest of the cast, all with Off-Off Broadway or regional theater experience, raised themselves to her level. The music, by Stephen Schwartz, was exactly the caliber you'd expect from the guy who wrote "Wicked" and "Godspell." And the special effects were just as much fun as the story -- which started with one of the actors reading the book, a great lesson for kids who might not like to read as much as we all wish they did." (From The Morning News - an entertainment blog in Northwest Arkansas)
From the New York productions:
"A charming, child's-size slice of Broadway…one leaves the theatre grateful for the good fortune of New York Children, who can hang out with Broadway-caliber talents as if they were neighborhood friends."– The New York Times
"Captain Fantastic!" ... New York Daily News
"Nothing short of magical…one that will inspire children to a life of theatergoing." – Talkinbroadway
"A winner…guaranteed to entertain both the young and old alike…It's really a family funfest and it's better than Broadway." -- Arts & Leisure News Service
"There are times when I wish it were possible to "rent a kid" for an afternoon simply so I could see shows like Captain Louie through their eyes…the ability to craft first-rate theater can be found throughout this one-hour show…"– American Theatre Web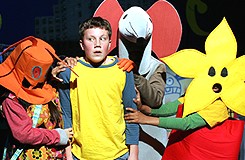 "…an ideal running time for a show aimed at kids: All the four- and five-year-olds in the audience when I attended were glued to their seats…Anthony Stein's book tells the story without too much extraneous dialogue that would let children's attention wander. Most of the show consists of Schwartz's breezy, bouncy tunes, and they are sophisticated enough to entertain adults as well as children."
"A delightful tale about how the powers of a child's imagination can overcome loneliness and change, it is performed by an outstanding cast of young professionals who display dynamic singing voices and enormous stage presence. Their talent, along with the imaginative direction of Meridee Stein and clever choreography of Joshua Bergasse, make for a captivating visit to the theater… It's an extremely entertaining show and the expressions of delight on the faces of the younger members of the audience proved that they were enjoying every minute of the show." - Broadway.com
"Child-size entertainment with adult-size talent -- The music alone should have all ages soaring."–New York One
"Although it is geared for a younger audience, Captain Louie is a great musical for all ages….A new and sensational musical."–NYNewsday
MORE PHOTOS CAPTAIN LOUIE PHOTOS, SYNOPSIS, LYRICS
Back to the main Captain Louie page