Captain Louie
Photos, Synopsis, and Selected Lyrics
York Theatre production
All photos by Carol Rosegg
Read about the musical Captain Louie
"New Kid in the Neighborhood"
Louie's family has recently moved to a new neighborhood. Lonely and feeling friendless, Louie goes back to his room to play with his favorite toy, Red, his little red plane.
"Sittin' on the curb
Starin' at the wall
Nothin' much to do
When you're the new kid
New kid in the neighborhood..."
Photo: Louie (Jimmy Diffenbach) and his red plane.
---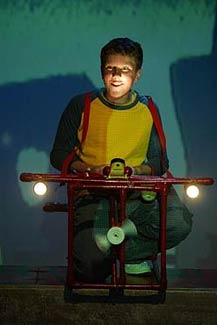 "Big Red Plane"
When Red "suggests" that they take a trip back to his old neighborhood, Louie makes a diaorama out of an old shoebox covered with purple cellophane. He looks into it and, in his imagination, they are off!
Ahhhh...
High in my big red plane, I'll take a trip
Faster than the fastest rocket ship
Whooshing through the sky,
So high
Loop-de-loop the moon and do a flip
Diving off his nose and lower lip
Laughing till we're crying
We're flying
While far below us
City lights are winking
And blinking
Like eyes
Like a million eyes
Shining eyes
Yi-yi-yi-yi ...

Photo: Louie and his plane.
---
"A Welcome for Louie" - Louie's old friends decide to be playful in their welcoming.
We got a welcome for louie
Quite a special greeting
That'll be a meeting!
Will he be scared? You bet!
We're gonna give him a welcome he'll never forget!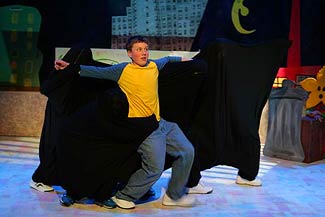 "Shadows"
Louie lands in his old neighborhood and dances, unwittingly, with shadows.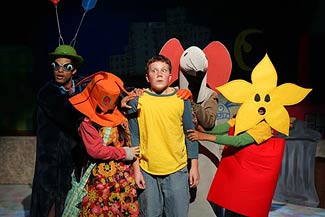 Louie's old gang has dressed up for Halloween. They play a hiding game. He eventually discovers they are his friends in disguise.
---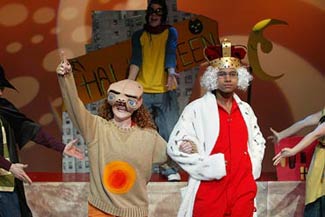 Finally everyone is ready to celebrate Halloween. Louie and his friends sing the rousing chorus number "Trick or Treat."
E.T. and the queen of England
Just look at the folks you meet
Bums and bunnies and gypsy dancers
All come out to trick or treat!...
Trick or treat
Trick or treat
Gimme somethin' good to eat
Trick or treat
Maybe somethin' chewy or crunchy
Or gooey or munchy
Or nice and sweet
Make it nice and sweet
Somethin' nice and sweet...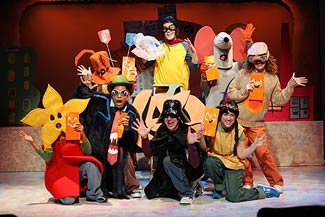 ---
The kids are about to trick-or-treat around the neighborhood when somebody mentions a new kid has moved into Louie's place. They declare this new kid a "Looza" and sing
"Looza on the Block"
until they discover that they've already made friends with this supposed Looza. It's Julio. (Dressed as Slugger). It's a quick lesson about not putting down others.
Their friend Ziggy doesn't have supplies to receive any trick-or-treaters.
Ziggy's rap:
Tonight at all your places
You got jack-o-lantern faces
You got big bowls o' candy at your doors
But if you didn't have enough
So your place could have that stuff
How would you feel about yours?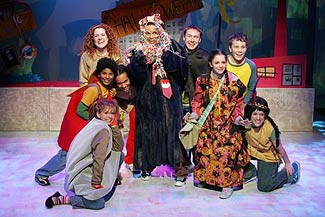 So as they sing "Spiffin' Up Ziggy's" his friends contribute decorations and pour their own extra candy into his hands. (He can be seen wearing it).
Yeah! We're spiffin' up ziggy's
Gettin' it all decked out
Spiffin' up ziggy's
'cuz that's what tonight's about:
Skanky to swanky
Trashy to flashy
Crummy to yummy
Gritty to pretty
Slummin' to slammin'
Junky to jammin'
Nasty to blasty
Wack to spectac!
Piggy to ziggy, don't make us ask you twice:
What do you think?...
---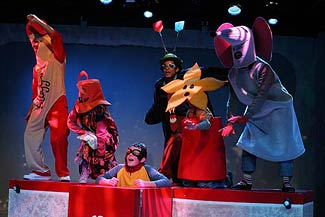 Halloween is almost over, so Louie suggests they go trick-or-treating by plane. "Captain Louie"
Flyin' high...
In our big red plane we're on a trip
Faster than the fastest rocket ship
Whooshin' through the sky
We fly
Fearless captain louie in control
Up here in the blue we rock'n'roll
While on the ground below
All the folks we know
Point at us and go:
"ooohhh!" And "ahhhh" and "ohhhh!"...
All:
Look up above you
Look up in the evening sky
Get a load o' captain louie
Sailin' by
Look up above you (up in the air)
Look up in the evening sky (look at 'em way up there!)
It's the crew and captain louie
Flyin' high.
When they land, it is time for Louie to go. He bids hids friends farewell - "Home Again."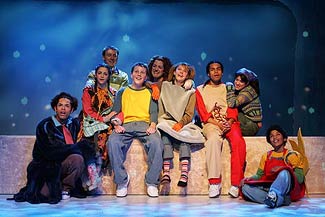 ---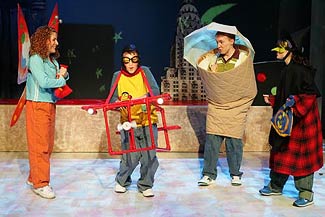 Louie finds himself transported out of his diorama world and back into his new home, ready to make new friends.
"Finale"
Back to the main Captain Louie page