Seance On A Wet Afternoon Stephen Schwartz's First Opera
About Stephen Schwartz's opera Séance on a Wet Afternoon
On this page:
About Seance On A Wet Afternoon - The Opera
PHOTO left to right: opera Executive Producer Michael Jackowitz, Stephen Schwartz, and Scott Schwartz, the show's director. (photo by Terence de Giere taken at the World Premiere in Santa Barbara, CA, 2009)
STEPHEN SCHWARTZ'S FIRST OPERA
Seance on a Wet Afternoon features a libretto and score by Broadway and film songwriter, Stephen Schwartz, known for Godspell, Pippin, and Wicked.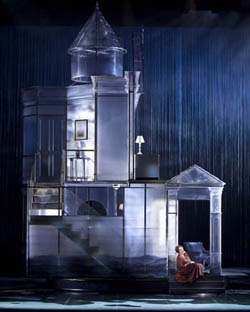 The photo to the right shows the house featured in the set design for the World Premiere in Santa Barbara, California. Myra (Lauren Flanigan) sits alone in this scene. Photo credit: David Bazemore.
The composer's son, Scott Schwartz, directed the recent New York City Opera production. Sets for this and the original production are by Heidi Ettinger, costumes by Alejo Vietti and lighting by David Lander.
Séance on a Wet Afternoon opera is a psychological thriller about a medium, Myra Foster, her doting husband Bill, and the spirit of their deceased eleven-year-old son, Arthur, who speaks to Myra and is her contact for her Séances. It is based on the novel by Mark McShane [Seance on a Wet Afternoon
] and the award-winning screen adaptation by Bryan Forbes [Seance on a Wet Afternoon DVD].
Because Myra has never received the recognition she feels her gifts merit, they hatch a Plan: They will kidnap the daughter of a local wealthy industrialist, and keep her safe while the media frenzy over her abduction builds. When Myra has a "vision" that leads to the successful recovery of the girl and the ransom, her fame will be assured.
As The Plan is put into action, the girl's presence in the house leads to complex psychological responses from Myra, Bill, and Arthur. The delicate balance of Myra and Bill's relationship and Myra's sanity itself begins to fray, as long-buried secrets are revealed. The Plan goes badly awry, and in Myra's final Séance, the drama comes to a devastating conclusion.
About Stephen Schwartz: The award-winning songwriter of such Broadway hits as Pippin and Wicked, and three-time Academy Award winner (Pocahontas and The Prince of Egypt). Read all about Stephen Schwartz and the full length creative biography Defying Gravity: The Creative Career of Stephen Schwartz, from Godspell to Wicked
Visit the offiicial site www.seancetheopera.com/ (opens new browser window) for a link to their facebook video clips, etc.
In the recent New York City Opera production, Lauren Flanigan starred as Myra in Séance on a Wet Afternoon. She has been with Séance since its early workshops. She will lead a cast that also includes original cast member Kim Josephson as Bill Foster.
Seance on a Wet Afternoon Album / Recording

The opera has not yet been recorded, but Donna Murphy has recorded the tender aria "Lucky" as part of the Broadway Lullaby Project.
MP3: Over The Moon: The Broadway Lullaby Album
"Lucky" is track number 4.
CD: Over The Moon: The Broadway Lullaby Project
Seance Details: Plot Synposis, Musical Numbers, Themes
Read details about Seance on a Wet Afternoon opera including a list of arias, duets, and choral numbers provided by Stephen Schwartz. Also synposis and themes, and a statement by director Scott Schwartz.
LINK TO Seance on a Wet Afternoon DETAILS
Reviews of Schwartz's Opera Séance on a Wet Afternoon
SELECTED REVIEWS OF SEANCE OPERA
New York City Opera production reviews, 2011
Philadelphia Inquirer reviewer David Patrick Stearns comments on the "well-prepared and handsomely produced" New York City opera version in 2011.
... In Séance, the opera crowd might find the music underwhelming but deceptively effective, thanks to sound theatrical pacing and the power of understatement. The Broadway crowd might be overwhelmed by the plethora of arias; even secondary characters have more than their share. But with some tightening, Séance could enter the repertoire, not in big Verdi/Wagner houses, but with smaller companies that foster singing actress like Lauren Flanigan, who inhabits the main role as magnetically as the Oscar-nominated Kim Stanley did in the film. ... FULL REVIEW: Inquirer Seance Opera Review
...riveting. The Stage - April, 2011 For the New York City Opera production.
... From this successful start, Séance on a Wet Afternoon unfolds into a serious but quite accessible opera, suspenseful and musically captivating.... Blog Critics - Seance Opera review
Opera Premiere reviews:
...terrifically involving and entertaining,
Seance review, Variety Magazine, September 28, 2009 Review by Bob Verini
""Séance" is an opera for people who don't like opera."
Seance review, Los Angeles Times, September 27, 2009 Review by Josef Woodward.
"Stephen Schwartz may have written the world's most accessible opera."
Tallkinbroadway.com review of Seance on a Wet Afternoon by Sharon Perlmutter
…the cast and the production values were exemplary." Santa Barbara Noozhawk
Stephen Schwartz and Opera Santa Barbara have pulled off the season's first major coup with this world premiere of what is likely to be among the most talked-about new operas of the decade.
Santa Barbara Independent - Seance review
Stephen Schwartz's comments about the Seance project
Opera is the fastest-growing performance art in the country, enjoying a 35% increase in its audience in the past decade, according to the New York Times. Stephen Schwartz has long been a fan of the genre.
"I have always loved, listened to, and attended opera," says Schwartz. "When I discovered this riveting story, I knew it demanded the kind of atmospheric moodiness that my music can provide. The two main characters are psychologically complex and compelling, with passionate needs and emotions. I am stretching the thematic and motific composition of my more recent musical theatre writing to create this dynamic new opera." -- Stephen Schwartz
UPDATES - The following are from Stephen Schwartz's Updates for The Schwartz Scene newsletter. These are now part of the The Schwartz Scene newsletter archive 2006 - 2007
Summer 2006 - Stephen Schwartz: "Some of you may know I have taken on an exciting and terrifying new project; I have accepted a commission from Opera Santa Barbara to write an opera for them for their 2009 season, which sounds like a long way away but is actually the day after tomorrow. I've found a project, a book and movie from the 1960s called Seance On A Wet Afternoon. I've always been an opera aficionado, but the opera world is completely foreign to me, so needless to say I am finding the whole project a scary proposition. But I am eager to get started, get writing, and enter this terra incognita...."
Fall 2006 - Stephen Schwartz: "I'm looking forward to meeting while out here with the folks from Opera Santa Barbara to cement the schedule for the opera I am writing for them, Séance ON A WET AFTERNOON...."
Winter 2007 - Stephen Schwartz: "...Work continues on the opera I am writing, Séance ON A WET AFTERNOON. Its premiere is scheduled for October 2009 at the newly renovated Granada Theatre in Santa Barbara, California (assuming the renovation of the Grenada is actually completed by then.)"
Summer 2007 - Stephen Schwartz: I am sitting in a beautiful apartment upstairs in the Adirondack house of Patrice Munsel, the former opera star famous as The Merry Widow. There is a huge picture window overlooking Schroon Lake, and the sun is just rising over the eastern hills. These are the surprisingly luxurious accommodations they have given me as I work just up the road at the Seagle Music Colony, or as I am calling it, "opera camp", where I am doing a workshop of the first act of my opera-in-progress Seance on a Wet Afternoon.
The Seagle Colony was founded just after the first world war, and for the past several years under the direction of Darren Woods, it has been a place for promising opera students to hone their skills and take classes in acting, movement, audition technique, etc. between their graduation from college and the beginning of their professional careers. Darren has very generously made available this talented group of young people, who are giving me a chance to hear what I've written and improve it. I've only been here a couple of days, but I have already learned so much about the piece. I know by the time the workshop is over two weeks from now, it will have provided me with a major step forward.
MORE SEANCE OPERA HISTORY
UPDATE September 29, 2009 - To the world premiere audience (September 26 at the Granada Theatre in Santa Barbara, Calfornia), Séance was an artistic triumph. Performances were greeted with enthusiastic applause and lengthly standing ovation at the curtain call. A previous performance on September 24, the dress rehersal, was attended by local college and high school students at the invitation of Opera Santa Barbara, and received a thunderous response.
UPDATE July 24, 2009 - The First Act is now complete with printed vocal and orchestral scores, and Schwartz is finishing up the Second Act. Normally when working on a musical or a motion picture, composers hand off score preparation to others due to production time pressure, but for this, his first opera, Stephen is preparing all the vocal and orchestral parts himself, which involves a vast amount of work. This is however the classical way it has always been done (except before computers, the composer would hire copyists or enlist family members to copy out parts by hand).
The set for Séance is being built, and Stephen's son Scott is actively working on the staging of the work.
UPDATE May 18, 2009 - Partial Casting Announced: Lauren Flanigan, who has performed the role of medium Myra Foster since the early workshops of Séance, will star in a cast that will also feature Kim Josephson (Bill), Hila Plitman (Mrs. Clayton), John Kimberling (Mr. Clayton) and Craig Hart (Inspector Watts).
UPDATE May 1, 2009 - New York City Opera's VOX 2009 (also known as "Showcasing American Opera") presented the first 20 minutes of Séance with full orchestration.
Comments by audience member Terence de Giere, co-webmaster of MusicalSchwartz.com
Unlike many of the works performed at VOX, Seance is written in a more classical, romantic vein, with a lush orchestra having a foundation of standard string instruments. While a fully modern work, classic orchestration makes this work more accessible to the average listener than works orchestrated with complex modern timbres and rythmic techniques. This will also make the opera more feasible for various orchestras as unusual distributions of instruments or extreme playing techniques are not required. Schwartz's goal with his first opera is to support the story by the music, telling the story in a theatrically compelling way rather than, as he says, "using the music as a clothesline upon which to hang the story."
His focus is on the singing voice, as well as the drama and psychology of the tale being told. In this he is drawing heavily on his experience in musical theater, where clarity of story and character is essential for having a successful show.
One listener commented to Stephen Schwartz after the performance, "It's so romantic!"
Lawrence Edelson, Producing Artistic Director of the American Lyric Theater, comments, "Séance On A Wet Afternoon is a contemporary piece of theater as much as it is an opera. The term 'opera' for many evokes images of something foreign and archaic, but nothing could be further from what Stephen has written. While Séance is most definitely an opera - written for classically trained singers, and with the orchestra taking on a more complex role than is usually seen in musicals - it is also a riveting mystery and a brilliant piece of contemporary theater. I think that Séance is an ideal piece to introduce people to opera. Stephen embraces the traditions from the opera house, but uses them in a vivid, theatrical way that is both relevant to contemporary audiences, and distinctly Schwartz."
During the VOX presentation there was a roundtable discussion by the various composers discussing American opera. One point Schwartz made about composing for this medium is, unlike musical theatre, everything is sung, and everything is acoustic, there are no microphones to adjust and clarify musical lines, to shape or equalize a voice. All the effects must be written into the music so it is clear without any additional manipulation. In particular it is necessary sometimes to take a specific singer's vocal characteristics into consideration when writing a sequence to have the desired emotional effect to come off as intended. Composer Jonathan Dawe told Stephen that with his first opera he was "tapping into a continuum of 400 years." (Dawe's reference is to the beginning of opera in Italy at about the beginning of the 17th century.)
As of May 2009, Schwartz has now orchestrated the first act of the piece, and is now completeing the rest. This is a self-imposed challenge is a new one for Schwartz who has normally handed off this task to a collaborator when composing for musical theatre or film.
About Seance on a Wet Afternoon film
Seance on a Wet Afternoon (1964 movie)

Seance on a Wet Afternoon (B&W)
In an Oscar nominated Best Actress performance, Kim Stanley plays Myra, a deluded woman who sways her weak-willed husband, played by Richard Attenborough. The dark film drama won a slew of awards.
Plot: Myra, a self-styled psychic in London, concocts a scheme to gain celebrity. She convinces Billy, her weak-willed husband, to kidnap the young daughter of wealthy parents. She and Billy will demand money, and then she will go to the parents with extra-sensory messages that will help the police find the child and the ransom. The plan unfolds beautifully, except that after her first visit to the parents, the police want to check her out. He's scared. As her delusions worsen, Bill realizes Myra may not want the child found alive. Behind it all is also the death at birth, years before, of their only child, whom they've named Arthur and who is Myra's contact with the beyond.

Opera for Novices
Catch up with Opera.

Bravo!: A Guide to Opera for the Perplexed
From a Library Journal review: "if those who are baffled will pull Scherer's book off the shelf, they soon will see the form clearly through the eyes of an ardent fan. The book is chock full of opera facts, history, and lore. Scherer's discussions of the various styles of opera (Italian, German, French, Russian, English, and American) are concise yet well connected to the overall picture."
Opera is growing--in the size of its audience, in the number of companies, in general interest--and is attracting a lot of attention among younger, more visually oriented people. But opera can be intimidating to the uninitiated: it's sung in foreign languages and has odd little customs (such as women singing the parts of young boys, and hefty middle-aged singers portraying teenaged lovers) that may be disconcerting at first. But opera needn't be at all intimidating, thanks to the miracle of supertitles (like subtitles, but projected above the stage), the advent of generations of singers who work at staying in shape, and the appearance of reference works like Opera for Dummies that are designed to remove the snobbery and mystery from opera.
Schwartz's Choral Song
"Keramos"
One Is the All
by the Choral project includes this lovely choral piece by Stephen Schwartz.
Question: I know the work was commissioned by the Choral Project. Did you choose the text? If so, how did you come upon it? How did you decide which verses to include, omit, and the ordering of verses?
Answer from Stephen Schwartz: The text was originally suggested to me by Daniel Hughes, the director of the Choral Project. I liked it very much when he sent it to me, and it immediately suggested music to me, particularly the constant, circular motion you mention. I went through the poem and made decisions about what verses to include and in what order, based on my own responses to the content and emotion of the poem. I tried to arrive at a structure that had its own natural build and "story".
Question: How do you define "Keramos"? I have found several translations, and since the utterances of the word sound like various layers of the movement of the wheel, I wondered how you see, or hear the translation of the word.
Answer from Stephen Schwartz: I was been told by friends who speak Greek, when I asked, that "keramos" can mean both the "ceramic" and the "ceramicist" (or "potter".) I tended to think of it more as the former, as the clay that is being formed and reformed by the invisible Potter, be it nature or the universe or God.