Wicked the Musical
Wicked in Depth -- All about the magical show Wicked --a
Wizard of Oz prequel story.
Index for Wicked Musical - Broadway and Beyond

QUICK INDEX:

Wicked Merchandise and Gifts: Wondering what to buy for Wicked fan friends or relatives (or yourself)? We've listed a huge number of souvenir items for this musical.
BOOKS FOR FANS: Wicked Grimmerie and Defying Gravity Defying Gravity with behind-the-scenes stories and Wicked Grimmerie with partial script.
MUSIC: Wicked Sheet Music for singers or other musicians; Wicked Cast Albums - The Grammy Award-winning cast album has sold over 2 million copies. Check this page for downloads or CD, Karaoke info, 5th Anniversary CD with bonus songs, song lists. "Defying Gravity," "For Good."
Wicked on Broadway tickets - Check here for tickets to the Stephen Schwartz musical Wicked at Broadway's Gershwin Theatre in New York City. You'll find running times, seating advice, and more.
FAQs - questions and answers Ask your own questions or read Questions and answers about Wicked Musical (Broadway and tour), e.g. should I bring the kids to the play? Where can I see Wicked video clips? What's the show it about? Is there a movie version? etc. The Wicked movie release date has been set for December 20, 2019.
Wicked script info - The full play script is not available for local productions but you'll find out more about it here.
Wicked Tour Catch the award-winning touring production in U.S. and Canadian cities - And International Wicked Wicked UK etc Tickets London and UK Tour, UK poster, German CD...
Free newsletter - The Schwartz Scene news from Wicked's songwriter Stephen Schwartz's world: his latest projects, upcoming events, and more.
SYNOPSIS: Wicked Synopsis Summary - Songs in Context - What is Wicked about? Read a synopsis written without spoilers. Find out about the witches of Oz as roommates in college, and what happens to them.
LYRICS: Wicked Lyrics and song stories: "Popular" "Defying Gravity" "For Good" "No Good Deed" etc. Find lyrics here, as used in the script. Want to remember a favorite line? Try this: Wicked Quotations
Characters "Elphaba" is popular. The green skinned heroine of both the musical Wicked and the novel made the list of Entertainment Weekly's List of the 100 Greatest Characters of the Last 20 Years. But who is she? Who is Madame Morrible? Who is the tall munchkin?
Wicked Auditions - For performers. Check here for information on the casting directors and where you can find audition listings.
COSTUMES: Wicked Costumes Read about Susan Hilferty's Tony Award-winning costumes for Elphaba, Glinda, and all the citizens of Oz.
Also Wicked Fan Party - check here for party ideas.

Wicked's carefully chosen stars - which is witch? Wicked NYC BROADWAY CAST: Jennifer DiNoia (Elphaba) and Carrie St. Louis (Glinda) play the witches of Oz on Broadway in this musical prequel to The Wizard of Oz. The "Munchkinland" tour continues with Jessica Vosk as Elphaba, Amanda Jane Cooper as Glinda.

WICKED Sheet Music- in print or instant download:
Wicked Sheet Music - In three books or individual song sheets (Easy Piano, Vocal Selections, and Piano/Vocal Selections). Our Wicked music page includes Stephen Schwartz's description of the vocal selections songbook in relationship to the piano/vocal songbook. You can also follow links to download sheet music for individual songs. Choir members - don't forget to tell your choir directors about Wicked choral music. Choral music

The award-winning composer, Stephen Schwartz - Who's idea was it to make Wicked into a Broadway musical? Stephen Schwartz's! He's the one who thought of making Gregory Maguire's novel into a musical. Stephen Schwartz bio, musicals, interviews, clips Keep up with the award-winning songwriter (who also wrote the scores for Godspell, Pippin, and many other shows) here on MusicalSchwartz.com. Calendar, news & events MusicalSchwartz.com is a fan site for Wicked's songwriter Stephen Schwartz, and regular lists his appearances.

WICKED STORY SYNOPSIS: Love the CD but haven't seen the show? Learn about the Wicked songs in context (fast loading version) OR Wicked songs in context - version with photos (slow loading version). NOTE: It's hard to find synposis of Wicked that don't give away the suprises. But the surprises are an important part of the fun of the show. Our Synopsis is spoiler-free in terms of the magical moments you don't want to know in advance.

LYRICS FOR WICKED SONGS Click here for Wicked Lyrics and stories behind the songs.

WICKED the Musical - HISTORY - The musical is not only delightful to watch, but the story of Wicked's development is also a fascinating study in creative collaboration. Here are some links to pages that provide further resources for fill in your background knowledge. Wicked History: The Making of Wicked feature stories | ShowBusiness DVD Documentary includes the making of Wicked. | PBS Documentary Broadway: The American Musical DVD: Special features on the making of Wicked. | Wicked in the classroom - Wicked for teachers and students - Wicked study guide.

Wicked the Musical Show - More Details: Wicked Cast and Creatives

See Wicked's Stars - Cast and Creatives-This whole site is all about Stephen Schwartz , Wicked's amazing songwriter. Other pages to visit: Kristin Chenoweth (original Glinda) ; Idina Menzel (original Elphaba). Winnie Holzman (script) ; Joe Mantello (director)
Wicked is Broadway's 10th longest running show in history!
The Stephen Schwartz - Winnie Holzman musical Wicked on Broadway shows no signs of slowing down. With over 5300 consecutive performances, Wicked is the 10th longest running show in Broadway history. It opened on October 30th, 2003 and has now run longer than hit musicals like Rent, 42nd Street, Hello Dolly, My Fair Lady, Oklahoma! Annie, Grease, and Avenue Q.
Wicked the Musical Frequently Asked Questions
Photo: Carol de Giere and novelist Gregory Maguire at the opening of Wicked in San Francisco, 2003.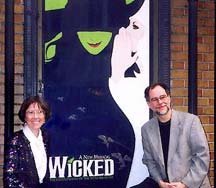 QUESTIONS AND ANSWERS - Special to MusicalSchwartz.com
Answers are provided by me, Carol de Giere, publisher of this website MusicalSchwartz.com and author of Defying Gravity, the biography of Wicked's composer Stephen Schwartz.
Email me if you have other questions: carol@musicalschwartz.com. Please put the word "QUESTION" in subject line of your email. Please scroll up to the top of this page for more listings.
THIS PAGE INCLUDES ANSWERS TO 10 QUESTIONS
1. What is Wicked the Musical about?
One of the reasons the Wicked musical has captivated audiences world-wide is that it is a Wizard of Oz prequel story, adapted and reinvented from Gregory Maguire's novel about a green woman coming of age in Oz. But more than that, it's a moving tale of two witches and a dazzling green-themed spectacle.
The official blurb in press releases states: "Winner of 26 major awards including the Grammy Award and three Tony Awards, Wicked is the untold story of the witches of Oz. Long before Dorothy drops in, two other girls meet in the land of Oz. One, born with emerald-green skin, is smart, fiery and misunderstood. The other is beautiful, ambitious and very popular. Wicked tells the story of their remarkable odyssey, how these two unlikely friends grow to become the Wicked Witch of the West and Glinda the Good Witch." GET Wicked tickets - Broadway or Wicked National Tours
Here are some more details about this incredibly popular Wizard of Oz prequel musical play:
Broadway's Wicked musical is based on Gregory Maguire's novel, Wicked - The Life and Times of the Wicked Witch of the West, which turned every Oz myth inside out. Stephen Schwartz and Winnie Holzman, who adapted Maguires book, often speak of the genius idea that Gregory had to look at the classic villain of Western culture: the Wicked Witch of The West, and considered writing her life story in a sympathetic way. Both the novel and musical assume that instead of her being Wicked, she is actually labeled "Wicked" by the culture around her while she is actually trying to accomplish something good.
The musical focuses on both "Elphaba," the green-skinned woman of Oz, and "Glinda." The main part of the story starts when they have become roommates in college.
It was in 1996 that songwriter Stephen Schwartz heard about the novel from a friend. Schwartz likes to write about traditional stories that have a special new twist. Maguire had based his novel on one of the most popular stories of all times: The Wizard of Oz, but from the green witches point of view. Schwartz immediately thought of adapting it for stage.
While Maguire focused on Elphaba and offers a complete re-envisioning of Oz history, the musical that Schwartz and his colleagues created provides a more directly connected "backstory" to The Wizard of Oz. The show is a buoyantly creative version of what happens to Elphaba, the supposedly 'wicked' witch and Glinda, the reputedly good witch during the college years. Their buddy story is only one of several storylines and subplots in a carefully constructed, surprise-filled musical adventure.
Read more about the story of the witches of Oz. Synposis: How to the songs fit with the story? Read about the song contexts--A Wicked Synopsis.
2. Where can I find more Wicked ticket details? How do I know which ticket seller is reliable?
There are so many secondary ticket sellers for hot ticket items like Wicked that it can be hard to decide where to buy them. On MusicalSchwartz.com, the first listing you see is always the official Wicked ticket source for the show - the one with the basic price as contracted by the venue or producers. In other words, these will be the cheap Wicked tickets, relatively speaking. If they are not sold out, you'll be able to find everything from orchestra seating through the back mezzanine. These official ticket sources also reserve some seats at higher prices. These will be high quality seats.
After that, we list a reliable secondary tickets vendor selling for what the market will bear. The tickets were bought and saved for theatregoers who need last-minute deals and/or are willing to pay more. Be sure to check seat locations carefully before purchasing. Here's where to find Wicked tickets of all types:
What is the running time of Wicked the musical?
What is the length of Wicked? It's good to set aside at least 3 hours to see this play/musical because the Gershwin and other theatres that house Wicked the new musical are always huge venues to get in and out of, plus a huge crowd of people. The actual length: Approx. 2 hours 45 minutes total -- Act One is about 1 hour and 30 minutes - (note: it's a good idea to use restroom before the show starts). Act two is a little less than an hour. And there's an intermission.
3. Is the Wicked show appropriate for children?
On our Wicked for Kids page, I explain why I think the language of Wicked is suited for children age eight and older, and other considerations. Wicked for kids?. The musical is a favorite of pre-teens, teens, and Wizard of Oz fans of all ages.
4. How do Wicked (musical) and Wicked (novel) compare? Should I read the novel before seeing the show? and related question:
It's not necessary to read the novel first, and if you do, don't expect to see it adapted closely on stage. The musical gives Elphaba and Glinda's story a new life. If you haven't seen The Wizard of Oz film lately, you might want to.
In the novel and the musical, what is the name of the Wicked Witch of the West? "Elphaba." For hints about how the novel and musical compare, read about Wicked's characters Elphaba, Glinda, Fiyero, Dr. Dillamond, Nessarose, Boq, and the others. Find out which characters from the novel were included for the stage adaptaton and which were left out.
Check comments by Schwartz and Maguire about the Wicked -Life and Times of Wicked Witch of the West story adaptation for musical. This includes notes about the focus on the friendship between the witches, the clock of the time dragon (used in the set design), etc.
Does Wicked novelist Gregory Maguire approve of Wicked the musical?
Gregory loves this Wicked musical. At a book talk with Winnie Holzman, Maguire said, "I have been so pleased with the work that Winnie Holzman has done for Wicked. She has taken a novel that is like a symphony in my heart and she has turned it into an opera." Holzman promptly gave much credit to Stephen Schwartz for his ideas. "It literally was a vision--he just saw that Wicked the novel was a Broadway musical. So then he brought me into his vision."
One aspect of the musical that Gregory explains well is the friendship story between Elphaba and Glinda. He said recently, "...the story is about a friendship between two girls, there's no arguing that that is a very appealing aspect of the play and a good argument why people want to see it again and again. And it's not just about young women learning to trust one another and learning the depths of their affection for one another. It's also about women -- or any disenfranchised citizen -- learning their relationship in a system of power, either as collaborators -- the way Glinda becomes -- or as iconoclasts and hermits the way Elphaba becomes."
5). Which Books are Recommended for Wicked Fans?
1.

Defying Gravity: The Creative Career of Stephen Schwartz, from Godspell to Wicked, by Carol de Giere - includes 150 pages on the making of Wicked
This biography of Wicked's composer Stephen Schwartz chronicles the show's development from his conception of the musical play in 1996 through Broadway opening on October 30, 2003. It includes hundreds of behind-the-scenes stories based on the author's interviews with Stephen Schwartz, Winnie Holzman, Gregory Maguire, the musical's director Joe Mantello, the producers, actress Idina Menzel, costume designer Susan Hilftery, and others. Buy at Amazon.com -Defying Gravity or find out more www.defyinggravitythebook.com/
2. Wicked: the Grimmerie. A special souvenir book for fans that includes a portion of the script. This essential book provides lyrics, many color and black and white photos, and comments mostly organized by topics. Buy Wicked: The Grimmerie -Amazon.com or find out more Wicked Grimmerie souvenir book.
3. One of the Wicked Songbooks. On MusicalSchwartz.com, Stephen Schwartz describes the songbooks he was involved in creating. Read details and find links Wicked Songbooks
4. Wicked: The Life and Times of the Wicked Witch of the West - Novel Gregory Maguire's book is the foundation for the stage show. Musical Tie-in Edition : The Life... [new browser window] Available in paperback and Kindle, audiobook, etc. This musical tie-in edition of Gregory Maguire's novel Wicked: The Life and Times of the Wicked Witch of the West features 16 pages of photos from the musical. Maguire provides a new, psychological "life and times" story of an unusual heroine--the supposedly "Wicked Witch of the West"--whom he called Elphaba. Portraying her early history, Maguire shows her a real person with feelings, foibles, and a streak of altruism. Maguire has written four books in the Wicked series.
5. A Pop up visual sensation
Wicked The Musical: A Pop-Up Compendium of Splendiferous Delight and Thrillifying Intrigue (Amazon.com)
This pop up book is visually stunning and makes a good memento of the show experience.
6. Unnaturally Green Unnaturally Green memoir

Felicia Ricci's memoir covers her story of tackling the role of Elphaba, Wicked's green-skinned heroine. If you have ever wondered what it's like to star on stage in a role like Elphaba, enjoy this true-life account.
7. Wizard of Oz resources - Wicked is popular with Wizard of Oz fans and even those whose Wizard of Oz memories are a little faded. See the movie again or read the books to dwell longer in Oz.
6. Who wrote the Wicked score? Who wrote the Wicked play script? What else have they written written?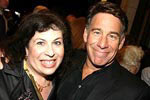 Stephen Schwartz and Winnie Holzman are the "authors" of Wicked. They collaborated at every step of the way in writing the content of the musical. (Producer Marc Platt also met with the writers to help establish the structure of the show). After they completed the outline, Schwartz worked at the piano on the songs for Wicked, which he completed over time.
Throughout the four years of the development process for this show, Schwartz worked closely with Winnie Holzman who wrote the "book" of the musical script. Schwartz once said about his collaboration with Holzman: "I felt like I knew how to write Elphaba and Winnie knew how to write Glinda, so between the two of us, we kind of got there."
Schwartz described his experiences for the show in the updates he wrote for the Schwartz Scene newsletter. starting in 2000 when Wicked was just announced. Read Schwartz's writing in: Stephen Schwartz career updates - the Wicked years.
Born in 1948 in New York City, Schwartz is a highly creative man, as the new biography Defying Gravity: The Creative Career of Stephen Schwartz, from Godspell to Wicked attests. He is an award-winning songwriter best known for his songs for Godspell, Pippin, and now Wicked for stage; his film work includes lyrics for Pocahontas and The Hunchback of Notre Dame and songs for The Prince of Egypt. Read all about Stephen Schwartz.
Since writing Wicked, songs like "Defying Gravity," and the friendship song "For Good" have joined the Schwartz canon of popular songs, adding to the list that includes "Meadowlark," "Day by Day," "Corner of the Sky," "Colors of the Wind," "When You Believe," and others that are sung regularly in concert, on recordings, or used for auditions.
Like Schwartz, Holzman also grew up on Long Island. Holzman is also a popular television writer with a new show in the works. Read about Winnie Holzman and her TV shows, etc.
7. Where can I see free online Wicked video clips? or Is there a Wicked movie?
Wicked film
The movie version of Wicked the musical has a release date of December 20, 2019. This will be a feature-length live-action film. Tony winner and Oscar nominee Stephen Daldry, who is already familair with stage and screen transfers for Billy Elliott, has been enlisted to direct.
Universal Studios owns the rights to the film and the musical's lead producer, Marc Platt, also heads the movie project. Stephen Schwartz (score) and Winnie Holzman (screenplay) are also on board. No cast has been announced.
Stage show videos of Wicked:
There are no legal versions of the complete show. Sorry that we can't offer Wicked videotape or Wicked DVDs. After the show runs on Broadway and around the world for many years, a film will be made. Otherwise videorecordings of the show are violations of copyright.
However there are Wicked the musical video clips and the Wicked trailer. See links below. Don't miss SHOWBUSINESS - Available on DVD with lots of WICKED interview clips, etc. ShowBusiness with WICKED CLIPS
There is also an official Wicked YouTube channel at Youtube.com/user/OfficialWICKED with behind the scenes videos and other clips.
8. Where can I find Wicked Reviews and Awards?
"...the most complete, and completely satisfying, new musical I've come across in a long time"--USA Today
"Truly an enchanting musical, 'Wicked' is a fabulous new Oz fable for the 21st century"--New Jersey Star-Ledger
Visit the Wicked reviews page here at MusicalSchwartz.com. It's a long page so keep looking down the page for various links. The most current Wicked reviews come from news media for the traveling productions. We post some of the links on the tour page - look for the link.
9. Where do I send Fan Mail for the Broadway musical Wicked?
To contact the cast for WICKED on Broadway:
Address your mail to cast member
c/o WICKED
Gershwin Theatre Stage Door
242 West 51st Street
NY, NY 10019
How to write to the London cast:
Cast member name
c/o Stage Door
Apollo Victoria Theatre
Wilton Road
London
SW1V 1LG
United Kingdom

For the show's composer Stephen Schwartz: Visit his website at http://www.stephenschwartz.com. Note: a new resource for Wicked information is now available at his site. See the Wicked section of the FORUM archives (look for the FORUM tab at the top right side of the site). Schwartz answers questions from fans and from performers with questions about the songs. He also talkes abou the orchestrations for the show, the cast album, sheet music, and other topics.
10. Can I go back stage?
No. But there's something really close to that:
WICKED Backstage "Behind the Emerald Curtain" Tour - Saturday mornings at the Gershwin Theatre and elsewhere.
Wicked musical backstage"Behind the Emerald Curtain," an exclusive behind-the-scenes look at WICKED, run by members of the cast in several production locations. The tour, which lasts 90 minutes, includes a 20-minute film containing special footage from NY and the national tour, featuring interviews with the cast and creative team of WICKED. Participants visit the exclusive "Behind the Emerald Curtain" Museum, which includes an elaborate set model by Tony Award-winner Eugene Lee and an up-close look at some of Tony Award-winner Susan Hilferty's costumes (with beautiful details that are not always visible from the audience), as well as some of the actual props and wigs from the show.
To create the museum and tour, cast members Sean McCourt and Tony Galade, with the company manager Susan Sampliner, collected costumes, masks, props and set models, and edited a Wicked promotional video. Later Associate scenic designer Edward Pierce contributed a video of the Wicked set being loaded in, and photos from backstage technical departments were added. McCourt once said, "It takes 125 people to make Wicked happen" and this tour gives an idea of just how immense the effort is.
Tickets for "Behind the Emerald Curtain," billed as "an exclusive behind-the-scenes journey through Wicked go to www.emeraldcurtain.com/
Praise for "Behind the Emerald Curtain"
"Whether or not you've seen the musical, this program gives a glimpse into the real back stage life for a major production like Wicked. We were treated to a close up view of Elphaba and Glinda costumes, Dr. Dillamond's mask, and other items while two actors pointed out some suprising facts about the costumes, sets, and pressures for the actors. Then we were brought into the theatre to watch a 20-minute film and a question-answer session. I recommend it." - CD, Connecticut
Wicked the Musical news
Wicked cast album is certified double platinum
November, 2010. Stephen Schwatz has just been honored for the success of the original cast album, featuring his score. The Grammy Award winning (Best Musical Show Album) original cast recording of the smash-hit Broadway musical WICKED has been certified "Double Platinum" by the Recording Industry Association of America (RIAA), for sales of more than 2 million copies.
Wicked Two Tour Companies 2013 tour locations added
In 2013, Wicked continues to send two tour show groups around the USA and Canada, as well as two sets of semi-tractor trailers hauling sets, costumes, and props. It takes 14 trucks to carry each tour's materials! Get Wicked tickets on our TOUR PAGE and find out all the tour cities.
Note: for those arriving at this site by search engine. Sometimes Stephen Schwartz's name is misspelled Steven Schwartz or Stephen Swartz; before about the mid 70's he was known as Steve Schwartz. Sometimes Kristin Chenoweth's name is misspelled Cristin or Kristen Chenoweth. The cast album is sometimes called the Wicked soundtrack. Video is sometimes mispelled vidio.
Musicalschwartz.com offers one of the largest Wicked the musical fan sites, and is the fan site for Stephen Schwartz, created with his permission.