Wicked the musical Quotations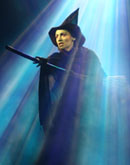 Here are some of the "popular" phrases from Wicked the musical, drawn from Wicked lyrics by Stephen Schwartz and the book by Winnie Holzman.
"Unlimited
My future is unlimited" - Elphaba sings a variation of this phrase a few times. The first is early in Act I in "The Wizard and I," when she is still hopeful of her future. Then in "Defying Gravity," she sings
"Unlimited
Together we're unlimited" to Glinda, hoping that her girlfriend will join her in her quest to protect the Animals of Oz.
By the end of the show, she sings another variation. See Wicked - For Good
"I'm through accepting limits
Cuz someone says they're so..." from "Defying Gravity" song (see more lyrics "Defying Gravity" lyrics)
In this song, Elphaba is turning her life in a new direction, and must rise above limitations suggested by the Wizard and Ozian society, as well as boundaries she had set for herself.
"Everyone deserves the chance to fly" Elphaba sings this in "Defying Gravity," repeating a phrase the Wizard used in "Sentimental Man."
"Don't be offended by my frank analysis
Think of it as personality dialysis." In the scene when Glinda sings "Popular," she is attempting a makeover of her roomate, Elphaba, to help her become part of the popular crowd at Shiz University.
"Those who don't try
Never look foolish" - Fiyero sings this in "Dancing Through Life." Note that the writers of Wicked are not advocating apathy. This is the character Fiyero's expression when he first arrives at Shiz University. He transforms through his association with Elphaba.
"No good deed goes unpunished," from the song, "No Good Deed." This is a popular proverb that Stephen Schwartz had often heard in his life.
"The most celebrated are the rehabilitated" The Wizard of Oz sings this in "Wonderful," implying that if Elphaba abandons her behavior that caused her to be labeled as the Wicked Witch of the West, she would be accepted by the citizens of Oz.
Change of Perception: "You've got me seeing through different eyes" - Fiyero's line from "As Long As You're Mine." Also a line spoken at different times by both Elphaba and Fiyero: "It's looking at things another way."
"I have been changed for good" from "For Good"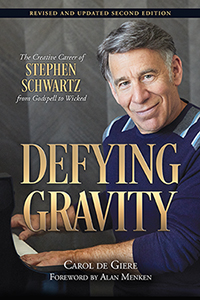 ESSENTIAL READING FOR FANS: 14 chapters on the making of Wicked that includes handwritten quotes by Schwartz, see the Stephen Schwartz biography Defying Gravity 2nd edition - with 4 new chapters including WICKED WORLD WIDE. Read more about the DEFYING GRAVITY book.
Defying Gravity includes dozens of quotes from Stephen Schwartz, Winnie Holzman, Idina Menzel and others about the making of Wicked, from its inception as a musical in 1996 through the opening in 2003.
Quotes from the script
by Winnie Holzman as pubished in The Grimmerie.
page 140 - Glinda's question
Girl in the crowd: Glinda, why does wickedness happen?
Glinda: That's a good question. One that many people find confusifying: Are people born Wicked? Or do they have Wickedness thrust upon them?
page 167- quote from the Wizard
Wizard: See--I never had a family of my own--I was always travelin'. So, I guess I just wanted to give the citizens of Oz everything.
Elphaba: So you lied to them
Wizard: Only verbally....
page 170: after "As Long As You're Mine"
Fiyero: What is it?
Elphaba: it's just, for the first time--I feel wicked.
MORE WICKED INFO
see our main Wicked home page for links to music, shop, etc.
Stephen Schwartz's musical influences