Scott Schwartz
Director of Broadway, Off-Broadway, and regional theatre shows (and son of Stephen Schwartz).
Scott Schwartz Bio - Credits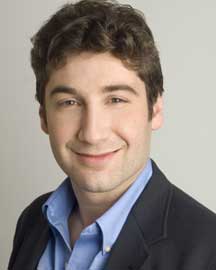 Scott Schwartz (Director) is the Artistic Director at Bay Street Theatre in Sag Harbor, NY.
He directed the Broadway productions of Golda's Balcony and Jane Eyre (co-directed with John Caird).
His Off-Broadway work includes Murder for Two, Bat Boy: The Musical (Lucille Lortel and Outer Critics Circle Awards, Outstanding Off Broadway Musical; Drama Desk Award nomination, Outstanding Director of a Musical), tick, tick…BOOM! (Outer Critics Circle, Outstanding Off Broadway Musical; Drama Desk nomination, Outstanding Director of a Musical), The Foreigner starring Matthew Broderick, Rooms: A Rock Romance, Kafka's The Castle (Outer Critics Circle nomination, Outstanding Director of a Play), and No Way to Treat a Lady.
He also directed Golda's Balcony on tour, in London, in Los Angeles at the Wadsworth Theatre and in San Francisco at American Conservatory Theatre.
He directed the World Premiere of Séance on a Wet Afternoon starring Lauren Flaniganat Opera Santa Barbara and subsequently at New York City Opera.
Schwartz's other recent credits include the world premiere of Theresa Rebeck's What We're Up Against, Much Ado About Nothing and Othello at the Alley Theatre, the world premiere ofSecondhand Lions at the 5th Avenue, and Next To Normal at the Alliance Theatre.
Regional theaters include: Arizona Theatre Company, Asolo Rep, Berkshire Theatre Festival, Cleveland Playhouse, Colorado Shakespeare Festival, Dallas Theatre Center, Denver Center, Goodspeed, La Jolla Playhouse, Old Globe, Papermill Playhouse, Pasadena Playhouse, PCPA, Philadelphia Theatre Company, Portland Center Stage, Rubicon, Signature Theatre, Theatreworks, Virginia Stage Company, Westport Country Playhouse, and others.
Schwartz is a member of the Stage Directors and Choreographers Society, an Associate Artist at the Alley Theatre and a graduate of Harvard University.
Biography: Defying Gravity: the Creative Career of Stephen Schwartz, from Godspell to Wicked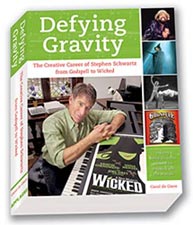 Scott Schwartz is among the hundreds of people included in this first authorized career biography on Stephen Schwartz. Author Carol de Giere draws from eighty hours of interviews with the elder Schwartz, as well as from over 100 interviews with his colleagues, friends, and family members including Scott.
The book includes a portrait of father and son, as well as a section on the "Fathers and Sons" song from the musical Working. The lyrics for "Fathers and Sons" were largely inspired by Stephen Schwartz's experience with his father, Stan, and with his son, Scott.
For more information or to order the book online visit defyinggravitythebook.com
Scott Schwartz and Stephen Schwartz
Scott Schwartz is the son of Broadway and film composer and lyricist Stephen Schwartz and his wife Carole Schwartz. He took an interest in directing from an early age. See USA Today "Like father, like son on B'way" for an article about Scott and Stephen Schwartz [new browser window]
As an adult director, Scott has been involved with diverse projects, among which have been several of his dad's shows. For example, he directed the opera Seance on a Wet Afternoon, and the stage production of Disney's The Hunchback of Notre Dame.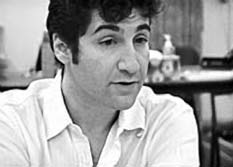 From Scott Schwartz, May 2011
"I've just finished directing "Seance on a Wet Afternoon" at New York City Opera. I'm thrilled with how it turned out. Everyone at NYCO was wonderful to work with, and I think the production looked beautiful in the Koch Theatre.
I'm workshopping a couple of new projects in the next month or so. First up is a new musical called "The Underclassman" by Peter Mills and Cara Reichel about F. Scott Fitzgerald when he was a student at Princeton. Then I will be developing a new opera by Thomas Pasatieri called "The Family Room" starring Lauren Flanigan and the brilliant Catherine Malfitano. "The Family Room" workshop is sponsored by Opera New Jersey and American Opera Projects.
And then it's on to my next production of "My Fairytale" at PCPA. I'm excited to bring this wonderful musical about Hans Christian Andersen to Santa Maria and Solvang, CA in August.:
From Scott Schwartz, January 2011
I've just opened a production of ARSENIC AND OLD LACE at Dallas Theater Center, and it runs through early March. It stars Betty Buckley and Tovah Feldshuh. It was a joy and an inspiration working with these two great ladies, as well as the rest of the great cast and team. I think the show is great fun!
Next up, of course, is SEANCE ON A WET AFTERNOON at New York City Opera. I can't wait to start rehearsals. Lauren Flanigan and Kim Josephson are back in the cast, as well as a lot of new singers. It's going to be thrilling.
From Scott Schwartz, October 2, 2010
I just finished directed a special two-play event at The Old Globe, Neil Simon's "Brighton Beach Memoirs" and "Broadway Bound." They went very well, and I am very proud of them. The plays run in rep through November 7.

Next up for me is Craig Lucas' "Reckless" at The Denver Center Theatre company. I'm very excited about this one, particularly because my fiancee, Julia Motyka, will be playing the lead! We haven't worked together since "My Antonia" in California, and I can't wait to work with her again.

Also, my production of "Backwards in High Heels," the musical about Ginger Rogers, continues its successful run. It is currently at Arizona Theater Company. It will next open at San Jose Rep on December 1, and then goes onto Cleveland Playhouse in January.

And the last thing I will direct before starting rehearsals for "Seance" at New York City Opera is "Arsenic and Old Lace" starring Betty Buckley and Tovah Feldshuh at Dallas Theater Center, starting performances in mid-February 2011.

It's an exciting and busy time, and I'm very happy about all of these projects.
May 24, 2010:
I'm very excited about a couple of upcoming projects in the fall at excellent regional theaters. I will be directing Neil Simon's BRIGHTON BEACH MEMOIRS and BROADWAY BOUND in rep at the Old Globe in San Diego. Performances begin in late September and run through mid-November. After that, I will direct Craig Lucas' RECKLESS for DENVER THEATER CENTER. Also, my production of BACKWARDS IN HIGH HEELS, a new musical about Ginger Rogers, is finishing up its successful run at the Asolo Rep in Florida. It will next be seen at Arizona Theater Company in Septermber and October, and then at San Jose Rep around Thanksgiving.

To stay updated on the activities of Scott and Stephen Schwartz check out the quarterly email newsletter The Schwartz Scene.
Scott Schwartz My Antonia adaptation
Scott Schwartz's stage adaptation of MY ANTONIA, with incidental music by his dad, Stephen Schwartz, was performed at Rubicon College as part of a festival of new musicals. My Antonia received a full production at Theatreworks in 2004. The San Francisco Chronicle [new browser window] ran a story about Schwartz and Schwartz working together on the show.
Rooms: A Rock Romance
Directed by Scott Schwartz
Rooms: A Rock Romance, written by Paul Scott Goodman (Bright Lights, Big City), is a rock musical that Scott Schwartz directed at Metro Stage in 2008. Read about the show and see photo of Scott at: http://dctheatrescene.com/2008/07/08/make-room-for-rooms/
Variety says "Off Broadway has a potential hit in 'Rooms,' Paul Scott Goodman's 'rock romance.' Goodman's varied and impressive score combines with Scott Schwartz's canny staging and strong performances from Leslie Kritzer and Doug Kreeger to offset a certain inevitability in the plot. The talents of all involved result in an entertaining and enjoyable affair." Variety
Daily News critic Joe Dziemianowicz calls Scott's direction "sharp and energetic." Daily News Rooms review
The New York Times had some good things to say: New York Times - Rooms
Golda's Balcony:
Stephen Schwartz's Wicked opened on Broadway October 30th. With Golda's Balcony also on Broadway, directed by Scott Schwartz, for the first time father and son have hit shows on the Great White Way running simultaneously. On October 3rd, 2004, Golda became the longest-running one-woman show in Broadway history.
In a review of the show, Newsday writer Linda Winer mentions: "Director Scott Schwartz and Feldshuh are scrupulously clear about the complex chronologies and the layers of contradictory emotions." --Newsday
Previous Shows with cast albums
Previously Scott directed Bat Boy, which won the Lucille Lortel Award and Outer Critics Circle Award as "Best Off-Broadway Musical." It was nominated for eight Drama Desk Awards (including Best Director). Bat Boy: Original Cast Recording [new browser window] . (Bat Boy rights are now available through Dramatists Play Service 440 Park Ave. South - 11th floor NY, NY 10016 212-683-8960)
He directed Tick, Tick, Boom Off Broadway. Hear clips Tick, Tick... Boom! (2001 Original..(Opens to Amazon.com). [new browser window]
He co-directed Jane Eyre, which ran eight months on Broadway.

DRG released the 3hree cast album. Scott directed Lavender Girl, one of the 3hree musicals in the collective show, with music by John Bucchino. For a non-traditional taste of musical theatre try the 3hree recording. [new browser window
When Scott Schwartz directed a U.S. national tour of Godspell for Phoenix Productions, followed by a tour in the UK, he hired Alex Lacamoire to do new orchestrations. DRG released the cast recording in 2002. This album's version of "Beautiful City" is particularly satisfying. To hear clips or order the CD from Amazon follow this link Godspell [new browser window]
To the young Scott Schwartz, dad's piano playing was basically background music. "I was always hearing my dad compose and refine music," Scott says, recalling his childhood. "I'm sure it had a powerful influence on me, though at the time it was, 'Why is dad playing music and waking me up?' "
In the early 70's Godspell recordings sold over a million copies worldwide, while Pippin and The Magic Show sustained long runs to large audiences. But it wasn't until the 1980's that Scott realized his dad's far-reaching influence. He and his sister Jessica grew up with the usual television and popular music influences of the times. Then in early adolescence, Scott went exploring in their Connecticut home and discovered a videotape of Pippin. Technology gave him a connection to his dad's magic. "It knocked me out."
Now with a foundation in years of theatre education and directorial experience, Scott Schwartz directs a "media age" Godspell on Tour with Phoenix Productions. This show opened in late September in Nashville and made its multi-state rounds through spring of 2001. In his staging, Scott's link to his dad through video comes alive. Video images dance over giant screens or flicker on TVs while the actors "film" parables that play on the screens. The show abounds with references to pop culture such as movies The Sixth Sense and Babe, as well as TV shows like Cops.
"I asked myself, 'What's the major difference between society today and when Godspell came out?' " Scott says. "I concluded it was the preponderance of technology and the presence of the media and TV, which we had back then, but not the way we have it today."
If the new staging concepts are not bold enough, Scott wanted to add a new beat to his dad's music. Schwartz and music director Alex Lacamoire infused the music with the sensibilities of artists such as Tori Amos and the Dave Matthews Band. "I wanted to find ways to make it feel as contemporary to an audience today as it did when it came out," the younger Schwartz comments. The soundtrack album will be released in the near future.
While technology is key, Scott insists it isn't technology for technology's sake. "My father believes that what Godspell is really about is community. It's about a group of individuals coming together under the leadership of another individual, Jesus. In the second half, their community is challenged when they're under stress, and they lose their leader. Then the community must carry on with a greater sense of interrelationship. Godspell is successful because it's not only about the life of Jesus, but it's also about human truths and relationships. I wanted to explore how we connect today, and what challenges all our new technology creates to real interpersonal connection. This show explores the use of technology to further our human connections."
Scott had a few advantages directing Godspell, such as knowing the show inside-out and being able to pick up the phone and consult with the composer any time. On the other hand, Scott says, "It is a daunting task to do one of Dad's shows. In addition to the normal pressure of directing a show of which you want your parents to be proud of you, it adds an element of, 'My God, I really want him to like this.' "