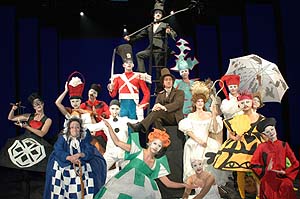 This musical is not currently available. Below you will find notes about its development. Also Kevin Oderik has recorded two songs on his album Unheard: On the Wings of A Swan and Can You Imagine That? Unheard - Mp3 files
The next work by Philip LaZebnik and Stephen Schwartz will be The Prince of Egypt stage musical
About My Fairy Tale
Stephen Schwartz wrote songs for a Hans Christian Andersen project My Fairy Tale. He commented in the summer 2004 issue of The Schwartz Scene: "Next year is the bicentennial of the birth of Hans Christian Andersen, and his native Denmark is going all out to celebrate it. Among the ways is the commissioning of a musical theatre piece about Andersen, which will be presented in one of the major theatres in Copenhagen. It turns out that a friend of mine, Philip LaZebnik, who was one of the writers of 'Pocahontas' and 'Prince of Egypt,' now lives in Denmark, and he will be writing the book for this musical. Through Philip, I have been invited to contribute some songs to the show, and I expect to write four or five."
Winter 2005: Stephen Schwartz has now completed the first draft of his songs and is working hard to notate the music (using computer software) and then share it with his colleagues. He'll be reporting on the progress in future issues of The Schwartz Scene.
Fall 2005: My Fairy Tale has opened at the Gladsaxe Theatre. For more photos see:
Stephen Schwartz's UPDATE 5/6/05 for his website forum:
Thanks to those who have expressed an interest in the upcoming MY FAIRY TALE, or, as it will be called in Denmark, MIT EVENTYR. It is an original musical about Hans Christian Andersen, commissioned as part of this year's celebration of the bicentenniel of Andersen's birth.
It is a little hard to summarize, but basically it deals with Andersen's choice to write fairy tales rather than the "adult' plays that he hoped would gain him the acceptance of the Danish intelligentsia and upper class of his day. It is told as he takes a journey through his own fairy tale world (I won't try to explain here how he gets there in the first place), and includes characters from many of his stories, including "The Nightingale", "The Shadow", "The Ugly Duckling", "The Priness and the Pea", "The Little Match Girl", "The Travelling Companion", "The Little Mermaid", and "The Snow Queen", among others. It also includes characters from his real life, including Swedish soprano Jenny Lind, Jonas Collin (one of the directors of the Royal Copenhagen Theatre and a benefactor of Andersen's), and Johan and Luise Heiberg (celebrated playwright and actress of the day).
I am contributing five or six songs to the show (plus reprises); there will be also songs by other writers, along with some traditional Danish folk songs and pieces by Andersen himself. The show will be presented in Danish at the Gladsaxe Teater just outside Copenhagen, beginning in October. There are thus far no planned performances in English.
So far, I have been having an enjoyable and interesting time working on something which, obviously, is very different for me. Thanks again for your interest. Sincerely, Stephen Schwartz
My Fairy Tale - song list
SONGS by Stephen Schwartz
Stay With Us (BLIŽ HOS HOS)
Your Fellow Traveler (MIN REJSEKAMMERAT)
Stay With Me (BLIŽ HOS MIG)
On Wings of a Swan (Pć Svanevinger)
Come Drown in my Love (Synk Ned i Mit Hav)
Colloquy (KONVERSATION)
Save Us (Red Os)
Can You Imagine That? (DET ER GANSKE VIST)
Finale

Mit Eventyr - My Fairy Tale - More info
More on MY FAIRY TALE From a Danish website: "MY FAIRY TALE will feature original score as well as existing compositions. The musical highlights will be a string of newly composed pop/rock songs created by one of the true heavyweights of the genre, American composer Stephen Schwartz."
"My Fairy Tale features the most important night in Andersen's life -the night he became Hans Christian Andersen. The performance is set at the Royal Danish Theatre on an October night in 1846. The poet has heard an old legend: He who dares spend a night alone in the darkness at the stage will see his biggest dream come true. Andersen decides to spite his fear and go the whole way. However, he wakes up to discover that he is imprisoned in his own fairytale world. In order to return to the real world he must embark on an amazing and perilous journey into the realm of his own imagination. A journey where Andersen lives out his own fairytales, experiences sweeping love, fights for his life against his own shadow and meets a travelling companion - a small boy called Hans Christian. MY FAIRY TALE appeals to Andersen's own audience: those between 8 and 80 years of age."
American Productions
The American Premiere and PCPA Exclusive Production of
My Fairytale
A musical about Hans Christian Andersen
Original idea & concept by FLEMMING ENEVOLD
Music & Lyrics by STEPHEN SCHWARTZ
Book by Phillip LaZebnik
(with Flemming Enevold, Stephen Schwartz, Adam Price & Pierre Westerdahl)
Additional Music & Lyrics by James & Adam Price and The Safri Duo
The American Premiere of My Fairytale was offered in time for the 2011 centennial celebration of Solvang, CA as a Danish-American community. This exclusive engagement will preview in Santa Maria's Marian Theatre August 12 - 19, 2011, then open under the stars in the Solvang Festival Theater August 26, playing through September 25, 2011.
Stephen Schwartz has commented, "I've always felt that Solvang was the perfect place to present My Fairytale. The fact that this show, written for Denmark's bicentennial celebration of HC Andersen's birth, will now be produced in celebration of Solvang's centennial makes it seem even more special to me."
About the Creative Team
Stephen Schwartz is the award-winning composer-lyricist whose scores of Godspell, Pippin, Wicked and others have made the lives of others more Fairy-tale like. Read all about Schwartz
PHILIP LAZEBNIK (Playwright) In addition to writing the book for My Fairytale, Philip LaZebnik wrote or co-wrote the screenplays for the Disney animated features Pocahontas and Mulan, the DreamWorks animated features Prince of Egypt and The Legend of El Dorado and contributed to the scripts of Antz, Shrek, and numerous other films. He is currently active in Europe as a screenwriter and story consultant for features by Nordic Films, Radar Films, Zentropa, Angel Films, and others.
Flemming Enevold, who conceived of Mit Eventyr for Denmark's bi-centennial celebrations of Andersen's birth, is considered the leading musical actor/singer in Denmark.
About Hans Christian Andersen
Hans Christian Andersen's popular tales include The Emperor's New Clothes, The Princess on the Pea, Thumbelina, The Ugly Duckling, The Little Match Girl, The Nightingale, The Little Mermaid, and more.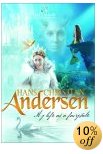 Enjoy Hans Christian Andersen DVDs [new browser window]
Read from Hans Christian Andersen books [new browser window] A list of Fairy tale books for children and adults. In Europe: H.C. Andersen - Amazon.co.uk