Wicked Tickets and Ticket Tips
Wicked the Musical Ticket Sources and Show Schedule
TIPS about seating and prices: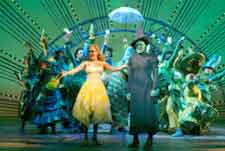 Try to get Wicked tickets in rows B - Q if you can and if you want to see the actors' faces well. Front rows of Mezz are also good. Avoid rear mezz if you want to see the show well.
Wicked Tickets Broadway
PRICE TIP: Wicked tickets are cheaper Tuesday - Thursday evenings and most expensive Saturday night.

Wicked is a sensational Broadway musical play spectacle worthy of the price. It features a large cast wearing over a million dollars worth of costumes, multimillion dollar set, one of Broadway's largest orchestras (23 musicians), dozens of highly trained theatre professionals working back stage, and a fantastic score and storyline. Normal prices range $116.25 to $157.00. Premium price tickets are higher. The Gershwin Theatre box office is open for ticket sales in person or by mail, 222 W. 51st St., New York, NY 10019. TIP: Last minute tickets: See FAQ info below about cancellation line, etc. It is rarely discounted, except for group sales, Lottery, and obscured view, which you can read about below.
How do I get the best seats for Wicked and other Broadway shows
Sometimes premium ticket sellers buy the best seats in advance. Check carefully. If you see something that's close to the stage and not marked "obscure view" then it should work, although you will be paying extra. Ticketmaster itself carries premium. See Ticketmaster.com. For all the latest Broadway shows, videos, Broadway buzz, and more see Broadway.com - the LATEST BROADWAY SHOW TICKETS AND DETAILS
Are there Wicked discounted tickets available for groups?
Yes - Visit the official site or call Group Sales Box Office at 212.398.8383.
Gershwin Theatre Location and Seating Information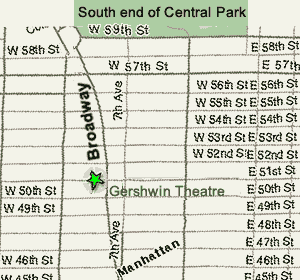 Broadway's hit musical Wicked plays at the Gershwin Theatre - 222 W. 51st St. Open ended run.
Once inside, audiences behold the Oz map curtain and "Ozwald" the puppet dragon over the proscenium, representing the time dragon clock from Maguire's novel (read Maguire's comments on the set on the Story source page). Magic continues as the show proceeds to unfold the untold story of the witches of Oz.
The Mezzanine in this theatre is father back than in most. It starts above row N of orchestra.
The theatre is entered through a huge covered alleyway, shared with Circle in the Square. The actual theatre is reached by escalator or elevator.
Seating Capacity: 1809
There are restrooms on the orchestra and mezzanine level of the theatre, also multiple concession stands.
Air Conditioned
Wheelchair seating available
Wicked Discount Tickets - Are there cheap play tickets?
What is the day-of-performance Wicked lottery for Broadway & how does it work?
A day-of-performance lottery for 26 select orchestra seats for $30.00 each will be held daily. Limit 2 tickets per person, cash only by Ticket Lottery. Names will be collected 2½ hrs prior to each performance and drawn 2 hrs prior to each performance. Winners must be present (with photo ID) when their names are called, or they forfeit their tickets.
What are my chances of getting a cheap Wicked lottery ticket on any given performance?
The number of people who sign up for the lottery varies with each performance, but on average expect 200 - 300 people (more during holiday weeks).
Are there discounted or lower priced tickets available?
Yes, technically they are available, although they are often bought up well in advance. Mid Mezzanine seats start at $81.00 and rear at $56.00 depending on day of week (cheapest on Tuesday evenings). Also, there are a limited number of partial-view Side Orchestra tickets that can be purchased in advance at the box office or online if they are available (starting at $55). In these seats, you will miss some of the scenic elements at the back or side of the stage; however none of the primary action of the show will be missed. Buy them at Ticketmaster.com.
Should You Bring Children to Wicked?
This section has its own page: Wicked for kids?
Questions?
Hotels
Most convenient: The Crown Plaza is just around the corner from the Gershwin where Wicked is playing.
MORE INFO: return to our main Wicked page for Wicked-related pages:
(links to reviews, cast details, tour info, store, Wicked study guide, etc)
Wicked on Broadway Frequently Asked Questions
What is the best availability for Wicked tickets?
Weeknights are better than weekends; the further in the future you go, the better the availability.
How long will the show be running? The show has been running on Broadway since 2003 and shows no sign of stopping. It has played over 3500 performances.
Is the show appropriate for my 5-year old? Recommended for ages 8 & up (some parts may be scary and/or long for young children). Please, no children under 4. Read more: Is Wicked for Kids
What is the running time of Wicked? Approx. 2 hrs 45 mins. (Act 1: 1hr 30 min / Act 2: 1hr – 1 15" intermission)
What is the Wicked Broadway cancellation line and how does it work? When the show is sold-out, a very limited number of day-of-performance tickets may get released for sale (at the box office only) right before show time. To purchase released tickets you must stand in the cancellation line at the box office on the day-of-performance only. Standing in the cancellation line does not guarantee a ticket. The number of tickets available varies per show and are available to first come first served in the cancellation line.
Is the theatre wheelchair accessible? Is there different pricing? Yes. $25 tickets for wheelchair patron & one companion.
Are there devices for the hard-of-hearing? Yes. Available free-of-charge inside the lobby. Also hand-held captioning devices and audio description for the blind are available at the same place.
Are there translation devices? Yes. Available free-of-charge inside the lobby – currently available in Japanese, Portuguese, Spanish, German, and French – you can rent a headset and get a running synopsis of the show in these four languages.

Where is show merchandise available? Most merchandise is available in the lobby during the day when the box office is open. A full selection in the upper lobby 45-minutes before show time, during intermission, and after show; also a full selection is available 24/7 online. See our Wicked Shop
What time should I arrive at the theatre? Doors open 45 minutes before show; recommend at least 15 minutes before show time.
Are there concessions inside the theatre? Yes. Soft drinks, water, cocktails, candy & show merchandise (no food).
What is Wicked About: Wicked Synopsis without spoilers
New York City Travel Tips:
Our favorite restaurant guide includes menus, hours, restaurant types, etc. When seeing a show in the theatre district, this free guide will help you choose where to eat. Restuarant guide - http://www.menupages.com/
If you are an actor or are a theatre or film enthusiast looking for an interesting place to spend some time, consider the Drama Book Shop on 40th street. It's a nice place to stop in NYC, or shop online. They often hold valuable classes or book signings.
All About Wicked and Schwartz
The show Wicked has been among the biggest blockbusters in Broadway history, thanks to thousands of successful creative decisions made by the creative team and managers. It helps that it's a "must see" musical because of the association with The Wizard of Oz. It tells what could be called a "backstory" for the time in Oz when Dorothy arrived and met her three friends, the scarecrow, tin man, and cowardly lion.
Stephen Schwartz and Winnie Holzman, the authors of Wicked decided to imagine that The Wizard of Oz movie with Judy Garland was like a documentary for Oz, and that their own fictional story needed to stay true to the "facts" of oz presented by L. Frank Baum when he wrote The Wizard of Oz novel.
Due to legal limitations, they were not able to include quite all that they had wanted, but Universal Pictures who was backing the musical had bought rights to Gregory Maguire's novel Wicked, so they could use anything from there and also from the L. Frank Baum novels that are in public domain.
For more on Wicked visit the main Wicked page here at MusicalSchwartz.com: Wicked shop with poster and program, Wicked CD, Wicked synopsis, sheet music, and more.