Godspell Junior
Godspell Jr. is a version of Godspell especially designed for young performers ages 8 - 14
Godspell Junior is part of Music Theatre International's collection of shows designed for elementary and middle school students.
Godspell Jr: One Act: 10 Scenes
Approximate Running Time 60-80 minutes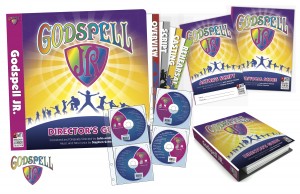 It includes a newly revised Director's Guide that includes everything a teacher/director needs to produce the shows: Script and Score with suggestions for Staging, Choreography, Costumes, Directing, Lighting, Music, Props and Sets, Curriculum ideas, and much more. The price is low, allowing classes to perform a show as many times as they like during a school year. Visit their Website at BroadwayJr
Other Godspell links
Main Godspell page (recordings, movie, resources, etc)
Stephen Schwartz and Godspell Jr.
A few comments from Stephen Schwartz on the show, as posted on his forum 1/19/2001: "....Because this version of the show is designed to be performed by a large cast of younger children, the complex subtext of the original (the development of a community out of disparate individuals) cannot be maintained; this version is more of a fun Story-theatre-style re-telling of the parables and teachings. But I felt that as such, it gave the kids lots of room for fun and creativity and was certainly delightful from an audience standpoint. MTI expects it to do very well, and it was interesting for me to re-think and re-design a show of mine for this specific purpose."
Accompaniment CD includes songs by Stephen Schwartz
* "Prepare Ye"
* "Save the People"
* "Day by Day"
* "Learn Your Lessons Well"
* "O, Bless the Lord, My Soul"
* "All for the Best"
* "All Good Gifts"
* "We Beseech Thee"
* "Beautiful City"
* "Light of the World"
* "On the Willows"
* "Finale"
Interview
Interview with Tim McDonald, Director of the Broadway Junior collection of Music Theatre International - 1/8/2001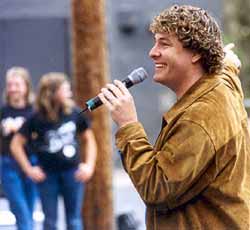 d1
Photo of Tim McDonald directing a Godspell Jr. production.
Carol de Giere: Where did the idea of Godspell Jr. come from and how long has it been in the works?
Tim McDonald: When MTI acquired the rights to Godspell I thought it would make an excellent addition to our Broadway Junior Collection. I approached Stephen Schwartz and he agreed. So we scheduled a test site in Lincoln, Nebraska during the summer of 2000, (at the Lincoln Community Playhouse; the show was directed by Fred Stuart.) Stephen was kind enough to fly in to see the production in Lincoln and offered great advice and ways to further "juniorize" the show.
CD: How did you get involved? Why does it interest you?
TM: As the director of The Broadway Junior Collection at MTI my job is to create and promote Broadway Junior Showkits. I've always loved Godspell and jumped at the chance to direct the second test of the show. I believe musical theatre is one of the most powerful ways to instill confidence and self-esteem in young people. A version of Godspell that young people can perform seems like a natural to me. Also, Stephen Schwartz is one of the great American Musical Theatre creators. Kids need to know that and Godspell is a great way to introduce them to his work.
CD: Of course people will wonder what was cut or changed in the script. Is there anything you can say about that?
TM: Our objective is to create a version of Godspell that kids ages 8-14 can perform. The skills of performers this age are different than the skills of adults. The show is edited to about an hour in length and the music is transposed into key for young voices--especially for changed and unchanged boy's voices. We've only eliminated two songs: the "Prologue/Tower of Babble" and "Alas, For You." In the case of "Tower" the music is too difficult for the age group. In the case of "Alas for you" eliminating it makes the role of Jesus a bit less demanding vocally on a very young performer. Some of the songs are slightly edited, as well as some of the parables.
CD: Was Stephen Schwartz involved in changing the music at all?
TM: Stephen has been incredibly helpful in creating the Broadway Junior version of Godspell. He is an artist who understands the importance of turning young people on to the magic of musical theatre and has been indispensable in the process of adapting Godspell for kids.
CD: When will the script be available?
TM: We create an entire "Showkit" as part of the Broadway Junior Collection including scripts that have a glossary of terms, an introduction to theatre terms, and memory book pages. We also create a performance CD (since most elementary and middle schools do not have a pit band handy) as well as a cross curriculum guide (which ties the themes of Godspell into classroom activities) a director's guide (making directing the show with kids fun and highly possibly) and finally a choreographic video.
As you can see the Showkits contain quite a bit of information. Once we have developed the script and music, it will take about eight months for the Showkits to be available. Godspell Junior should be available in the spring of 2002.
CD: Do you have any specific goals in terms of what you hope the participants and audiences will experience?
TM: What I love about Godspell is the inherent playfulness of the show and the loose structure of the piece. Unlike many shows, there is room for the cast to be very creative in the way in which they tell the story. Therefore I've really let the kids go nuts and have fun. I hope the audience will have as much fun as the kids.
Beyond that, it is important to me that each child performing gets a moment in the spotlight. That feeling of accomplishment, of an audience applauding, of feeling special, cannot be duplicated in any other medium and I think it creates a child that is confident and filled with positive self-esteem. Really nothing else matters to me.
CD: Thank you Tim. Congratulations on all your great work for this valuable project.