Wicked Auditions - Broadway, Tour, and UK
Wicked auditions for the American productions and UK.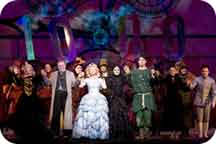 Wicked is an equity production. Actors who are accepted all have substantial bios listing other musical theatre or related productions. The Wicked company casts singers and dancers of all ethnicities.
WICKED UK: For the UK, rather than holding open auditions, the casting director sends invitations to performers under consideration. You may contact the casting director, Pippa Ailion, at 3 Towton Road, London, SE27 9EE. (This information is from the producer's office.)
USA and CANADA: Wicked auditions in America are run by Telsey + Company. Currently the show is playing on Broadway and on tour. When open auditions are offered, they usually announced on Playbill.com jobs board, Backstage, Actors Equity job board, among others. The show is not yet available for licensing by local groups.
Audition tips:
Carol de Giere's interview with Wicked director Joe Mantello - audition tips (musicalsingers.com)
Carol de Giere's interview with Wicked composer Stephen Schwartz - audition tips (musicalsingers.com)
Perspectives on Wicked from Stephen Schwartz, director Joe Mantello, & others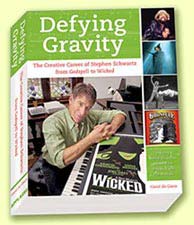 Defying Gravity: The Creative Career of Stephen Schwartz, from Godspell to Wicked devotes 150 pages to the development of Wicked. It takes you inside the mindset of some of the people who make final casting decisions for principals: creative team members Stephen Schwartz, Winnie Holzman, and Joe Mantello. Defying Gravity the book
To stay informed about Wicked and Stephen Schwartz's work, subscribe to The Schwartz Scene free email newsletter.

Anyone seriously considering a Broadway career should read Making It on Broadway: Actors' Tales of Climbing to the Top
for the real take on what show biz life is like - includes quotes from many actors.
Some actors are using WICKED songs for local auditions for other shows. For sheet music see Wicked piano-vocal - sheet music.
Wicked Monologues
Note from the webmaster: Several people have asked for monologues from Wicked to use for other show auditions. There are not many monologues in Wicked that are long enough to use for auditions. I've paged through WICKED the novel to see if there might be something for Elphaba. The longest I've found in a quick look is on p. 113 in my edition of the paperback. It's about Dr. Dillamond's discoveries. And there's a really strong statement on p. 356 which is probably too short but it's marvelous. ...It's a personal matter, Boq; I want the shoes. My father made them and they're mine now, and Glinda gve them to this girl without my permission. ...."
I've found a monologue archive online - nothing to do with WICKED - but in case you need it: http://www.monologuearchive.com/
Wicked Shop

Do you have the latest Wicked merchandise? Wicked shop
Wicked Roles Descriptions
From one of the casting listings:
SEEKING:
GLINDA: Female, 20 - 35. The "good" witch. Pretty, charming, entrancing, ambitious, perky, vain, very popular, but also vulnerable and sympathetic. Needs excellent comic chops and star power. Needs a glorious singing voice with high soprano and belt capability. STARRING
ELPHABA: Female, 20 - 35. The "wicked" witch. Born with emerald-green skin, she has had a rough childhood and is an outcast from the beginning. Smart, fiery, sensitive, passionate, misunderstood, sincere, has potent inner beauty, rallies for the underdog, has great talent for sorcery. Needs star power and a powerhouse, high pop/rock belt singing voice. STARRING
THE WIZARD OF OZ: Male, 50s - 70s. Needs a strong, distinctive, engaging, sweet character actor with powerful presence. Must sing. PRINCIPAL
MADAME MORRIBLE: Female, 40s – 60s, any ethnicity. Headmistress of Shiz University. Dignified, powerful, haughty, has a dark side. Takes Elphaba under her wing, training her in sorcery. Needs a strong, comical character actress with formidable presence. Must sing. PRINCIPAL
FIYERO: Male, 20 – 35, any ethnicity. The Winkie prince, a wealthy party boy. Very handsome with striking presence. Not really shallow and self-absorbed as he initially seems. Glinda pursues him, but he is much more intrigued by Elphaba. Needs a strong, high pop/rock singing voice. PRINCIPAL
NESSAROSE: Female, 20 – 30. Elphaba's lonely, compassionate, attractive younger sister, she was favored by their father. Has spent her life crippled in a wheelchair. Becomes involved with Boq and becomes the Wicked Witch of the East. Needs a commanding actress with a strong singing voice. PRINCIPAL
BOQ: Male, 20 – 30, any ethnicity, height of 5'8" or shorter. A helpless, quirky munchkin. Enamored with Glinda, who pays him no mind. Reluctantly, he becomes involved with Nessarose. Needs a comical actor with a strong, high singing voice. PRINCIPAL
DOCTOR DILLAMOND: Male, 30s - 50s, any ethnicity. A distinguished and well-liked professor at Shiz University. He is a goat and the sole animal on the faculty. He becomes a victim to the animal discrimination occurring in Oz. Needs a strong actor with a sense of gravity, authority, and comic skill. Must sing. PRINCIPAL
How to Prepare
Notes/What to bring: Please prepare a brief contemporary musical theater song showing range. Please bring sheet music and a photo/resume stapled together. A piano accompanist will be provided. (From a casting listing)