(Note - with digital sheet music, you can transpose the key if you want to. See the music notes icon on the score sheet when you get to that page.)
"I have to give the credit for adapting my piano accompaniment, so that it contains the melody without losing the feel of the original, to Mark Carlstein and his excellent staff at Hal Leonard Publishing."--Stephen Schwartz
The Contemporary Singing Actor - Duets Edition: 34 Songs from Broadway and Off-Broadway Revised Edition (Vocal Collection)
Includes "For Good" and "As Long As You're Mine" from Wicked, "In His Eyes" from Jekyll & Hyde, "Written in the Stars" from Aida, and many others.
2. Wicked - Vocal Selections (Vocal Line with Piano Accompaniment Format)
"Wicked Vocal Selections with Piano Accompaniment" - Essential for Pros.
This is the professional version musicians would use for accompaniments. The piano part represents the real accompaniments the way Stephen Schwartz plays them. The vocal line is separate. In other words, the accompaniment does not double the melody. Mr. Schwartz and his team carefully developed this songbook.
Or another source:
Wicked: Vocal Selections $12.57 (List price $17.95) - Amazon.com [new browser window]
In the introduction to Vocal Selections, Stephen Schwartz writes: "Several decisions always have to be made in translating the score from a show into a book of vocal selections. In the case of Wicked, I found it trickier than usual, because many of the songs are structured to carry the story in the show, but out-of-context would be clearer and more effective to perform in a somewhat altered format.
In the end, I chose to try to make the songs work for this medium, and thus to make changes in certain cases from the way they appear in the stage show and the cast album. ...
The piano accompaniment is essentially a reduction of what is played by the show orchestra, edited so that it is playable by one person with two hands and then fingers. It basically represents the way I play on the piano to accompany songs.... "
3. Easy Piano/vocal Wicked Sheet Music
WICKED EASY PIANO & VOCAL songbook
This maintains the integrity of the music, while making the accompaniment easier to play for non-professional pianists.
Amazon: Wicked : A New Musical - Easy Piano Selections
- Buy it for $9.72 plus shipping
Downloadable Easy Piano
4. Choral, Orchestra, and Band
There's also Wicked choral music listed on the choral music page | For orchestra and band music see Wicked score
5. Accompaniment
Vocal Songbook with Pro Vocal CD
Hal Leonard, the official publisher of Wicked's sheet music as created and authorized by composer Stephen Schwartz, has released a pro vocal collection of lyrics, music, and accompaniment CD. So that's the first place to start for female voices - soprano and alto. Note: The music for the Wicked-Pro Vocal folio was newly arranged for this publication, to match the accompanying CD. It was approved by Stephen Schwartz.
Wicked - Pro Vocal Songbook & Cd for Female Singers Volume 36 (Pro Vocal Women's Edition)
Another Music/CD combo
Wicked - Piano Play-Along Includes both Sheet Music and CD: The Wizard and I | What Is This Feeling? | Dancing Through Life | Popular | I'm Not That Girl | Defying Gravity | I Couldn't Be Happier | For Good
ACCOMPANIMENT CDS: The CDs feature two tracks for each tune: a full performance for listening, and a separate backing track that lets players take the lead on keyboard. The high-quality, sound-alike accompaniments exactly match the printed music.
SHEET MUSIC (the piano/vocal/guitar version)
Your favorite sheet music will come to life with the innovative Piano Play-Along series! With these book/CD collections, piano and keyboard players will be able to practice and perform with professional-sounding accompaniments. Containing eight songs each, the books feature new engravings, with a separate vocal staff, plus guitar frames, so players and their friends can sing or strum along.To Buy it go to
Amazon.com: Wicked: Piano Play-Along Volume 46 (Hal Leonard Piano Play-Along)
OR MusicNotes.com: Wicked - Piano Play-Along
Stephen Schwartz Bio includes "Wicked Witch of the East" music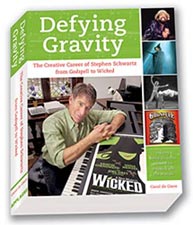 For this first authorized career biography, Stephen Schwartz gave the author his handwritten sheet music for "The Wicked Witch of East" heart chant--a special song not included on the cast album. In Defying Gravity, you'll find this music and other never-before-published material, such as Schwartz's original outline for Wicked. For more information or to order the book online visit defyinggravitythebook.com
Wicked Music Books - Contents
The Wicked songs included in both books are
"No One Mourns the Wicked" (a special version for the vocal selections book that includes new lyrics in order for it to make sense as one song)
"The Wizard and I"
"What is This Feeling?"
"Dancing Through Life"
"Popular"
"I'm Not That Girl"
"One Short Day"
"Defying Gravity" (again with special lyrics so it makes sense as a solo)
"I Couldn't be Happier" (excerpted from "Thank Goodness")
"Wonderful"
"As Long as You're Mine"
"No Good Deed" and
"For Good".
Reviews from Users
Review: "I recieved the song book and played through it. If I had to say one word: Awesome! It's very well made, written, and arranged. You need to be a very good piano player to play through the majority of the accompaniment but it's worth it to learn! Stephen did a great job at turning company numbers into solos. I was disappointed that the middle section of "What is this Feeling" was left out but I can understand why. All in all, 10 out of 10!!" John W. Watson
pianist, composer, musical director
If you love Wicked, you may enjoy The Schwartz Scene Newsletter free email quarterly - with background info on the musical.
Here's an answer to a question about keys used in the songbook (from Stephenschwartz.com): In all cases except one, the piano vocal selections are in the show keys. The only change I recall is "For Good", which I transposed down a step from Db to C. I did this because, since it is a song that's becoming so popular, I thought it would be easier for many people to play in C than Db and I thought the half-step would not make a huge difference. Most of the other songs are in relatively easy keys to play, and the ones which are not, such as "One Short Day", I left in the original key because of modulations within them that then would have wound up in difficult keys, or in the case of "Defying Gravity", because I think the accompaniment sounds considerably better on the piano in the original Db than in C or D (which would also get too high vocally
Jennifer D. of Long Beach:
Discovering the musical "Wicked" has been one of the best things that has happened in my life because the music is just so moving and because it has been the first thing that I have had a real passion for.... I enjoy the music in "Wicked" so much that I have just recently began taking piano lessons (at 21yrs. old - never too late to start) and am learning to play the "Wicked" easy version sheet music and have attempted playing parts from the regular vocal sections with piano accompaniment sheet music without much success but will keep at it. I simply can't say enough for my love of this wonderful musical, I listen to "Wicked" everyday (I wake up to it with my ipod alarm clock and it's the only cd allowed in my car) Finally I'd like to give a hugh thanks to Stephan Schwartz for creating such a beautiful masterpiece, it's simply genius; and to your awesome and thorough website for the many fans that want to know anything and everything!
PRAISE FOR WICKED SONGBOOK sent to Stephen Schwartz (used with permission)
I'm a 49-year-old amateur piano player who has been collecting and playing sheet music for about 35 years. (Your scores for Godspell and Pippin are two of the oldest and best loved ones in the collection.) Given my love of the CD and the show (which I got to see in N.Y.), the arrival of the sheet music was a much-anticipated event.

I do not sing, so I am always caught wanting sheet music to be accurate, but not to the point where I can't interpolate the melody. Your version of Wicked is simply the finest adaptation of a show to a book of sheet music I have ever encountered. You took the time to edit songs to fit this format, kept as much of the full sound as you could, but always making it playable, as you say in the Introduction, by one person, two hands.

Some songs are revelations. "No One Mourns The Wicked," for example, sounds almost angry in the show (appropriately so), but becomes a mournful lament when one plays the lovely opening arpeggios.

You (and those you worked with), obviously put great care and love in this book. I know you don't win awards for good sheet music, and I doubt it's a big part of the financial picture. You did it because you care about the integrity of the product. I wanted you to know that at least one person appreciates every note of it.

—Jonah
Licensing
Wicked music licensing questions - Check with Stephen Schwartz's assistant - Visit www.StephenSchwartz.com
---
| | |
| --- | --- |
| | Stephen Schwartz has written many beautiful scores in addition to Wicked : |
---
Also check out The Back Stage Actor's Handbook: The How... [new browser window] The Back Stage Actor's Handbook: The How to & Who to Contact Reference for Actors, Singers & Dancers.
---
Visit the main Wicked page for useful links
Wicked Original Broadway Cast Album Tracks - Read about the CD
1. NO ONE MOURNS THE WICKED - Glinda and Citizens of Oz
2. DEAR OLD SHIZ - Glinda and Students
3. THE WIZARD AND I - Morrible, Elphaba
4. WHAT IS THIS FEELING? - Glinda, Elphaba and Students
5. SOMETHING BAD - Dr. Dillamond and Elphaba
6. DANCING THROUGH LIFE - Fiyero, Glinda, Boq, Nessarose, Elphaba and Students
7. POPULAR - Glinda
8. I'M NOT THAT GIRL - Elphaba
9. ONE SHORT DAY - Glinda, Elphaba and Denizens of the Emerald City
10. A SENTIMENTAL MAN - The Wizard
11. DEFYING GRAVITY - Elphaba, Glinda, Guards and Citizens of Oz
12. THANK GOODNESS - Glinda, Morrible and Citizens of Oz
13. WONDERFUL - The Wizard, Elphaba
14. I'M NOT THAT GIRL (reprise) - Glinda
15. AS LONG AS YOU'RE MINE - Elphaba and Fiyero
16. NO GOOD DEED - Elphaba
17. MARCH OF THE WITCH HUNTERS - Boq and Citizens of Oz
18. FOR GOOD - Glinda and Elphaba
19. FINALE - All