ShowBusiness:
The Road to Broadway
DVD features Wicked
Documentary Captures Backstage Drama
The Must-Have DVD For Wicked Fans
ShowBusiness documentary movie, now on DVD, follows four high-profile productions that eventually became Tony Award® nominees. From casting to staging, from previews to red-carpet opening nights, from the nomination announcements to Tony Award night, ShowBusiness provides a never-before-seen look at the inner workings of Broadway Musicals.
Buy Show Business: The Road to Broadway on DVD - Amazon.com
#Ad.
Running time: 104 minutes covering Wicked, Avenue Q, Taboo And Caroline, Or Change. SPECIAL FEATURES: Audio Commentary, Over 60 minutes of Deleted Scenes, Trailers...
(We have an affiliate relationship with Amazon.com, and with qualifying purchases, a commissioned may be earned to help support this site.)
About Wicked in the Movie Showbusiness
by Carol de Giere
Dori Berninstein was "Allowed unprecedented backstage access" (as a press release indicates) for her documentary ShowBusiness that chronicles the 2003-2004 Broadway season. She was exploring what it takes to put together a Broadway show, and some of the emotions and worries involved.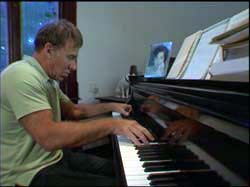 Berinstein's team traveled to Connecticut to speak to Wicked composer Stephen Schwartz in his home in 2003 before Wicked became public. In Showbusiness, Schwartz talks about some of his concerns regarding the making of a new musical. This photo shows Schwartz at his grand piano where he composed Wicked's songs. The photograph on the piano is of Shirley Bernstein (Leonard's sister), who served as Schwartz's agent for over twenty years.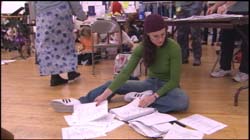 The ShowBusiness cameras were allowed into the rehearsal room at 890 Broadway in New York City. This photo shows Idina Menzel either reviewing the script or inserting last-minute script changes that the writers made during the rehearsal time. Idina is interviewed several times in ShowBusiness.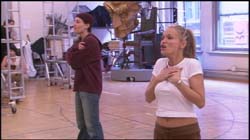 Idina Menzel and Kristin Chenoweth are practicing a song--probably "What Is This Feeling"-- at 890 Broadway. In the background you can see set pieces or simulated set pieces that the cast used during rehearsals.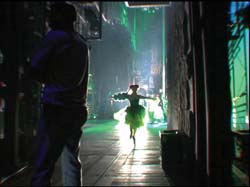 ShowBusiness does include some "b-roll footage" of the rehearsals and the actual show. (That means what the PR department made available. For legal reasons they couldn't include complete numbers). This photo is of a Wicked cast member headed onto the stage.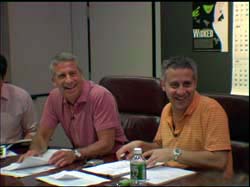 In the photograph on the right, Wicked's lead producer Marc Platt and producer David Stone are shown in a marketing meeting. Showbusiness covers a range of topics about getting a show mounted.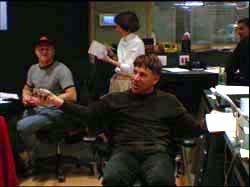 In November after Wicked opened, Stephen Schwartz lead the cast and orchestra through three days of recording sessions at Right Track Studio for the cast album. This photo is from one session when some press and friends were invited into the control room. On the left is Stephen's assistant Michael Cole. Next is me, Carol de Giere in the white turtleneck, and in front is Stephen Schwartz.
Was Berinstein biased in choosing shows and material? When she directed the film, she had no idea how the season would play out. She ended up creating the film from over 250 hours of footage. She said she was inspired by William Goldman's book, The Season, which tracked Broadway shows from 1967 to 1968. [The Season is one of Stephen Schwartz's favorite book about theatre. Read about the making of musicals
She told a Los Angeles reporter, "I wanted it to be a celebration about theater and the incredible talent onstage and behind the curtain. I wanted it to be really, really honest. It was a particularly brutal season." Watching the Tony Award section of the film towards the end, Showbusiness comes off somewhat as a celebration of Avenue Q. But there is still plenty of material for theatre enthusiasts who appreciate the other shows, or just want to see one director's perspective on show business.
One of the most unusual moments takes audiences to the dinner table where Berinstein had assembled five major theatre critics. They talk about what shows seem least likely to succeed and at one point pan Wicked. Berinstein juxtaposes their comments with footage of the show's growing fan base backed by Chenoweth singing "Popular."
Order ShowBusiness: The Roadway to Broadway
Buy Show Business: The Road to Broadway on DVD
Running time: 104 minutes covering Wicked, Avenue Q, Taboo And Caroline, Or Change. SPECIAL FEATURES: Audio Commentary, Over 60 minutes of Deleted Scenes, Trailers...
From Contra Costa Times review of the movie Showbusiness: "Blessed with both unusual access to the creative artists and an unerring sense of comprehensiveness, Berinstein immerses us in the hard work and dumb gambler's luck that has always defined this ancient union of creativity and commerce. We hear from writers, composers, performers, directors and producers, of course, but also publicists, the public and a gaggle of critics who quip and question, smartly, around tables at Orso and Sardi's."
Dori Berenstein has said that among the magic moments she felt were captured in the film is the Wicked recording session: "...Stephen Schwartz...in the recording studio doing the CD for Wicked and he could hear one tiny note that nobody else could hear that was wrong. And he just had this amazing gift where he knew that something wasn't right, they went back, spotted it, re did it..."
Photos on this page Courtesy of Regent Releasing, ShowBusiness photos by Bruce Glikas