Idina Menzel - Wicked's First Broadway Elphaba
Idina as Elphaba, DVDs, CDs, interviews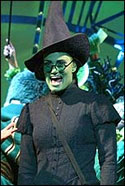 Idina Menzel auditioned for the role of Elphaba in Wicked shortly after 9/11/2001. She had been performing as Amneris in Aida on Broadway at night. Her agent told her about the auditions. She comments, "The story sounded intriguing, but most of all, it was going to be directed by Joe Mantello and have music by Stephen Schwartz, and I didn't care if it was the phone book, those were the kinds of people I wanted to work with." (Defying Gravity Stephen Schwartz biography first edition, page 339, author interview.) She was hired later in 2001, played the role in readings and the pre-Broadway production in San Francisco, and then on Broadway. She also played Elphaba later in London.
Article: See below for an interview excerpt with Idina Menzel about Wicked and Stephen Schwartz.
Grammy winning Wicked CD: All about the Wicked CD Enjoy Idina's vocal magic in "The Wizard and I," "What is This Feeling" (duet with Kristin Chenoweth), "Defying Gravity," "As Long As You're Mine" (duet with Norbert Leo Butz), "No Good Deed," and "For Good" (duet with Chenoweth)
DVD with bonus features: Watch Idina Menzel rehearse and perform "For Good" from Wicked in the DVD's special feature. PLUS a 16-minute bonus feature "Wicked: The Road to Broadway" with production footage and interview clips, including Idina Menzel in rehearsal, on stage, and backstage. (3 DVD discs 6+ hours total Broadway footage) Broadway the American Musical - (Amazon).
Idina Menzel on Showbusiness

Idina is featured in many segments of this new SHOWBUSINESS documentary. With the camera zoomed close up to her face, she talks about what it was like to create the role of Elphaba. She is also included in rehearsal footage shown as part of this behind-the-scenes DVD for Broadway musicals. SPECIAL NOTE: Be sure to listen all the way through the credits. The second song run during the credits is Idina Menzel singing "Lullaby of Broadway," with her own special pop-vocal sound. Read more about ShowBusiness - New Documentary that includes interviews with Idina Menzel

DVD: Idina Menzel Live Barefoot At The Symphony [Amazon.com Exclusive]
This PBS special was captured in Toronto at Koerner Hall, where Idina Menzel performed with the 52-piece Kitchener-Waterloo Symphony, one of Canada s premiere symphony orchestras. The legendary Marvin Hamlisch served as guest conductor. March 2012.
Songs 1. Life of the Party
2. I'm Not That Girl - from Wicked
3. Love For Sale / Roxanne
4. Funny Girl / Don't Rain On My Parade
5. Asleep on the Wind
6. No Day But Today
7. Poker Face
8. Look To The Rainbow
9. Good Morning Walker / I Feel Smoochie
10. Where or When (feat. Taye Diggs)
11. Heaven Help My Heart
12. For Good from Wicked
13. Defying Gravity from Wicked
14. The Way We Were
15. Tomorrow
CD only - Live Barefoot At The Symphony (Amazon - CD and Mp3)
Songs: 1. Life of the Party
2. Love For Sale / Roxanne
3. Funny Girl / Don't Rain On My Parade
4. Asleep on the Wind
5. No Day But Today
6. Poker Face
7. Where or When (feat. Taye Diggs)
8. Heaven Help My Heart
9. For Good
10. Defying Gravity
11. Tomorrow
Idina Menzel, Elphaba, and the Artistic Life
An Interview Excerpt
Idina Menzel Interview about playing Elphaba in Wicked
[Copyright by Carol de Giere; posted on MusicalSchwartz.com with Idina's permission]
The following is an excerpt from a phone interview July, 2005, by Carol de Giere, biographer for Stephen Schwartz, Wicked's songwriter.
Carol de Giere: [To introduce the first question, Ms. de Giere described Stephen Schwartz's personal interest in the character of Elphaba. He identified with Elphaba when reading the novel, and thought of himself as a kind of Elphaba.] Did you see him as an Elphaba at all?
Idina Menzel: No, I see him as this legendary guy and I'm just trying to do a good job and not get fired. [She laughs]. I don't see him like that.
But I can appreciate that everybody obviously goes through that in their life in some way or another and when they feel completely alienated and like an outcast, whether it's for a short time or for their whole lives. And yeah, of course, when you're an artist usually you have to take risks and usually you have to put yourself on the line and go against the grain in order to be great and unique. And then you sort of stand up for what you believe and are able to resist the negativity and things people will say to you. So that's one aspect of Elphaba.
The part for me that always hits home with that character is, and I think this is with most women, is that we have this strength inside of us and yet we are taught to always sort of keep it down. If we're too big or too angry or too bold or too beautiful or too talented, it can scare people. It might scare other women, it might scare men, whatever it is. I sort of found in my life that I've taken a step back and made myself smaller in order to try to fit in. And that hasn't worked. And we have to learn to kind of embrace what makes us unique, and embrace our strength and then if people don't like it, ___ it.
So that's my thing that I'm working on in my life, and the part of Elphaba that always stuck with me. She has such a power that she didn't understand how to corral yet or anything. But something was happening and she wanted to do really great things. And the more she tried to hold it back, the more it would come out in the wrong way. And then people would make fun of her and alienate her.
I found that, as a child especially, if you have a talent like a voice early on, for me - teachers would start to pay attention to me and I didn't want to stick out too much because sticking out too much when you're a kid, everyone will be mean to you. So you learn to hide your talents. Then when you get older you've got to let it shine. Let it rip or otherwise you're going to sink, you know.
Carol de Giere: [I asked her about the benefits of Wicked on younger audiences]
Idina Menzel: it's really changing these kids. They've come back stage, and I've had them in my dressing room, and it's really making them understand that they have to be who they are in this world. And not to sacrifice what makes them unique. And it's making them tolerant and it speaks about racism. I just really am proud of that and I hate that certain critics make light of Wicked. Because it can speak to kids, that doesn't mean it doesn't have depth.
That's been the most rewarding thing for me, is the kids every night after the show, and the pictures, I have drawings upon drawings of Elphaba in crayola, and the letters and stuff.
Carol de Giere: Do you have a standard thing you say when a young person says, 'I want to be the next Idina Menzel.'
Idina Menzel: I always tell them to find their own individuality. They don't have to be like other people. The most successful people are so original.
FOR MORE ABOUT IDINA AND HER EXPERIENCES AS ELPHABA see DEFYING GRAVITY:
Defying Gravity book includes the full development story of Wicked
Idina Menzel (Elphaba), Kristin Chenoweth (Glinda), Norbert Leo Butz (Fiyero) and others originated roles in the Stephen Schwartz/Winnie Holzman musical Wicked.
Follow the story of Wicked through multiple drafts and readings in the book Defying Gravity. Find out how the writing team changed their musical based on the influences from the first cast. Defying Gravity: The Creative Career of Stephen Schwartz, from Godspell to Wicked.
With 150 pages on the making of Wicked, more than forty photos and illustrations in the Wicked section alone, the Stephen Schwartz biography Defying Gravity provides the best entry into the creative world of a major Broadway show.
In the book, Idina is quoted about her audition, her challenges for finding the role, and how she coped with the script changes in San Francisco.
Idina Menzel comment on Stephen Schwartz:
While she was working in Wicked she said, "I hope he knows how incredible it is for us [the cast]. People are unbelievably moved every night by his music. And it's an incredible honor that I get to interpret Stephen Schwartz's music every night."
Back to the main Wicked index
More interviews with Idina Menzel
BroadwayWorld in depth interview with Idina Menzel in January 2011. Idina Menzel interview [opens new browser window]. In this interview she talks about her concerts, about motherhood, and about originating roles in Rent, Wicked, and other shows. "What I have always felt the most fortunate about is having been a part of original musicals and originating roles - as well as the creative process that goes along with that and how rewarding that all is. You know, I set the bar high because I don't what to do just any other show just to keep working, I want to do something special that means something to people and speaks to them. Those kinds of opportunities don't come along all the time!"
From Ask a Diva feature on Playbill.com
.... Q: Do you have a favorite song or moment in the show?
IM: I have several favorite moments; it depends on the day. I love singing the duet with Kristin at the end because I'm always in awe of how different our voices are, and yet, when we sing together in unison, how wonderfully they blend. That's an important statement for the characters and the people that we are in real life as well. I love singing the duet with Norbert because I get to be the ingenue. All the other roles I've had, I'm always the slutty supporting character [laughs], and now I get to sing the pretty love song, so I love doing that. I love flying and singing 'Defying Gravity,' which is my most favorite song in the show....
More about Idina Menzel in Wicked
Idina's Wicked Days
Originally published as part of The Schwartz Scene newsletter.
Idina Menzel still sings Wicked's songs from thousands of CD players around the world that are spinning Wicked's cast album. But she officially finished her on stage role as the original Elphaba on January 9th, 2005.
Back in 2001, auditions for Elphaba's role were scheduled for September 12th in New York City. So the Los Angeles based book writer, Winnie Holzman, who would attend the casting session, flew in to the east coast a week early to work with Stephen Schwartz on a draft of Wicked's script and score. On the morning of September 11th, they found themselves "shocked beyond belief" by the tragedy unfolding at the World Trade Center, as seen on television.
After a few days delay, the casting director decided they should probably go ahead with auditions, and so the creative team of Schwartz, Holzman, Mantello, and others ventured in to the still traumatized city. According to Holzman, the first person to walk into the door for the part was Idina Menzel. It didn't take them long to figure out she would be a perfect Elphaba, the not-so-wicked witch. That helped lighten their mood.
Idina Menzel (pronounced with a short "i" at the beginning: eh-DEE-na men-ZEL) grew up in Woodbury, New York on Long Island. She had her own ways of being green as a child. "Sometimes, when you have a talent, if you're good at something, you feel the other girls are ostracizing you. I had insecurities." 1
Her vocal skills lead to jobs as a wedding and bar mitzvah singer until she heard about an audition for an Off-Broadway musical Rent that would be in production in early 1996. "That time of year, January and February, is the slowest time of the year for weddings and bar mitzvahs ... so I kind of went on a fluke," she says. She got the part of Maureen, the tough, sexy performance artist. Within months, she made her Broadway debut and was nominated for a Tony Award.
She began working on Wicked from the first reading in New York City, December 2001 and then left her role in Aida in order to be involved fulltime with Wicked. She played Elphaba through several other readings, the pre-Broadway trail in San Francisco, then on Broadway for eight performances a week.
To bring Elphaba from the page to the stage required research, beginning with reading Gregory Maguire's book. But later, Menzel says, she had to put the book behind her. Director Joe Mantello was a trusted guide in the process, she says. "He helped me find such depth and not to take the first general stereotypical choices, because you can do that in a musical, you can get by being cute and singing and, then, whatever. We had higher expectations."2
The Elphaba role was vocally demanding. "The kind of singing I do is like a marathon; you have to build your muscle." The actress also used her voice in special ways for her characterization, when she brings in a witchy laugh. In an interview for the PBS show Theatre Talk she mentioned that by examining Margaret Hamilton's work in The Wizard of Oz film she could add to the prequel aspect of the show. "I felt like the laugh was a good place to sort of show as a young girl this sort of boisterous laugh that comes from joy with her friend or just an organic place, and how that can become misconstrued as a cackle. And so I paid attention to what Margaret Hamilton did and just tried to find my own ways of bringing some of that stuff and making them come from real places." 3
She acted, spoke, cackled, and sang for a year and a half, and was then ready to move on to other things. In her good-bye message on her web site IdinaMenzel.com, she thanked her many fans for their cards and gifts. "It is an honor to have this kind of support and I will never take it for granted. This is been the most rewarding experience."
References:
(1.) Blake Green, "Ding! Ding! The Witches Aren't Dead," Newsday, October 26, 2003;
(2.) Peter D. Kramer, "Wicked Witch of the Best" The Journal News, February 19, 2004.
(3.) PBS Thirteen/WNET, Theatre Talk November 21, 2003