Wicked Synopsis - Wicked Songs in Context

Story Synopsis to accompany the Wicked Broadway Cast Recording
(Don't miss the Wicked home page - links to over 50 Wicked-related pages)
Wicked Summary of plots and subplots

By Carol de Giere, webmaster for this independent website
Learn the Story of Wicked the Musical (includes a minimum of "spoilers")
If you listen to the Wicked cast album (soundtrack) before seeing the musical, you'll find that the recording provides hints and some "spoilers" about the complex storylines without revealing everything.
This summary or synopsis is meant to add meaning without giving too much away, because the surprises are a big part of the delight of Wicked. I'm also offering my opinion on why each song is needed to move the story forward in terms of the plot and emotional throughlines. The lyrics and music help us keep track of the relationships between key players:
Elphaba and Glinda (for the buddy story),
Elphaba, Dr. Dillamond, and the Wizard (the political story),
Elphaba and Fiyero (the romance),
Nessarose and Boq (subplot), etc.
Note that in Maguire's novel and in this musical, "Glinda" the good-witch-to-be was originally named "Galinda," but changes her name part way through the tale as a display of solidarity for Professor Dillamond. (For more details on the characters see: Wicked characters) Read about Wicked: Grimmerie and Defying Gravity books.
For a version with photos (slower loading page) Wicked Songs - With Photos
ACT I - Wicked Synopsis and Song Commentary
1. NO ONE MOURNS THE WICKED - Glinda and Citizens of Oz
Combining celebrative feeling with the show's edgy irony, this somewhat melancholy and dramatic song introduces the frame for the storyline. Wicked begins with the celebration of the death of Elphaba, the Wicked Witch of the West, as we would have seen towards the end of The Wizard of Oz movie, just after Dorothy melted her by accidentally throwing a bucket of water in her direction. Here we first meet Glinda and learn the "official" story of the Wicked Witch's demise. At the end of the song and scene, the timeline shifts to Elphaba's birth, and then jumps to her college days.
With its tone, this song introduces the "Things are not what they seem" theme which the audience will appreciate by the finale.
2. DEAR OLD SHIZ - Galinda and Students
The jump in the story timeline from Elphaba's birth to her college days creates a need for some transitional material. This song provides stage time for the students to enter little by little, culminating in Galinda's grand arrival, dressed in a creamy white suit and riding a luggage cart pushed in by someone else. It suggests the superficial togetherness of the student body. The students are in fact quite unaccepting of a certain green-skinned freshman.
3. THE WIZARD AND I - Morrible, Elphaba
This is Elphaba's "I Want" number. It introduces what she wants on the surface. It also hints at her subconscious desire to be accepted by a fatherly figure that the Wizard represents, as made more poignant by her being snubbed by Frex, the father she grew up with who favors the other daughter, Nessarose. For details on the development of this song, subscribe to The Schwartz Scene, and ask for Issue 13.
4. WHAT IS THIS FEELING? - Galinda, Elphaba, and Students (Read article about the writing of "What is This Feeling")
There has to be a moment when we see the future friends as enemies. This is the beginning of their journey to friendship-the initial loathing that shifts to a deep bond later on.
5. SOMETHING BAD (happening in oz) - Dr. Dillamond and Elphaba
The mistreatment of talking Animals provides a storytelling vehicle for the political element of the tale. Something "Baaaaad" (as bleated by the talking Goat professor Dr. Dillamond who may be losing his voice) introduces the conflict between the Wizard, Madame Morrible, and the Animals without giving away the whole story. This song hints at the nature of the Animal oppression. It also provides a context for the interaction between the goat and Elphaba, and on stage it's clear that these two at the fringe of Oz society are beginning to care about each other's welfare. Read more about Animals in Wicked - and lyrics to "Something Bad"
6. DANCING THROUGH LIFE-Fiyero, Galinda, Boq, Nessarose, Elphaba, and Students
A flunk-out from various other colleges, Prince Fiyero struts his stuff when he shows up at Shiz and introduces his philosophy "Dancing Through Life." In this song sequence, we are introduced to parts of the love triangles in the story: Nessarose longs for the attention of the munchkin Boq, who himself has been stricken with the charm of the unreachable Galinda from the moment he laid eyes on her. Events that occur in the course of this sequence change Elphaba's and Galinda's relationship, beginning its ascent to friendship.
7. POPULAR-Galinda
"Popular" is a "list song" in which Galinda enumerates her suggestions for what it takes to be popular. She also demonstrates the self-absorbed, prideful side of her character. (Kristin says her models for Galinda included the pageant girls she met earlier in her life.) It sets up what Elphaba is expected to want and therefore provides a contrast for her decision to reject popularity for the sake of principles.
8. I'M NOT THAT GIRL - Elphaba
Boy meets girl Number 1 (Elphaba). Boy goes off with girl Number 2 (Galinda). Girl Number 1 is sad and needs to sing about it.
Galinda changes her name to Glinda before her Emerald City trip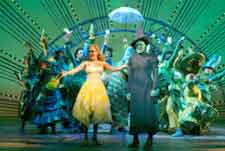 9. ONE SHORT DAY - Glinda, Elphaba, and Denizens of the Emerald City
It's gonna be a short day, though joyous at first. Elphaba is surrounded by green and is on her way to meet the Wizard who she may be able to work with in order to make Oz a better place and become accepted herself. The Wizomania section of the song is actually performed as a mini-musical that Elphaba and Glinda are attending as tourist in the Emerald City.
10. A SENTIMENTAL MAN-The Wizard
The Wizard has many layers. Here we see his tender side that gains Elphaba's trust-but not for long.
11. DEFYING GRAVITY - Elphaba, Glinda, Guards and Citizens of Oz
Glinda would like to see Elphaba conform and also realize her dream as expressed in "The Wizard and I." But when Elphaba discovers that the Wizard is behind the mistreatment of animals (as in Maguire's novel), she must change her dream. She takes a stand. This is her moment when she resolves to follow her new conviction based on her inner moral sense and care for Dr. Dillamond, even though it means social rejection.
ACT II Wicked Synopsis and Song Commentary
12. THANK GOODNESS --Glinda, Morrible, and Citizens of Oz
In this song we feel Fiyero's pull towards the missing green girl and his cavalier attitude towards Glinda, who has more or less foisted herself upon him. "Thank Goodness," while offering a word play with Glinda the Good who has created a festivity for the Oz citizens, is all about the irony of the situation. It's also about those experiences in everyone's life when what was anticipated turns out not to be so desirable as we once thought.
13. WONDERFUL - The Wizard, Elphaba
Here again, we see the Wizard's softer side, and learn that he got swept up (like Glinda) in the glamour of attention. He holds out the promise to Elphaba that, with him, she can fulfill her subconscious longing to be accepted by a fatherly figure.
14. I'M NOT THAT GIRL (reprise) - Glinda
In Act I, Boy went off with Girl Number 2 (Glinda). Now Girl Number 2 gets rejected when Boy goes off with Girl Number 1 (Elphaba). Glinda needs to sing about it. It helps us appreciate Girl Number 2's hurt that will motivate some of her later actions.
15. AS LONG AS YOU'RE MINE - Elphaba and Fiyero
It's been an almost impossible journey to romance. These two need to sing about it, make up for lost time, and comment on their future, which is completely insecure except for their mutual affection.
16. NO GOOD DEED - Elphaba
This song moment harkens back to the novel. When something negative happens to Fiyero, Elphaba becomes discouraged and begins in a sense to own the reputation that has been thrust upon her.
17. MARCH OF THE WITCH HUNTERS - Boq and Citizens of Oz
Affected by the smear campaign conducted by Madame Morrible and the Wizard, the Ozians set out to find the supposedly wicked Witch. They are ignorant of Elphaba's attempts to save the Animals.
18. FOR GOOD - Glinda and Elphaba (For lyrics see Lyrics page)
Glinda and Elphaba, whose friendship has been tested by circumstances and by the challenges of their relationship with Fiyero, find a way to see beyond their issues and feel their mutual love. They sing to each knowing "it well may be/that we will never meet again/in this lifetime..."
19. FINALE - All
We have come full circle to the melting scene and beyond, but things are not what they seemed when we started. Now we can appreciate the complete shifts that all the characters have gone through except Madame Morrible. It becomes clear why the music takes a slightly mournful tone. It's sad that no one mourns the supposedly "wicked" outcasts who may actually be the most worthy of our praise. It underscores the social message: don't jump too quickly to judge by what you see happening on the surface.
Copyright by Carol de Giere
---