Cast of Wicked the Musical
Wicked Cast - Broadway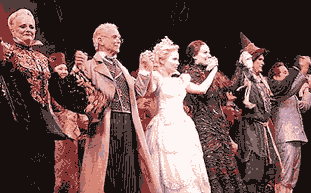 Opening night curtain call. Buy tickets here:Wicked Tickets
Wicked's Characters, Cast, and Creatives
Characters and Cast - Briefly Noted
Choosing from the 38 speaking characters in Wicked the novel, the authors of Wicked the musical show decided to focus their show on eight key characters plus a few others and the ensemble. [For more details on characters see the Wicked characters page]
Character: Elphaba, the girl who becomes the Wicked Witch of the West. CURRENT: Jennifer DiNoia

Previous: Rachel Tucker, Caroline Bowman, Christine Dwyer, Lindsay Mendez, Willemijn Verkaik, Jackie Burns, Teal Wicks, Dee Roscoli, Nicole Parker, Marci Dodd, Kerry Ellis, Eden Espinosa, Stephanie Block, Julia Murney. Idina Menzel was the original Elphaba and performs on the cast album.
Character: Glinda (who starts out as Galinda), The "good" counterpart for the "Wicked" Witch
CURRENT: Kara Lindsay
Previous: Carrie St. Louis, Jenni Barber, Katie Rose Clarke, Alli Mauzey, Chandra Lee Schwartz, Katie Rose Clarke, Erin Mackey, Kendra Kassebaum, Annaleigh Ashford, Kate Reinders, Megan Hilty. The original cast member Kristin Chenoweth is featured on the Wicked cast album.
Character: Fiyero, a handsome prince, fellow student, and love interest.
Current: Michael Campayno
Previous: Original cast: Norbert Leo Butz performed for the first year and on the cast album. Former Fiyero's include Matt Shingledecker, Kyle Dean Massey, Richard H. Blake, Sebastian Arcelus, Derrick Williams, Joey McIntyre, Andy Karl, Kevern Kern, Aaron Tveit, Kristoffer Cusick, David Burnham, Derek Klena, Justin Guarini, Jonah Platt, and others.
Character: Madame Morrible, their rather horrible headmistress at Shiz University. Actor: Sheryl Lee Ralph
Previous: Judy Kaye, Mary Testa, Carol Kane, Randy Danson, Kathy Fitzgerald, Ronnie Read, Miriam Margolyes, Carole Kane and Rue McClanahan. The role was originated by Carole Shelley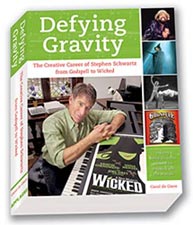 Defying Gravity: The Creative Career of Stephen Schwartz, from Godspell to Wicked
Step inside Stephen Schwartz's world to experience the creative challenges for creating Wicked. This authorized biography dedicates 150 pages to the making of Wicked. It reveals the story of Kristin Chenoweth being cast as Glinda and helping shape the role. It features numerous quotes from Idina Menzel, the original cast member who played Elphaba.
FIND OUT WHERE TO BUY IT Defyinggravitythebook.com/
Character: The Wizard of Oz Actor: Peter Scolari
Previous: Tom McGowan, PJ Benjamin, Adam Grupper, Lenny Wolpe, David Garrison, Ben Vereen, and Joel Grey who played the original Wizard of Oz and may be heard on the cast album.
Character: Nessarose, the Witch 's invalid sister
Actor: Dawn E. Cantwell
Previous: Kelli Barrett, Catherine Charlebois, Jenny Fellner, Brynn O'Malley. Crysti Candler, who created the role of the Witch's Mother in Wicked, succeeded Michelle Federer, who has played Nessarose since Wicked's Broadway opening. Michelle later reprised her original outstanding performance.
Character: Boq, an unusually tall Munchkin with eyes for Glinda but who gets linked with Nessarose.
Actor: Zachary Noah Piser
Previous. Robin Dejesus, F. Michael Haynie, Etai BenShlomo, Alex Brightman, Logan Lipton, Michael Wartella, others. Original: Christopher Fitzgerald.
Character: Dr. Dillamond, a professor at Shiz University who is a talking Animal, a goat.
Actor: Michael Genet
Previous: K. Todd Freeman, Tom Flynn, Timothy Britten Parker, Steven Skybell, and others. Original: William Youmans.
Character: Others
See wickedthemusical.com for the latest.
[For more details on characters see the Wicked characters page]

Don't miss our Wicked shop
WICKED - NEW EDITION OF MAGUIRE'S NOVEL at Amazon.com:

Musical Tie-in Edition : The Life... [new browser window]
features 16 pages of photos from the musical. Total 448 pages (no new text).
___
Posted on StephenSchwartz.com in February, 2005
Recently Stephen answered a question about cast changes for WICKED.
Question: I'd like to know, just out of curiosity, how often you attend to the show, especially now that the main two roles have been replaced, and how these actresses changed the dynamic of the play in terms of being other people the ones that interpret the roles in different ways, are they better, worse, or simply different?
Answer by StephenSchwartz:
"One of the things I enjoy about live theatre is seeing what different actors and actresses bring to the same role. Each actor will have individual strengths, things he or she does particularly well, and individual moments that really shine, so yes, the performance does change a little. But the underlying dynamic of the play I believe remains the same. The WICKED team spends a lot of time and care on casting, so that the cast replacements are excellent and there is no decline in the quality of the performance. I do go back on occasion to see the show and give notes, as does Winnie Holzman (the bookwriter), the producers, and of course our excellent and diligent director, Joe Mantello. So in short, I would say that with each cast change, the show is different, but still the same, if you know what I mean."
Creative Team
Music and Lyrics: Stephen Schwartz (Godspell, Pippin, The Magic Show, Children of Eden, Working)
Book: Winnie Holzman (TV series My So Called Life)
Director: Joe Mantello (Take Me Out)
Music Director: Stephen Oremus (Tick, Tick, BOOM)
Orchestrator: William ("Bill") Brohn (Ragtime)
Choreographer: Wayne Cilento (Tommy, Aida).
Scenic Design: Eugene Lee (Ragtime, Sweeney Todd)
Costumes: Susan Hilferty (Into the Woods revival)
Lighting Design: Ken Posner (Hairspray)
Dance Arrangements: Jim Abbott (Assistant Choreographer Aida)
Assistant Music Director: Alex Lacamoire (Music director for Bat Boy; Orchestrator, Godspell 2001 tour)
Sound Tony Meola (Man of La Mancha, Sweet Smell of Success)
For cast photos see the official Wicked site WickedtheMusical.com [new browser window].
Subscribe to The Schwartz Scene newsletter to stay current with the development of Wicked
Original Broadway Cast and Creative Team
Who's Who in Wicked
By Morgan LaVere (performer, director, Broadwayphile)
Idina Menzel literally burst onto the scene in the New York Theatre Workshop's production of "Rent," playing Maureen, a character who has one of the best entrances in musical theatre history. When the show transferred to Broadway, Idina was nominated for a Tony Award as Best Supporting Actress. She followed this up with her performance as Kate in Andrew Lippa's version of "The Wild Party" at the Manhattan Theatre Club. More recently, Idina played "Sheila" in the Encore's production of "Hair," and starred in "Aida" on Broadway.
Kristin Chenowith won a Theatre World Award for her performance in "Steel Pier." Her performance as Precious McGuire stole the show during an 11 o'clock number called "Two Little Words." This was quickly followed by her performance in William Finn's "A New Brain," where she portrayed Nancy D, the thin nurse; a small role but nevertheless one which made an impact. Casting agents then saw fit to cast her as Sally in a Broadway revival of "You're a Good Man Charlie Brown." A new song was written by composer Andrew Lippa specifically for Kristin, "My New Philosophy," and once again the petite blonde girl with the huge voice walked away with the show. She also walked away with a Tony Award for the performance. She then appeared in a straight play, "Epic Proportions," and followed that up with a television series called "Kristin." She also appears opposite Matthew Broderick in a new television version of "The Music Man." Broadwayphiles are thrilled that she will be back on Broadway in "Wicked."
Christopher Fitzgerald is new to the cast as of summer 2003. Check Playbill.com for more bio information.
Carole Shelley is probably best remembered for her hysterical portrayal of Gwendolyn Pigeon, one of the Pigeon Sisters, in Neil Simon's "The Odd Couple," a role she originated on Broadway, and reprised in both the film and television productions. She won the 1979 Best Actress Tony Award for her performance in "The Elephant Man," and was nominated in the supporting actress category twice. Recent theatre performances include the role of Fraulein Schneider in the Roundabout Theatre Production of "Cabaret," and Alfred Uhry's "The Last Night of Ballyhoo." She was born in London, England and is now a naturalized U.S. citizen. Her other film credits include several of the British "Carry On" films, voice-over work in Disney's "The Aristocats," and more recent performances in "Quiz Show" and "The Road to Wellville."
Wayne Cilento (Choreographer) won the 1993 Tony® Award for Best Choreography for Tommy as well as the Drama Desk Award and the Fred Astaire Award, and was nominated for the 1997 Laurence Olivier Award for the West End production of Tommy.
Eugene Lee (set designer) has been the Resident Designer at Rhode Island's Trinity Rep for 30 years. He has a BFA from the Art Institute of Chicago, a BFA from Carnegie Mellon University, an MFA from Yale Drama School, and honorary Ph.Ds from both DePaul University and Rhode Island College. Mr. Lee has won two Tony Awards for his work on Broadway, for Leonard Bernstein's "Candide" and for his glorious design at the Gershwin Theatre of Stephen Sondheim's "Sweeney Todd." He is the production designer for Saturday Night Live on NBC. Other New York theater work includes: "Alice in Wonderland," Larry Kramer's "The Normal Heart," "Agnes of God," and "Uncle Vanya." His film work includes John Huston's "Mr. North," and Louis Malle's "Vanya on 42nd Street." His more recent work includes the Broadway revival of "Showboat" (which also played the Gershwin Theatre), for which he won the 1995 Outer Critics Circle Award and the 1995 Drama Desk Award, and the Broadway production of the Ahrens/Flaherty/McNally musical "Ragtime." Susan Hilferty (costumes) was recently nominated for a Tony Award for the Broadway revival of Stephen Sondheim's "Into the Woods." She chairs the design department at New York University's Tisch School of the Arts. Her other New York designs include "Jitney," "Dirty Blonde," "How to Succeed in Business Without Really Trying," "Night of the Iguana," Tina Howe's "Coastal Disturbances" and Paul Rudnick's "The Most Fabulous Story Ever Told."
MORE CAST NOTES - off the Internet
Michelle Federer: In the fall of 2002, she was an understudy for the Lincoln Center musical A Man of No Importance, directed by Joe Mantello. Off-Broadway: In the Absence of Spring (Second Stage). Regional: Alice in Closer, Audrey Strange in Towards Zero and Sorel in Hay Fever (Alley Theatre), Nell Gwynn in Compleat Female Stage Beauty (1999 Best Supporting Actress Pittsburgh Post Gazette) at the City Theatre, Water Children (CATF), Cecily in The Importance of Being Earnest (River Rep). Film: Aisle Six written and directed by David Wain. B.F.A. musical theatre from Ithaca College.
Wicked Orchestra and Orchestrations
Sound: Tony Meola: "Tony Meola is one of New York's most in-demand sound designers, with credits on more than twenty-six Broadway productions including Man of La Mancha, Sweet Smell of Success, Kiss Me Kate, Footloose, The King and I and Smokey Joe's Café..
Wicked is being produced by Marc Platt, Universal Pictures, The Araca Group, Jon B. Platt and David Stone
---