Wicked The Musical - Stephen Oremus

Stephen Oremus, Joe Mantello, and Wayne Cilento - rehearsal for Wicked. Photo copyright by Joan Marcus.
Stephen Oremus - Working with Wicked's Fresh Score from the Opening
Oremus is Music Director and Music Arranger for the hit Broadway Musicals Wicked and Avenue Q
By Carol de Giere
Published for The Schwartz Scene 15 | See also Wicked's Orchestrations and Orchestra | Wicked's musical themes
Copyright by Carol de Giere, April 2004
Before show time on a frosty November evening last fall, Wicked's Stephen Oremus and I headed for Starbucks where I would be warmed by the still-fresh awe of the thirty-two-year-old music director's reports. I thought back to opening night of Wicked. As the Oz curtain rose I watched this head of bushy brown hair just visible over the orchestra pit, bobbing in time to the mystery-stirring overture. Did he mind being so exposed and so responsible for the pace of the evening? "I love going out there every night," he said anticipating my question. "I love my job."
Serving as conductor for each performance was a small part of the musical wizard's job for the show. Stephen Oremus came on board at the beginning of Wicked's workshop process in 2000. Then he spent several years at the rehearsal piano before stepping into his pivotal position between audience, orchestra, and actors. From the first Wicked workshop, he taught the songs and conducted, and worked out some of the vocal arrangements. "To have helped to give birth to this giant beautiful piece-it's so electrifying every night for me to conduct that show."
As Oremus began to describe the collaboration, he quickly released me from my notions that musical duties like "composer" and "arranger" had tight boundaries. "Stephen Schwartz and I did all the vocal arrangements together," Oremus explained. "We'd sit down, I'd throw out ideas, and he'd throw out ideas. In combination we'd come up with all the choral piece parts and counterpoint. We really keyed into each other's process and I learned exactly what he responded to vocally and what he liked."
Later it dawned on me that Schwartz had found a way of extending himself, of delegating in such a way that he was also culturing this rising talent. Oremus had lucked into a way of associating with one of his heroes.
Oremus was born the year Godspell opened and later became a Schwartz fan. He learned to perform the composer's music from Godspell, Pippin and The Magic Show at an early age: "I used to love playing it for people." He trained at Berklee for film scoring, learning the details of traditional harmonies and counterpoints he would use in his new work.
The turning point for Wicked came during a reading for Andrew Lippa's The Wild Party before it opened Off-Broadway in the winter of 2000 with Stephen Oremus work as its music director. "I was playing the piano and conducting and then jumping up and conducting the big numbers while someone else played." Schwartz attended the reading and appreciated the dexterous abilities on display.
The show closed, leaving Oremus available by the summer when he had dinner in his native New Jersey with Stephen Schwartz, John Bucchino, and a couple of other guys before attending the revival of Pippin at Paper Mill Playhouse. Over the meal, Schwartz described his new musical Wicked.
Oremus said, "Oh My God, that sounds like such a cool project."

"Really?" Schwartz replied. "I was hoping you'd say that, because I'd like to ask if you'd like to work with me on it."

"Sure," came the surprised reply. Two months later he was in Los Angeles serving as music director for the first reading for Wicked. From that point on the two began working together. "We became friends. He's been a great friend and mentor to me," says the lucky recruit.

In the early days of the project, Oremus sat near Schwartz in his living room in Manhattan as the composer ran through a completed song while accompanying himself on his grand piano. The younger musician tape-recorded the performance in order to capture the feel of the piece, even when it was notated on a lead sheet. From there they worked on piano and vocal arrangements. Oremus flew out to Los Angeles for the first three workshops held there, and worked with the singers for the table readings.

Before a reading in March of 2002, Alex Lacamoire joined the team as an all around music associate: assistant music director, rehearsal accompanist, associate conductor, keyboardist for the orchestra, and arranger. Oremus and Schwartz had already pieced some of the incidental music together, but then Lacamoire's focus became working with Schwartz on incidental music while Oremus continued to work on vocal arrangements. The three of them collaborated on piano arrangements.

I wanted to maintain my confidence in Wicked as being a Stephen Schwartz score.
"Is it fair to say in every case that the score completely represents Stephen Schwartz?" I asked.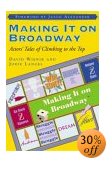 A NEW hot seller:
Making It on Broadway: Actors' Tales of... [new browser window] (opens to Amazon.com)
"MAKING IT ON BROADWAY (Allworth Press) goes beyond the glitz and the glamour to show what really happens both on a Broadway stage and in the personal lives of Broadway actors. In their own words, Jason Alexander, Terrence Mann, Donna Murphy, Lea Salonga, and more than 150 of today's Broadway performers—including fifty-five Tony Award® winners and nominees—talk candidly about living and working in the new era of the mega-musical."
"There's no question," Oremus replied. "Stephen was overseeing it the entire time and doing it in collaboration with us. Nothing ever got put into the show that Stephen didn't accept or approve.

Perhaps the hardest part of the job for Wicked's music director was working in San Francisco at the pre-Broadway trial. Everything was in flux. "It was a very intense time," recalls Oremus who was conducting the Broadway-bound score. "They would make changes on stage during rehearsals and they'd be like, 'Oh, that's one tiny little change' and I'd be freaking out because I had to communicate that to twenty-three people in the orchestra. So I'd write a long list and everybody would get there early knowing we were changing things. We'd have pages and pages of notes for the orchestra on the stands."

In the fall, the cast and orchestra settled into a routine in New York. I heard reports that the music director was popular around the company where he is sometimes called "Ste." Orchestra member John Moses wrote me: "He is liked by all of us in the pit at Wicked. His charm and talent on the podium, make it easy for all of us to play the high quality shows we do every night."

As Oremus and I walked back to the Gershwin, we talked about how the score was received and why it got mixed notices. He concluded thoughtfully, "The thing that I've always said about the show is that because we're dealing with such universally known source material, The Wizard of Oz, people were expecting a more traditional, less modern take on the tale. It's all very new and different and its something that has excited me since I first heard the songs, since we first sat down and played the songs on the piano. But I've always responded to Stephen's music that way. It's incredibly emotional and so beautifully written, musically and lyrically. To be a part of that evolution on this piece was one of the great joys of my life."
Stephen Oremus Bio and Credits
WICKED: Music Director; Vocal Arrangements
Bio 1
Broadway: Kinky Boots (2013 Tony Award for Best Orchestrations and 2013 Grammy Award); The Book of Mormon (2011 Tony and Drama Desk Awards for Best Orchestrations and 2012 Grammy Award). Worldwide music supervisor/arranger of Wicked; music supervisor/vocal arranger/orchestrator of Broadway productions/tours of The Book of Mormon; Avenue Q; All Shook Up and 9 to 5: The Musical. Other credits: music supervisor, vocal arranger and orchestrator: tick, tick... BOOM!; music director and conductor for Rufus Wainwright's concerts at London's Royal Opera House and his re-creation of Judy Garland's legendary concert at Carnegie Hall, the Hollywood Bowl, the London Palladium, and Olympia in Paris; conductor and contributing orchestrator for the Oscar-winning Disney film Frozen; music director of the 2015 Academy Awards telecast and The Wiz Live on NBC TV; orchestrator and conductor for Lady Gaga's performance of 'Till It Happens to You' on the 2016 Academy Awards telecast.
Bio - older: STEPHEN OREMUS (Wicked Music Director/Music Arrangements) music directed/arranged/orchestrated Avenue Q on Broadway and Jonathan Larson's tick.tick.BOOM! (Assoc. Producer, Original Cast Recording) Off-Broadway, the national tour, and in Seoul, Korea. He was vocal arranger and music supervisor for Signed, Sealed, Delivered - The Music of Stevie Wonder (w/ Chaka Khan, Melissa Manchester, and Peabo Bryson) at the Venetian Hotel, Las Vegas. He served as music director for Andrew Lippa's The Wild Party at Manhattan Theatre Club (original cast recording) and was music director of the national tour of Rent. Regionally: Into the Woods (Ordway); Dorian (World Premiere, Goodspeed); A Little Night Music; Jesus Christ Superstar (w/ Billy Porter and Emily Skinner); Nite Club Confidential (w/ Barbara Eden); The Radio City Music Hall Christmas Spectacular in Myrtle Beach and Nashville. He is a graduate of Berklee College of Music, Boston.
Hear clips Avenue Q (Original Cast Recording)
TICK, TICK, BOOM: Music Director, etc.
Hear clips Tick, Tick... Boom! (2001 Original..(Opens to Amazon.com)
WILD PARTY: Music Director The Wild Party (Lippa) (2000...