"Wicked's Web of Musical Themes"
By Carol de Giere, author of Defying Gravity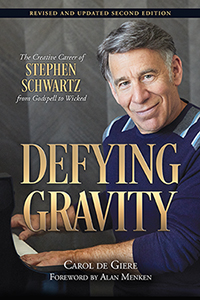 Please also see Chapter 20 of the Stephen Schwartz biography Defying Gravity 2nd Edition for a more complete explanation about Wicked's musical themes and additional comments by the composer.
Recovering a Bewitching Tune
Although Stephen Schwartz rarely delves into his "trunk" of songs cut from shows, he did rescue a burried treasure for Wicked. Back in 1971, he served as the musical director on a short-lived show The Survival of St. Joan. The show's book writer asked him to write music for a lyric. The song was about a couple stuck in a complicated, unsatisfying relationship. Schwartz set the lyric to a pop melody with broodingly dark chords at the beginning, appropriate to the romantic angst of the lyrics. But the song was abandoned. In May of that year, Godspell was mounted off-Broadway, and the songwriter quickly became absorbed in his musical-making career.
At home in Connecticut in 1998, after reading Gregory Maguire's novel, Wicked. Schwartz sat at his piano penciling out song fragments as they came to mind for his new musical adaptation. He remembered the song he had written in 1971. The notion of using it for both a song and a musical theme began to emerge.
"I always liked this tune a lot and I never could figure out what to do with it," Schwartz recalled during a question-and-answer session held at his Manhattan apartment with myself and a group of musicians a year after the show opened on Broadway. The songwriter sat at his piano while the others pulled chairs around him. He would sometimes stop to demonstrate and sing his answers.
"And then trying to find the theme for Elphaba, that was sort of the 'Uh-oh, the witch is here.' I did it sort of Rachmaninoff style." At that point Schwartz launched into a bit of the Rachmaninoff Prelude in C Sharp Minor, suggesting that his guests might hear similarities to Wicked.'s opening chords. With a flourish, he played the ominous-sounding first chords used just before the opening number, "No One Mourns the Wicked," which serve as an overture. "I thought if I did it that way, it would be for the Wicked Witch, and like a giant shadow terrorizing you."
He continued, "But I knew that when I put it into the love song, suddenly I could be doing this." He then softly played the opening chords to "As Long As You're Mine," his song for Elphaba and Fiyero's rendezvous in Act II-essentially the same chords as for the show's opening. Played gently, the scary-witch musical theme would work as accompaniment for that scene because, although it is a romantic duet, it is set in a troubling time. "It starts out with them in danger ... and they know that they have very little time to share together..." For Wicked, Schwartz set new lyrics to the tune from 1971 and adjusted the bridge section. So an altered version of a trunk song became a duet for the lovers and thematic material in the show. [s"As Long As You're Mine" lyrics]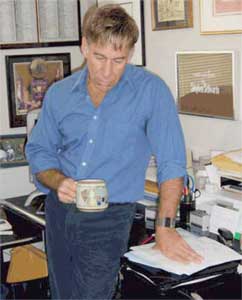 Photo (to the left by Glenn Weiss): Composer Stephen Schwartz in his office, October 4, 2004, listening to one of his demo recordings, during Carol de Giere's interview about Wicked's score.
Motifs and Leitmotifs
The discussion with the Oscar-winning songwriter also covered motifs and leitmotifs, as utilized in operas and in film scores. Star Wars composer John Williams employed recurring musical themes to establish an emotional response (motif) or to represent specific characters (leitmotif). Think of the music that's associated with Luke, Leia, and Darth Vader, as well as ideas (the Force).
One of the most innovative proponents of the use of motifs in Broadway musicals was the great composer Jule Styne. Wicked's composer spoke about being inspired by Styne's musical motifs, and how they could elicit different emotional responses depending on their placement in the score. "I remember being a kid and hearing Gypsy and the 'I had a dream' theme, which gets repeated over again, or 'Nicky Arnstein' in Funny Girl. I thought that was great theatrically: the fact that there would be a motif that would be repeated in different songs and used to mean different things emotionally, not a reprise but a real motif. It's something I've tried to adapt in more complete scores of mine."s Schwartz concluded, "The score for Wicked, like the score for Children of Eden, is so much a compendium of motifs."
Unlimited Theme: "Over the Rainbow" Revisited
Schwartz explained that the first of two primary themes in the score dervies from the accompaniment to "As Long As You're Mine," and the second is also associated with Elphaba. He calls it the "Unlimited theme" and says he wrote it very early in the process.
He fumbled through hand-written pages of the early score that were spread across the closed top of the Yamaha baby grand piano. "And then there was a note I was sending, maybe to Winnie or someone, it says, '...this would serve as an intro or be in the middle of some other song, a la 'I had a dream' introducing 'Everything's Coming Up Roses.'"
Schwartz was happy to speak about the ways he peppered his score with homages to Harold Arlen, who wrote the music for the movie The Wizard of Oz. "What I thought was amusing (and I wondered if people would get it, and of course people did), is that it's the first seven notes of 'Over the Rainbow.'" He played from the section from "The Wizard and I" with the lyrics "Un-li-mi-ted, my fu-ture..."
"The reason that that's a joke is because according to copyright law, when you get to the eighth note, then people can come and say, 'Oh you stole our tune.' And of course obviously it's also disguised in that it's completely different rhythmically. And it's also harmonized completely differently so that it's not [he plays the familiar opening phrase]...It's over a different chord and so on, but still it's the first seven notes of 'Somewhere Over the Rainbow'."
Besides the fun of the Arlen association, "Unlimited" served as a unifying theme. One of the guests asked when he added it to the songs "The Wizard and I" and "For Good." Did he discover one and then say, Oh, I could do it here too? "I always knew I was going to do it," Schwartz replied. I always knew that 'Unlimited' was going to be our 'I had a dream.' And what I wanted to do was have her say, at the very beginning, 'Unlimited. My future is Unlimited.' And at the end of the show say, 'I'm limited.'" He added, "It was always going to be in 'Defying Gravity' as well."
Subtleties and Subtext
Throughout the score Schwartz applied thematic techniques and devices in ways both obvious and subtle. For example: The Unlimited theme is in a minor key; but when Elphaba finally uses her powers to do some good by making Nessarose walk, suddenly the theme is played for the only time in a major key. Yet when Elphaba sings the word "good" the second time, there's a shift. The music foreshadows a plot shift.
Schwartz sang from the song, "'And finally from these powers something good,' finally something..." At the piano, Schwartz spread his fingers onto the keys to play chords for "Something Bad," which Dr. Dillamond sings. "This now goes under where she says 'something good' because [although] she thinks something good has happened, it's about to turn very, very sour. What I tried to do throughout the score was use some of those opera composition techniques."
The songsmith also created an ironic subtext during "Dancing Through Life." When Galinda offers Elphaba the black hat, on the surface she sings, "It's really, uh, sharp, don't you think?" The underscore and accompaniment hints otherwise, with strains from the song about loathing, "What is This Feeling," from a previous scene.
Before the gathering at Schwartz's apartment departed, the writer returned to his trunk song to show another aspect of Wicked's musical subtleties. It was becoming clear to those attending just how much more there is to the score than immediately greets the listener-how much this is the work of a true master of the craft.
Schwartz explained, when Elphaba and Fiyero sing "As Long as You're Mine," it is in a minor key, but ends in a major key, a deliberate choice by Schwartz to convey how, amidst all the dramatic situations and danger in which they find themselves, this romance, at least for the moment, is a positive experience for them both.

There are numerous other winks, nods and self-references that weave themselves in and under the score. Part of the fun is finding them and appreciating just how much thought and talent went into their deliberate use.
See the Wicked index page for more on Wicked..
This article was originally published in issue 17 of The Schwartz Scene
Links for Further Research
Stephen Schwartz's musical influences
Wicked's "What is This Feeling"
____________________________________________