Winnie Holzman - Wicked's Bookwriter
Winnie Holzman is best known for her libretto to the smash hit musical Wicked, and her TV writing for "My So-Called Life" and "Once and Again."
ON THIS PAGE:
Winnie Holzman, Stephen Schwartz, and Wicked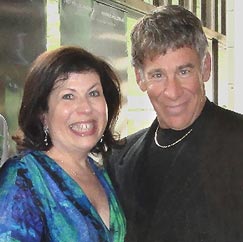 Wicked's Composer-lyricist Stephen Schwartz chose Winnie Holzman to collaborate with him on Wicked. It had been Schwartz's idea to convert Gregory Maguire's novel Wicked into a musical, and they agreed that Holzman would write the script while Schwartz wrote music and lyrics. [PHOTO: Wicked musical authors Winnie Holzman and Stephen Schwartz, August 2010, when they traveled to Finland to see a new production of the show.]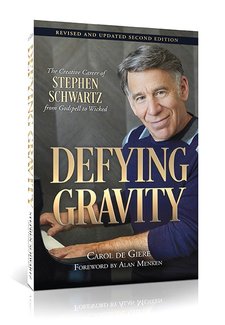 The book Defying Gravity: the Creative Career of Stephen Schwartz, from Godspell to Wicked, (now in it's second edition) chronicles the collaborative journey for Wicked as bookwriter Winnie Holzman and songwriter Stephen Schwartz inspired each other to create one of the most popular musicals of all time. Author Carol de Giere drew from interviews with Schwartz and Winnie Holzman to show how this important collaboration worked.
The new edition features 14 chapters on the making of Wicked as well as a new chapter on Wicked worldwide that includes comments from Holzman and Schwartz. It also covers Schwartz's award-winning career and includes a Foreword by Alan Menken. www.DefyingGravityTheBook.com
Find a condensed version of Holzman's Wicked's libretto in Wicked Grimmerie
TV Shows by Winnie Holzman on DVD; Plays

ABC Family's "Huge," developed by Winnie Holzman and her daughter Savannah Dooley, comes to DVD Huge: The Complete Series on DVD
"Huge" is a drama about one life changing experience at a weight-loss camp for teens. Funny, heartbreaking and provocative, "Huge" follows the lives of both the campers and the staff, as they look beneath the surface to discover their true selves and the truth about each other. It's funny, heartbreaking, and provocative -- just like life. It's based on the book Huge - by Sasha Paley
.
My So-Called Life
BUY it or read Amazon.com reviews at My So-Called Life (Complete Series)
TV series running 1994-1995
"My So-Called Life" is a realistic mid-nineties teen drama series that takes a look at a 15 year-old girl and her trials and tribulations with being a teenager and dealing with friends, guys, parents and school.
Once and Again
BUY it or read Amazon.com reviews at: Once and Again - The Complete First... 1999 - 2002
Holzman was a contributing writer.
'Til There Was You (on DVD from Amazon.com)
Screenwriter: Winnie Holzman
Plays by Winnie Holzman
Winnie and her husband Paul Dooley have written a new play Assisted Living Assistedlivingtheplay.com/
Also, you can find the script to their short play Post-Its in Laugh Lines: Short Comic Plays
Winnie Holzman Bio and more about Wicked
Winnie Holzman was born in New York City and raised on Long Island. She attended Princeton University where she majored in English & creative writing. She received numerous poetry awards, including the Academy of American Poets Prize and the Ward Prize. After college, Winnie moved to New York City, studied acting and collaborated on several plays. Later the executive producer of Thirtysomething liked the script she submitted and immediately hired her.
Schwartz explained the rest of her story in a newsletter in 2000: "I am writing music and lyrics for WICKED and Winnie Holzman is writing the book. Winnie began her career by writing book and lyrics for an off-Broadway musical called BIRDS OF PARADISE, but shortly thereafter moved to Los Angeles with her husband, actor Paul Dooley. Since then, she has mostly written for television, and what made me think of her for this project is a wonderful television series she created and wrote called MY SO-CALLED LIFE. ...Winnie is particularly good at writing female characters who are funny, real and believable, and that seemed to me to be particularly apt for a show like WICKED."--Stephen Schwartz
She is married to actor Paul Dooley with whom she has one daughter, Savannah (born 1985),
Reviewer Pat Craig wrote of the San Francisco production of Wicked, "...the attitude of Holzman's script has the sort of comic edginess that could make the show appeal to a wider audience, one which may not necessarily be in the thrall of classic Broadway musicals. In short, it ain't all June and moon here." (Contra Costa Times)
More about Winnie and WICKED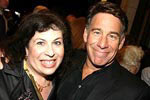 Sometime in 1995 or 1996, Holzman was in Los Angeles writing for television when she noticed Gregory Maguire's book Wicked in a bookstore, and thought it would be an intriguing basis for a film adaptation. But she found out the rights were already taken and dropped the idea. When Stephen Schwartz heard of the book in December of 1996, he immediately recognized it as "the best idea for a musical I'd ever heard."
He began working with producer Marc Platt, and planned to write the show's music and lyrics. Schwartz knew he wanted to team up with a woman to complete the libretto for a show that focused on women.
"Over lunch, Stephen mentioned the book 'Wicked," Holzman once told Playbill.com. "He had tried for maybe a year to get the rights to do it on Broadway. I said, 'That would make an incredible musical.' A few months later, he called and said, 'I've convinced them to let me do "Wicked." Maybe we should talk about doing it together.' I live in L.A. and Stephen's in Connecticut. We started talking on the phone to see if we, or our ideas, were compatible.
"Beat by beat, we started outlining the show — how we were going to unfold the plot. That took a very long time. I was very fortunate to have Stephen as a collaborator. He understands musicals intrinsically. He understands structure, the nature of the beast — and I use that word specifically. [Laughs] To get an outline we felt really comfortable with took almost a year. When Joe [Mantello, who directed] came in, a lot of things changed, but basically that outline is the shape of the show."
The experienced Schwartz "tried to warn me how intense it would be," Holzman recalls. "I thought I was listening, but you never really listen to someone trying to warn you. You have to live it yourself."
Prior to Wicked, Winnie Holzman did not know Schwartz, but their friendship has developed during the four years they've worked on the musical. "I love him so much! He's incredible!"

The DVD version of this landmark new PBS documentary about Broadway includes, among others, bonus features: "Wicked: The Road to Broadway" (16 minutes) and rehearsal of "For Good." It includes interviews with Winnie Holzman, Stephen Schwartz, all the stars, and much more.
Broadway: The American Musical - DVD at Amazon.com
(In Europe: Broadway... - Amazon.co.uk)
Broadway.com: Winnie Holzman interview
Holzman on Comedy CD
Play the Word (vol. 1)
Holzman's "Good Hair"
Original comedy from some of the best comedy writers around! These CD's feature highlights from Un-Cabaret's seminal reading series, "Say the Word".
From a review: The strongest, relatively speaking, humorous essay / story on this funny CD is by Winnie Holzman (My So-Called Life). "Good Hair" is the story of a Jewish woman who finally has the money and courage to realize her life long dream of getting her hair straightened. References and observations about Barbara Streisand's various hair incarnations and moments add humor to this tale while parallels to what Black women go through add some relevance. It is entertaining and well told.
Winnie Holzman Awards
For Wicked, Winnie Holzman was nominated for a 2004 Tony for Best Book of a musical, and she won the 2004 Drama Desk Award for Outstanding Book of a Musical.
Related Links
Read about Wicked's History
See Winnie Holzman's official bio on the official Wicked site: www.wickedthemusical.com
Back to the main Wicked index