Stephen Schwartz: Career Updates 2006 to 2007
from The Schwartz Scene
ON THIS PAGE
Quarterly updates CONTINUED. This set is dated 2006 to 2007, and is written by Stephen Schwartz about Enchanted, Geppetto and Son, his first opera, and other projects.
Links to additional archives.
Stephen Schwartz Updates The Schwartz Scene Archive 2006 - 2007
Please DO NOT copy and paste this copyrighted content into your own blogs or websites. You may link to this page but do not copy the content. Thanks.
Updates for The Schwartz Scene newsletter

22. Stephen Schwartz's Update, Winter 2006
Editor's Note: Stephen has been so busy that he didn't have much time to write anything for this issue. Here's what he sent me by email:
From Stephen Schwartz:"These days I'm all about doing things I've never done before and going places I've never been. That means taking on projects that allow me to work in different media or styles, such as songs for the live-action film Enchanted, or provide new experiences in terms of venue and working environment. That was one of the chief reasons I did Mit Eventyr, the show in Denmark, which turned out to be a wonderful experience as well as a very good show, or collaborated with Dr. Ilaiyaraaja on the song for his 'Thiruvasagam' CD. I'm looking forward to other experiences like those."
Meanwhile, his musical Wicked on Broadway, which opened October 2003 after seven years of work on the project, broke a record. Says Playbill.com: For the week ending January 1, 2006, WICKED, the musical that tells the untold story of the Witches of Oz, had the highest weekly box office gross of any show in Broadway history: $1,610,934. The record was previously held by The Producers, which grossed $1,600,243 for the week ending January 4, 2004, during Nathan Lane and Matthew Broderick's return engagement. (Wicked's record was made during a week with a normal show schedule.) To check for Wicked tickets follow the links on Wicked index page for Broadway, Chicago, and Tour.
In addition to his work in Connecticut and New York, Stephen Schwartz's travels in 2006 will take him to London (for casting Wicked), Germany, maybe Japan, Boston, Los Angeles, Detroit, Washington DC, San Jose, maybe Seattle, Kansas, and more.
23. Stephen Schwartz Update, Spring 2006
"AFK (Away From Keyboard)"
By Michael Cole, Assistant to Mr. Stephen Schwartz
In the dozen or so years I have worked for Stephen Schwartz, I have never known him to be as busy as he is now. Because he has very little discretionary time, he has had to stop answering email and posts from his website www.stephenschwartz.com for the time being - "Away From Keyboard" if you will. Within a period of a couple of months, he will have traveled to St. Thomas (for a long-overdue and well-deserved mini-vacation), Kansas City, Seattle, Boston, Pittsburgh, Los Angeles, Carmel, London, Detroit, San Jose, with repeat trips to Los Angeles and Kansas, culminating in a trip to Japan for the new Wicked show opening at Universal Studios, Japan.
His hectic schedule has him working on a new Disney feature, Enchanted (music by Alan Menken and starring Amy Adams, Patrick Dempsey, James Marsden, Susan Sarandon and -- a happy reunion -- Idina Menzel), casting the London version of Wicked, adapting his television special Geppetto for the stage (which includes writing more music, making other musical and dialogue changes and writing underscoring, etc.), recording a classical a cappella choral piece he wrote called "Keramos", and doing a workshop of My Antonia, a play with music, adapted by his son Scott Schwartz.
In addition to all of the above, he has monthly meetings for the Dramatists Guild and ASCAP, countless phone conferences and interviews and, being a Tony voter, he's trying to see as many Broadway plays as he can squeeze in before the 2006 season closes. And of course he has another idea for a new project, so he's spent a good deal of time in negotiations trying to secure the rights. It's too early for us to disclose what this project is, but I can tell you that it will be unchartered territory for him - it is something he's never done before, and while he's mentioned being intimidated by the process, I know it's something he's very much looking forward to tackling should this project materialize. How's that for a teaser?
Originally Stephen thought things were going to slow down by May 9th, but now it seems more realistic that things won't ease up for him until sometime in July. With any luck, he'll be back at the keyboard answering posts on his forum then.
24. Stephen Schwartz's Update, Summer 2006
June 28, 2006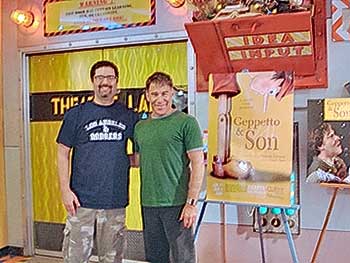 Photo: Geppetto creators David Stern and Stephen Schwartz stand by the poster for his new stage version of the musical.
I'm writing this from Kansas City, MO, where I am in the midst of working on the first production of a stage adaptation of a television musical I wrote a few years ago for Disney, Geppetto. The stage adaptation has been re-titled Geppetto and Son, and as the title suggests, it is basically the Pinocchio story from the dad's point of view. Those familiar with some of my other shows who think they spot some continuing theme here—spinning a familiar story to look at it from another angle and dealing with parent/children issues—are entirely correct.
I think my collaborator, book writer David Stern, has found a smart and amusing theatrical device to frame the stage adaptation that makes it superior to the more linear structure of the television movie; I only wish we'd thought of it then! Early audience response has been encouraging, and our major issue seems to be one of length. (What else is new?) We are busy cutting and tweaking, and we hope this Coterie Theatre production will be the first of many.
Prior to coming to Kansas City, I was in San Jose for the premiere of a choral piece I wrote, sung by the San Jose Choral Society. The piece is an a capella setting of a Henry Wadsworth Longfellow poem, "Keramos," and the text was suggested to me by the Choral Society's remarkable director, Daniel Hughes. I found the concept extraordinary, offering a unique combination of choral singing and choreography, which I haven't seen before. I was very proud for my piece to be part of the evening. Incidentally, there is a recording of the concert, entitled One is the All on the Clarion label.
After Kansas City, I head back to New York to attend a day's shooting in Central Park of a number for Enchanted, a Disney movie for which my frequent collaborator Alan Menken and I have written some songs. The movie, which I believe is due to be released some time next year, is a romantic comedy with what I think is a very clever premise, (which I won't spoil by giving away here). It stars Amy Adams, Patrick Dempsey, James Marsden (who is an excellent singer, by the way), Susan Sarandon, and my dear Idina Menzel. I have been to one other day of shooting on an elaborate ballroom set built in a studio at the Brooklyn Navy Yard (which I didn't even know existed), and I have to say it looked pretty cool.
I get to be home for a couple of days over the 4th of July weekend and then it's off to Japan, a trip I am excited about because I have never been there. Winnie Holzman and I, at the request of Universal Studios, have put together a half-hour show featuring some of the characters and songs from Wicked, which will be appearing at a new Oz section of Universal's theme park in Osaka. The idea is to raise awareness and knowledge in Japan where they are generally unfamiliar with The Wizard of Oz. I am looking forward to hearing Glinda sing "Popular" in Japanese, as well as the side trips Winnie and I are planning to Kyoto and Nara.
When I get back from Japan in mid July, I will finally get to be home for the rest of the summer until I have to go to London for Wicked in September. It has been a year so far with an extraordinary amount of travel for me, including trips, in addition to the ones I've mentioned, to Detroit, Washington DC, Los Angeles, Pittsburgh, Boston, London, and Seattle, among others, and I'm looking forward to being home and getting back to being a writer again.
Some of you may know I have taken on an exciting and terrifying new project; I have accepted a commission from Opera Santa Barbara to write an opera for them for their 2009 season, which sounds like a long way away but is actually the day after tomorrow. I've found a project, a book and movie from the 1960s called Seance On A Wet Afternoon. I've always been an opera aficionado, but the opera world is completely foreign to me, so needless to say I am finding the whole project a scary proposition. But I am eager to get started, get writing, and enter this terra incognita.
I wish all of you a great summer and thank you always for your interest and support. -- Stephen Schwartz
25. Stephen Schwartz's Career Update, Fall 2006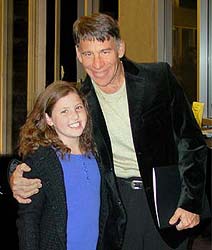 [Photo of Stephen Schwartz with fan Gaby Ritter after October 22nd "An Evening with Stephen Schwartz" Concert in California.]
October 21, 2006
I am writing this on a plane to Los Angeles, a trip which will culminate in a press event for the new Los Angeles company of WICKED, opening in February of next year. Eden Espinosa and Megan Hilty will be on hand to sing a few songs in their personae as Elphaba and Glinda, roles they have performed superbly on Broadway. So Angelenos can be confident of a first-rate cast.
They will also see a slightly different show than the one which opened on Broadway three years ago, though by that time these changes should have been added into the Broadway company as well. These are small but, to the creative team, significant improvements to scenes which have been bugging us a bit since we opened and that we have been able to try out in London, the first involving the introduction of Fiyero in Act One and the second, a particular bugaboo of mine, the end of the second act scene between Elphaba and Nessarose and the following scene between Elphaba and the Wizard. One of the nice things about live theatre is that, although its "liveness" means productions require constant maintenance, it also enables creators to institute improvements when they think of them.
Similarly, the Goodspeed production of PIPPIN, which is currently on tour, incorporates changes that my collaborator Roger O. Hirson and I have come up with, or stumbled upon in the various productions we have seen over the years, so that we both feel that the show itself -- the book, music, and lyrics -- is superior in subtle but important ways to the original. I'm happy to report that Music Theatre International, which represents the stock-and-amateur rights to PIPPIN, is in the process of preparing updated materials so that everyone doing new productions will have access to the improved show.
Speaking of revivals of old shows of mine, I want to take this opportunity to thank the cast and creative team responsible for the recent Paper Mill production of GODSPELL. It may well be the best sung version of the show I have ever seen.
Returning to the subject of WICKED in London for a moment, I spent a week working there during previews of the West End production, and was very pleased with how it was shaping up. (It has since opened and is reportedly doing well.) The physical production is absolutely beautiful and I think it fits wonderfully in the Apollo Victoria Theatre.
It was great to see Idina do the show one more time, and to my eyes, she was better than ever -- still singing every bit as amazingly but with more humor, nuance, and depth in the scenes. I think the British cast is very strong overall, and it was delightful to get a chance to work a bit with Miriam Margolyes (as Madame Morrible), an actress I have long admired, particularly since she blew me away with her brilliant performance in one of my favorite movies, THE AGE OF INNOCENCE. Also Nigel Planer, superb as the Wizard, with a mid-West American accent more persuasive than friends of mine from Kansas.
OK, I have just heard that my plane is about to land. I'm looking forward to meeting while out here with the folks from Opera Santa Barbara to cement the schedule for the opera I am writing for them, SEANCE ON A WET AFTERNOON. I hope to have firmer plans to report in the next newsletter.
Thanks as always to all of you for your interest and support, and may I be the first to wish you, waaaay in advance, a great holiday season!
Stephen Schwartz
26. Stephen Schwartz's Update, Winter 2007
From Stephen Schwartz, February 1st, 2007:
I don't have much to report this quarter, as most of my current projects are ongoing.
Work continues on the opera I am writing, Séance ON A WET AFTERNOON. Its premiere is scheduled for October 2009 at the newly renovated Granada Theatre in Santa Barbara, California (assuming the renovation of the Grenada is actually completed by then.)
Also Alan Menken and I will be meeting soon with the director and producer of the Disney movie ENCHANTED, scheduled for release towards the end of this year. We need to write a new Finale for the movie, which will bring the total number of songs we have contributed to this romantic comedy to five (so far).
While I am in LA in February, conducting my annual ASCAP Musical Theatre workshops, I'll also be working with book writer David Stern and director Randy Brenner on a replacement number for the compilation revue of my songs, SNAPSHOTS, which is scheduled for regional productions this summer in Daytona and Dayton (should the next stop be in a town called Dayto, then Dayt, then Day … ?) The plan for this new song is an arrangement (with some new lyrics appropriate for the show) of the duets "All for the Best" from GODSPELL and "Two's Company" from THE MAGIC SHOW, so that ultimately all four parts are sung simultaneously. If we can manage that, it should be pretty cool.
And of course there is the new Los Angeles company of WICKED beginning its run at the Pantages Theatre in February. I will have to do the usual touching-up of sound balance, orchestra tempi, etc. during the preview period, but I think an exceptional cast and the usual expert technical crew is going to make it a really fine company. Particularly fun for me is the fact that John Rubinstein, the original Pippin, is playing the Wizard. So both John and Ben Vereen, another of the original stars of PIPPIN, will have performed the Wizard. It's interesting that these two extraordinary performers, who provided such a contrast to one another in PIPPIN, should wind up playing the same role in WICKED thirty-plus years later. (Perhaps Jill Clayburgh should be next?)
So as you see, this report finds me, as they say in classic drama, in media res. More updates come spring.
Stephen Schwartz
27. Stephen Schwartz Update, Spring 2007
Stephen Schwartz is busy finishing Act I of his opera and decided to wait until summer to send an update. [However, as I was interviewing him on April 11th for my book, I arranged to take 10 minutes out for a little podcast. This audio file will be restored here soon.]
While in Los Angeles, Stephen spent some time at Disney Studios. There he met with the people who are busy completing the feature film Enchanted, which will include songs with his lyrics and music by Alan Menken. He emailed that he "saw the current cut of Enchanted yesterday, and even though there's still plenty of work to do, I really liked it, I'm encouraged to be able to say." He and Alan had finished a fifth song for the film, which was well received.
28. Stephen Schwartz's Update, Summer 2007
July 7, 2007
I am sitting in a beautiful apartment upstairs in the Adirondack house of Patrice Munsel, the former opera star famous as The Merry Widow. There is a huge picture window overlooking Schroon Lake, and the sun is just rising over the eastern hills. These are the surprisingly luxurious accommodations they have given me as I work just up the road at the Seagle Music Colony, or as I am calling it, "opera camp", where I am doing a workshop of the first act of my opera-in-progress Seance on a Wet Afternoon.
[PHOTO: Stephen Schwartz and Scott Schwartz portrait taken at the Schroon Lake house - photo by Terence de Giere]
The Seagle Colony was founded just after the first world war, and for the past several years under the direction of Darren Woods, it has been a place for promising opera students to hone their skills and take classes in acting, movement, audition technique, etc. between their graduation from college and the beginning of their professional careers. Darren has very generously made available this talented group of young people, who are giving me a chance to hear what I've written and improve it. I've only been here a couple of days, but I have already learned so much about the piece. I know by the time the workshop is over two weeks from now, it will have provided me with a major step forward.
This isn't the first time in recent months I have found myself in out-of-the-way places for work reasons. Last month, I traveled to Rockford, Illinois, with orchestrator Larry Hochman, to hear the first read-through of Larry's new orchestrations for Geppetto & Son, the stage adaptation of the television musical I did for Disney a few years back. Again, it was a very useful step, and generous of the people at the Starlight Theatre in Rockford to provide it.
And after "opera camp", I head to Daytona, Florida, for a production of Snapshots, a compilation revue of my songs that is trying out there. The book writer, David Stern, and I have added a new sequence that includes a quartet in which two of my songs that are already contrapuntal -- "All for the Best" from Godspell and "Two's Company" from The Magic Show -- are sung simultaneously, so it will be interesting to see if that trick can work.
And in the middle of my workshop (while my son Scott, who will be directing Seance, is working out the staging of music stands for the reading), I have to make a quick trip to Los Angeles for what is probably the final recording session for "Enchanted", the Disney movie for which Alan Menken and I have provided five songs. The film opens November 21st (at a theatre near you, as they say), and we just have the end credits and a little bit of re-recording and re-mixing on a couple of the songs to complete.
I finally get a break in August, and with all the traveling I have been doing, I really need it. I am planning to enter a relatively vegetative state for the month (although of course that will include tennis and swimming), but then it will be back to work on the second act of the opera and a trip to Stuttgart, Germany, for the opening of the German-language production of Wicked. Due to my silly schedule, I had to miss the recent opening of Wicked. in Tokyo, and I heard everyone had a fantastic time there, so I am looking forward to my chance to hear Elphaba, Glinda, and the rest in another language.
Well, I must get ready for opera camp rehearsal, but as always, I thank you for your interest in my work and wish you all a great summer.
Stephen Schwartz
29. Stephen Schwartz's Update Fall 2007
November, 2007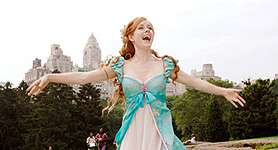 [Photo - Amy Adams as Gisele in Enchanted, singing in Central Park.]
This has been a hectic few months. As I write this, I am on a plane from Los Angeles back (finally) to New York, having spent the past couple of days with Alan Menken doing press for "Enchanted", the Disney romantic comedy for which we have written five songs. It's being released in a couple of weeks. The lead up to a movie premiere feels so different from a show, because the actual work on the film has been completed long enough ago that it has been off one's radar screen for a while, whereas with a show, one is seeing and tweaking it every day up until opening. I actually only saw the finished "Enchanted" for the first time at one of the press screenings! (Fortunately, I liked it.)
I had made the long flight to LA a few days before from Stuttgart, Germany, where I was working on the German production of "Wicked", or rather, "Die Hexen von Oz" or "The Witches of Oz". (It turns out, counter-intuitively, there IS no German word for "Wicked" -- at least not with the nuance and double-meaning of the English word.) We did some tweaking of the translation, and some clarification of the story-telling for an audience that, unlike Americans, doesn't know every line of "The Wizard of Oz" movie by heart. For instance, it was clear to me at the first preview that during the scene when the Tin Man is created, many in the audience had no clue who or what the dude in the silver suit was supposed to be. So we added a reference, in Glinda's opening speech to the Ozians, about "the Scarecrow, the Tin Man, and the Cowardly Lion", and the next night it seemed evident from the audience response in the same scene that they were less lost. My lyric translator, the brilliant Michael Kunze, with whom I had such a happy working experience on the Berlin production of "Der Glockner von Notre Dame," also did little fixes and improvements, the biggest of which was changing the title of "Popular" when the song didn't feel buoyant enough. (It is now called "Heissgeliebt," a great word that is really fun to sing; it literally means "hotly loved.")
The German cast, in my opinion, is terrific and sings extremely well, and the show looks beautiful to my eyes, so although the premiere isn't for over a week, I left feeling very confident that the representation of the show would be ... well ... "wonderful." I also had time for some fun in Germany, including a side-trip to the stunningly beautiful town of Strasbourg, in France just across the border, a visit to the fascinating Mercedes museum in Stuttgart, as well as a contemporary art museum that featured amazing and disturbing paintings by Otto Dix, a German artist of the Weimar period, and perhaps most memorably, an afternoon at a local spa which had theme rooms (the "Turkish Bath," the "Indian Smokehouse," the "Icelandic Geyser Pool," etc.) and which was both coed and completely nude.
Well, my going into further detail has been interrupted, sorry, by the announcement of our arrival at JFK, so I have to sign off now. I am looking forward to being home for the rest of the year (mostly) and getting back to work on the opera, for which I have a whole second act that needs writing. By our next Quarterly visit, I hope I'll be able to report I've gotten somewhere with it.
Thanks (and happy holidays), Stephen
Editor's note: Wicked's 5th anniversary bonus edition includes selections from Die Hexon Von Oz and other treats. Wicked: 5th Anniversary Special Edition
COPYRIGHT NOTICE: Please DO NOT copy and paste this copyrighted content into your own blogs or websites. You may link to this page but do not copy the content. Thanks.
Continued
For the most recent updates 2010 to present, subscribe to The Schwartz Scene newsletter
To continue after this page, see
For previous updates
To read additional content for The Schwartz Scene back issues see The Schwartz Scene archive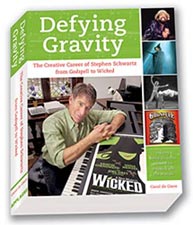 The best source for Stephen Schwartz's complete career story is the biography Defying Gravity: the Creative Career of Stephen Schwartz, from Godspell to Wicked. To write this book, the author drew from eighty hours of interviews with Schwartz, as well as from over 100 interviews with his colleagues, friends, and family members. Defying Gravity includes many never-before-told stories and over 200 photographs and illustrations. 544 pages. For more information or to order the book online visit DefyingGravityTheBook.com